..
Welcome to Kaptain Kidshow!
Ahoy, Mateys!




Lee Reynolds, (

The Man of a Million Voices),

plays all the roles in this 1963 "Cap'n Tugg" promo.



Howdy Pardners!



Pick Temple opens a new Giant Food store in Northern Virginia with songs from his LP "Pick of The Crop"

. (The film is courtesy of Tom Buckley's "Eye on DC".)



In 1997,

Willard Scott remembers his DC "Bozo" days (1959 'til 1962). Arch Campbell introduces Willard...
.

Images/sounds at this website must not be sold or used other than for private entertainment. This material
remains the property of its copyright holders. Only those owners can give permission for its use in any manner.
All Shows Originated From Metropolitan Washington, D.C. Studios
..
.
Outstanding Sites you'll also want to visit...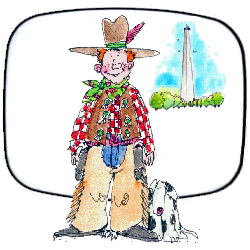 Kaptain Kidshow
Saluting Vintage TV Kid Shows
Produced In Washington, DC
Page Revised: 7/6/08
.
.
Complete List of Shows
.
Complete List of Hosts
.
Sounds From The Shows
.
Your Own Recollections
.
Send Email To Kappy