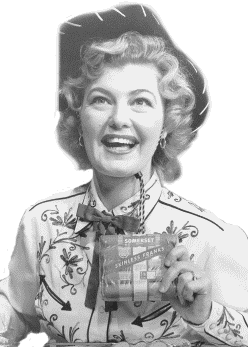 "Cindy Lou"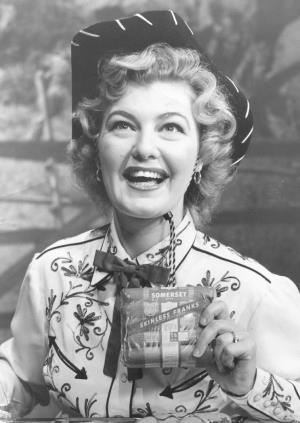 (Source: Lee Reynolds' Private Collection)
Aired on WTTG-TV 5,
Afternoons/Evenings, Various Airtimes
From February 1955 to September 1956;
"Gene Autry Time
With Gal Foreman Cindy Lou"
Mondays Through Fridays,

4:00 to 5:00PM (2/28-December 1955)
Sundays,
6:30 to 7:00PM (7/31/55 to 9/25/55)
7:30 to 8:00PM (October 1955)
"Cindy Lou's Melody Ranch"
Mondays Through Fridays,
6:30 to 7:00PM (January 1956 to 9/28/56)

Cindy Lou
Host:
Cindy Dahl as "Cindy Lou"

Broadcast live from the WTTG-TV studios in
the Raleigh Hotel at 12th St. & Pennsylvania Ave., N.W..
-
Before his "Grandpa's Place" program premiered, Lee Reynolds
directed "Miss Cindy Lou's Melody Ranch", (as well as "Milt Grant's Record Hop", and "The Billy Johnson Show" on Channel 5.
Mr. Reynolds also hosted "Cap'n Tugg" from 1958 to 1966.)
Cindy Lou featured Gene Autry films (competing for young
viewership with Pick Temple's Giant Ranch on WTOP-TV 9).
Gene Autry was known for his "Melody Ranch"; hence the
source of the program title: "Cindy Lou's Melody Ranch".

The show was displaced in October 1956 by the return of BillyJohnson (who had appeared on Channel-9 from 1953 to '55.)
.
This photo appeared as "Backlight", page 4 of "The Washington Post Magazine", 6/10/01, (under the heading, "Planet Washington");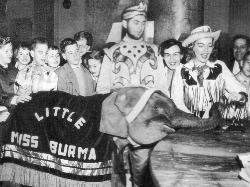 CLICK IMAGE FOR A LARGER VIEW
"A group of teenage Republicans in a downtown hotel. A baby pachyderm and her
costumed trainer in from Ohio. A TV personality in cowgirl attire, known
simply as Cindy Lou. Whoever said the '50s didn't swing? This crowd was
brought together on the eve of President Eisenhower's second inauguration,
with the elephant's mother in town to march in the parade. The baby's legs were
deemed too short for her to join the march, but she ended up with a gig of her
own. The teenagers, from an Arlington group known as the Baby Elephants of
Amenca, were at The Willard to anoint the 300-pounder their official mascot.
Before the party was over, Vice President Nixon would stop by to witness
a brief melee as Little Miss Burma drained a guest's glass and went
eagerly looking for more, sending guests scurrying for cover.
It was 1957, and the elephants were in charge."
Sources: Top photo courtesy of Lee Reynolds. Lower Photo from "Backlight", p.4, "The Washington Post Magazine", 6/10/01, (under the heading, "Planet Washington"), as spotted by Jack Maier. Gene Autry Photo from the Library of American Broadcasting web site. Facts on Lee Reynolds from "Whatever Happened To Those Kiddie Show Hosts?" by Trisha Katson, 1977, George Mason U. Phoebe Magazine, (Courtesy; John Ahmad & Jack Maier).
Airtimes from TV listings in the Star and Washington Post.
Do you remember?
Additional Cast Characters
Any Other Cartoons/Shorts Featured
Any Other Details/Corrections
Email Us
All Shows Originated From Metropolitan Washington, D.C. Studios
..
.
Outstanding Sites you'll also want to visit...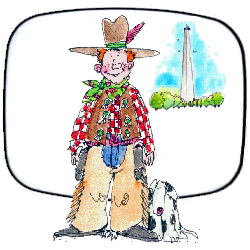 Kaptain Kidshow
Saluting Vintage TV Kid Shows
Produced In Washington, DC
Page Revised: 8/26/04
.
.
Complete List of Shows
.
Complete List of Hosts
.
Sounds From The Shows
.
Your Own Recollections
.
Send Email To Kappy