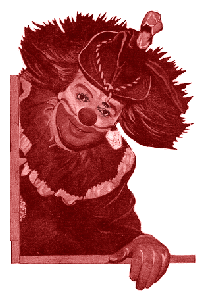 "Cousin Cupcake"
.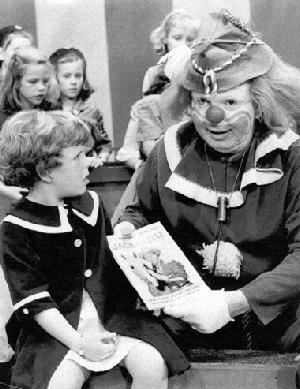 Cupcake Announces His Appearance In "Jack And Jill" Magazine
(From Bob Porter's Collection, Courtesy:Tim Hollis)

..
Various Show Names, Airtimes, and Channels;
Fall 1960 to May 1966, as shown:
Aired on WRC-TV 4
Broadcast live "In Living Color" from
4001 Nebraska Avenue studios.
Saturdays, Fall 1960 to 12/25/65:
.
"The Bozo Show w/Cousin Cupcake"
9:00 to 10:00AM (Fall 1960 to '61)
Repeated 5:00 to 5:30PM (Summer '61?)
8:30 to 9:30AM (1961 to Fall 1962)
.
The show was re-named after the daily
"Bozo the Clown" program ended its' run:
.
"The Cousin Cupcake Show"
8:00 to 9:00AM (Fall 1962 to 12/25/65)
-
Aired on WDCA-TV 20
Broadcast live from River Road studios
(Not listed as broadcast in color.)
Saturday Afternoons;
April 25, 1966 through May 21, 1966;
.
"Cupcake and Cousins"
"Cupcake and his puppet friends (live)."
-
(Not actually advertised as "Cousin Cupcake" ...
perhaps to avoid legal challenges from WRC-TV. )
-
.

Card from the Collection of Skip McCloskey

Host:
Bob Porter
as "Cupcake"

Willard Scott gave the character its name. The show used the same circus big-top set as the Bozo the Clown show.

..

Studio audience participation
with recorded
bits and cartoons.

Hear Willard
Talk About
"Cousin Cupcake"
.
.
Sean Hall reminisces "Most people don't know my dad, Jim Hall, stood in many a Saturday morning as Cousin POUNDCAKE. He was just a utility guy at Channel 4 in 1961. ... He offered to try the vacation fill-in job. As freelancers were paid piece rate for such things, more equalled merrier. I was probably on the show half a dozen times... "

A Crewcut Cousin Cupcake and Friends
(Bob Porter's Collection, Courtesy:Tim Hollis).

A visitor named Roberta shares: "I didn't realize how much history my family shared with Cousin Cupcake. My parents and Bob Porter knew each other from the Fairfax Players community theater in the late '50s and early '60s. I'm sure that is how my mother got the tickets for my sister and I to appear on his show, as well as on Bozo. I have bragging rights to sitting on Willard Scott's lap! I was between the ages of 5 and 7 when I was on both shows. I use to stare into the camera, then glance at the TV monitor and see myself."

.
-.
Jim Jenkins appeared on Cousin Cupcake's Show: "For years, I had been waiting to go on the Bozo Show -- since I was 9 or 10. Well... my wish to get on a TV show came true when I received a letter in the Fall of 1960 informing me that I was going to be on the Bozo Show, only it was "the Bozo Show w/Cousin Cupcake"! Boy, was I disappointed! All these years anticipating the fame of being on Bozo, and then to get selected for a Saturday morning with his Cuz. Not only that, I was now 13 years old. How could I possibly go on live TV with a bunch of 8, 9, and 10 year olds?

Embarrassment be damned! I was going on TV!

So... bright and early Saturday morning, I got up, washed, and carefully donned my crisp Boy Scout uniform with my sash containing all my hard-earned merit badges. I was resplendent!

My Dad dropped me off at the studios and said he'd pick me up in about two hours or so. Even my Dad couldn't bear being seen with me in that environment. Can't blame him.

So I trooped on in with my letter in-hand and was directed to a kind of holding area along with a bunch of 'little kids.' I stood at least a head taller than anyone else on the show, with the exception of Cousin Cupcake himself.

We were all led into the studio and I was amazed at the bright lights & the heat they generated. I could see where the cameras were and I intentionally -- as best I could -- positioned myself so that I could be picked up in the background. The studio area was a circus setting with a ring platform down in front. This was where Cousin Cupcake sat and where he spoke with the kids.

The only real part of the show that has a profound impact was when Cupcake invited me up front with him and we had a dialog about my merit badges and my neckerchief slide (a carved Indian head which I had hand-painted). I got my TV fame!

My siblings watched all this on TV at home. Later they told me they were rolling on the floor laughing because I looked so silly as a big boy among all those little kids. I could not have cared less. I was a TV star as far as I was concerned.

In retrospect, I probably set the record as the oldest kid to be on the show. I am still disappointed to this day that I only got to be on the Cousin Cupcake Show and not Big-Time Bozo's. It was a lot of fun, nevertheless."
..
Skip McCloskey
(the Cub Scout
shown at left)
recalls when
he met
"the Cuz":

"I received the card
(shown in color above)
from him when I was
a Cub Scout in grade
school. He made an
appearance for our
troop. Hard to believe
I was ever that young."

A second photo
(shown at right)
was supplied
by Skip;
"Cupcake with
some little brat
who pulled the
clown's nose off."
..
. -
.

In 1967, Bob Porter returned to TV
with his own production, "The Adventures of Astron".

.

.D.C. Studios by Bonnie Aikman
.Sunday Star TV Magazine, 3/5/1967
Article Courtesy Jack Maier

"HERE'S ASTRON: A space-age puppet series has made its debut on WETA-26 (Sats., 5 p.m.) and the man behind it all should be a familiar name to local moppet viewers, he is Bob Porter, who played the good natured Cousin Cupcake for a stint on WRC-4.
.
Porter may be a triple-threat man in 'The Adventures of Astron' produc- tion department (he creates the pup- pets, writes and narrates the show), but he has the extensive help of his large family as well."

.




"The puppets are operated by his wife and their four children, Monnie, 17; Jennie, 14; Stephen, 13, and Alexandra, 10. A second son, four- year-old Thomas, contributes his share too: he's been responsible for naming most of the marionettes.
.
The family lives in Fairfax City, Va., but the series which began early last year, is produced at WRVA-TV studios in Richmond. Puppeteer Porter also is the author of a weekly newspaper series based on the Astron TV scripts."
Sources: Sean Hall in the DCRTV Mailbag. Cupcake card and 1963 AFTRA Directory photo from Skip McCloskey. Other Cupcake photos from Bob Porter; donated by Tim Hollis, (author of "Hi There, Boys and Girls! - America's Local Children's TV Programs") "The Adventures of Astron" from Sunday Star TV Magazine, 3/5/67, Courtesy Jack Maier. Recollections from Jim Jenkins and Roberta. Airtimes/data from the Evening Star and Washington Post.
Do you remember?
Any Other Cast Characters
Any Other Cartoons/Shorts Featured
Any Other Details/Correctios
Email Us
All Shows Originated From Metropolitan Washington, D.C. Studios
..
.
Outstanding Sites you'll also want to visit...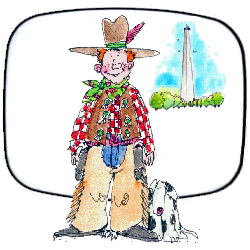 Kaptain Kidshow
Saluting Vintage TV Kid Shows
Produced In Washington, DC
Page Revised: 8/26/04
.
.
Complete List of Shows
.
Complete List of Hosts
.
Sounds From The Shows
.
Your Own Recollections
.
Send Email To Kappy