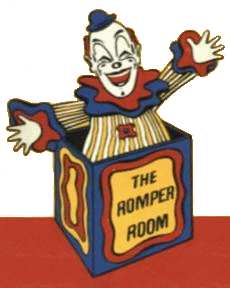 .
"The Romper Room"
Logo Donated By Jack Maier
Aired on Various DC Stations,
Mondays through Fridays
at Various Airtimes,
From 1954 to 1973 and again from 1975 to 1986
Aired on WTTG-TV 5:
With "Miss Lynn"
(4/5/54 to November 1954):
10:00 to 11:00AM
(November 1954 to 3/4/55):
5:30 to 6:00PM
Aired on WRC-TV 4:
With "Miss Jan" at first,
and later "Miss Barbara" (Harris)
(3/7/55 to June 1955):
9:15 to 9:45AM
(June 1955 to 8/29/57):
9:30 to 10:00AM
When the show got a new host and moved to Channel-7, Barbara Harris moved over to WTTG-5 as their weekday weather person.
Aired on WMAL-TV 7:
With "Miss Sally" (Finkbine)
(9/16/57-9/19/58):
11:00AM-12:00 Noon
Aired on WTTG-TV 5 again:
With "Miss Connie" (Bohlin)
(9/22/58-1959):
12:30 to 1:00PM

.

(Fall 1964):
9:00AM-9:30AM


Visit the

"Miss Connie"

Web Page

(Fall 1959-1960):
12:00 to 1:00PM

.

(Early 1965-1966):
9:00AM-9:55AM

(Fall 1960-1964):
11:30AM-12:25PM

.

(Fall 1966-January 1967):
8:00AM-9:00AM
Aired on WDCA-TV 20:
Initially With "Miss Anne" (Shadbolt)
(Fall 1967-1968):
10:30 to 11:30AM


Visit the
"Miss Anne"
Web Page

(Fall 1968):
10:00 to 11:00AM

(Early 1969- September 1971):
12:00 to 1:00PM
Teacher's Name Not Shown in
TV Listings From 10/71 to 3/86
(October 1971-10/12/1973):
Various Times
(3/31/1975-3/28/86):
Various Times
Broadcast live from local studios with in-studio "student" participation
and various educational films, games, and early-learning features.
Licensed from the original Romper Room which was first developed
in 1953 at WBAL-TV 11, Baltimore, by Bert and Nancy Claster.
(Bert Claster had gained his experience in TV production while working
at Washington's WTOP-TV 9 before moving to Charm City.)
This incorrectly
captioned photo
from 1/31/1965
in the Sunday Star
TV Magazine shows
"Miss Sally" Rogers,
(not her mother
Nancy Claster),
training a teacher
for the Romper Room
franchise in Manila,
The Phillipines
(not WTTG-5).

Donated By Jack Maier-
By 1964, daughter Sally Claster Gelbard replaced Nancy as on-air
teacher in Baltimore. "Miss Nancy" died in 1997 of cancer at age 82.
Sam "Mac" McLanahan writes: "My very first job was with Romper Room HQ in Baltimore from 1961-'70. Among my responsibilities were those of 'Production Manager,' meaning that I worked closely with many of the teachers across the country in providing them the scripts and materials they needed on a daily basis to present their live programs (and that went out weekly to more 100 different markets.) I worked closely with Bert and Nancy Claster, as well as their daughter Sally when she became teacher for the local Baltimore program."
Regina Litman reports; "... (Around 1957), I met a celebrity for the first time. My parents took me to see Romper Room's Miss Barbara who was appearing
at the Four Corners Peoples Drug Store in Silver Spring."
Viewers were encouraged to show proper behavior by remembering:
"Do Be a 'Do Bee'. Don't Be a 'Don't -Bee'."
.
"I always do everything right.
I never do anything wrong.
I'm a Romper Room Do Bee;
A Do Bee all day long!"
.
"Start buzzin' buzzin'. Here's your chance.
Everybody's doing the Do Bee dance.
Just let your wings fly, your arms fly too.
Then buzz around round and round... Do-body-doo!"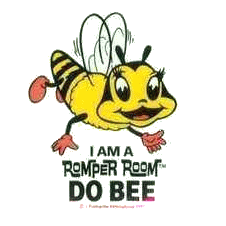 "Mac" McLanahan continues: "In the early 60's, the 'Animal Friends' segment needed to be upgraded. Bert Claster purchased a Bolex 16mm, 3-lens movie camera (rather state-of-the-art at the time) and my job was to create a number of filmed pieces featuring different animals. On many occasions, I would drive to the National Zoo in DC and start filming. I would drop off the exposed film at a lab in Baltimore, on the way home, for processing. Then I would pick up the developed rolls of film and take them back to the Claster office and edit the segments together using the good old technique of cutting the film with a razor, scraping the emulsion off one piece, then gluing the two pieces together, praying that the splice would hold. I then went back to the lab and had 100+ film copies made of each segment. These aired all over the country as 'Animal Friends.'"
The teacher held a
"Magic Mirror" in which she could "see" some
young members of the
home TV audience.
She would call-out the names of those lucky kids;
"I see Jim and Kevin
and Barbie and Suzie!"

"Romper, bomper,
stomper, boo.
Tell me, tell me,
tell me do.
Magic mirror,
tell me today.
Did all my friends
have fun at play?"
"Mac" McLanahan adds: "Another thing I did had to do with the infamous Magic Mirror. I went to a film producer in Baltimore (I believe his name was Max Brecker) and looked at a number of film effects he had. I picked one that looked kind of hallucinogenic with a changing swirl of colors eminating from the center. Once again, we duplicated this piece of 16mm film and sent it to all the stations. This is what millions of kids saw as they held their collective breath, hoping to hear their names spoken.
Those mirrors, incidentally, were purchased from a Baltimore barber supply company. Our two shipping clerks in the basement periodically covered a bunch of mirrors in Elmer's glue, sprinkled sparkles all over them, then let them dry. Voila! 'Magic Mirrors.'"
.
Sources: Sam "Mac" McLanahan, Bill Todd, Jack Maier, Sean Hall, Regina Litman, Park Temple,
Tom Mechling, Jim "Lazymoon" Gscheidle, Debra Nickens, Linda Bolick and Mark Rockman.
WDCA facts and photo provided by Dick Dyszel. Romper Room Logo Donated By Jack Maier.
Some facts & airtimes provided from listings in the Evening Star and Washington Post.
All Shows Originated From Metropolitan Washington, D.C. Studios
..
.
Outstanding Sites you'll also want to visit...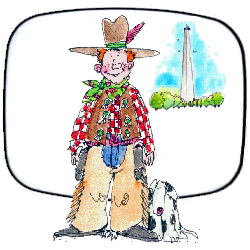 Kaptain Kidshow
Saluting Vintage TV Kid Shows
Produced In Washington, DC
Page Revised: 8/26/04
.
.
Complete List of Shows
.
Complete List of Hosts
.
Sounds From The Shows
.
Your Own Recollections
.
Send Email To Kappy