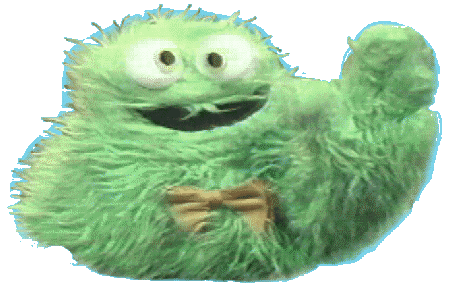 "Kids' Break"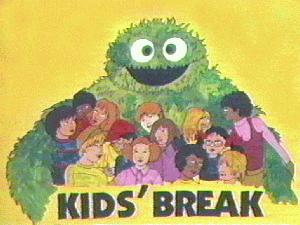 (Donated By Dick Dyszel)
.
Aired on WDCA-TV 20.
Pre-taped and Broadcast
from WDCA River Road studios.
Mondays through Fridays
1980 - 1987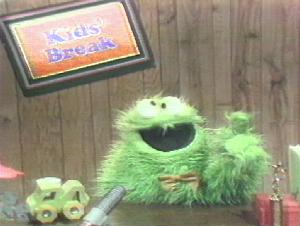 Host:
Howard Huge
-
In 1979, Taft Broadcasting bought WDCA-TV, but the license
transfer was challenged by some local parents' groups who opposed so-called "violent" kid's programming (such as Ultraman,
Speedracer, and even Bugs Bunny) that had aired on Channel 20.

So, Taft promised to produce two daily shows with educational or informational content, a bunch of Public Service Announcements
and a number of kids' specials. In January of 1980, long-time producer/host Dick Dyszel was asked to create and produce one of those shows... resulting in the long-running favorite, WOW!

"Kids' Break" (the second Taft-produced program) premiered at the end of June 1980. Initially it was the responsibility of a different producer. But, after several months, Dyszel was asked to take over and re-think the project. (The only feature he retained was the catchy theme music that had been composed for the show.)
-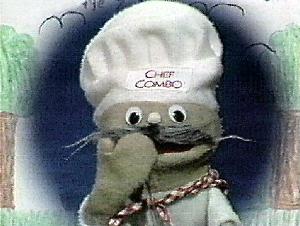 Also Featuring:
Chef Combo (above) and
Milton M. Milton (below)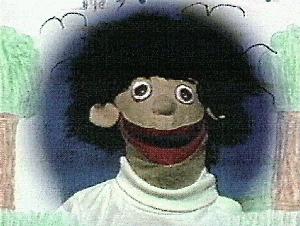 ---
As Dyszel was already producing one "live audience" studio show, he really didn't have time or resources to do another. He turned to the Sesame Street model and designed a program made up of pre-produced short segments that would be held together by an "in studio" host.

Captain 20 was busy as host of WOW!, so Dick sought a new anchor for this show. He acquired a number of puppets and started working on various character voices... settling on "Howard Huge" as MC.

The all-new Kids' Break format premiered on Tuesday 11/4/1980.
-
--
The show began and ended with the spelling
and definition of a word.
-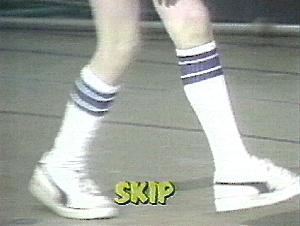 The Word of The Day is "Skip"
-
-In between, Kids' Break covered a mix of subjects
that might have included nutrition (with "Chef Combo")...
-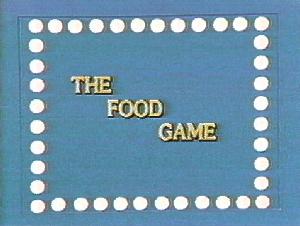 Chef Combo hosts.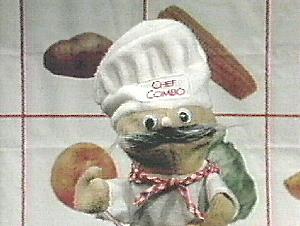 "The Food Game" Nutrition For Kids..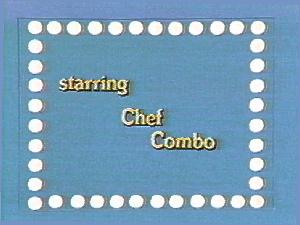 .
..
or arithmetic (with "Nick Numbers")...
--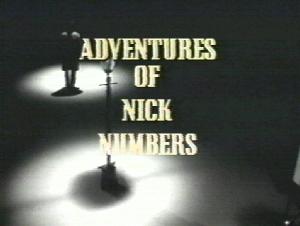 Nick Numbers Teaches Arithimetic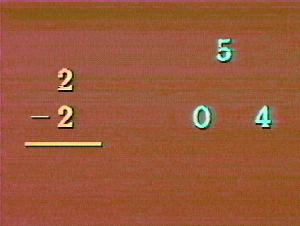 -
or memory games, craft projects,
or simple manners (with "Manners The Butler")...
-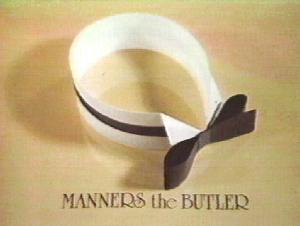 "Manners The Butler" Knows Best!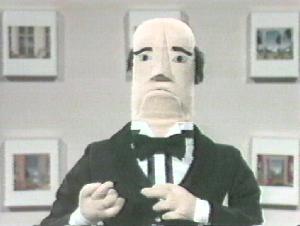 .
Can You Spot The Captain's Faux Pas?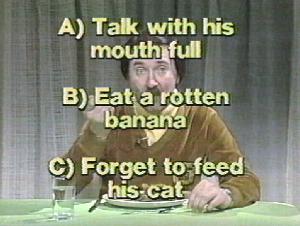 .
or book reviews (with "Milton M. Milton").
.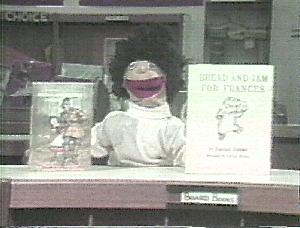 Milton M. Milton ReviewsTwo Books
.
And each show also had a special locally produced feature.
It could be about a fancy new park, a kids' play, or a
"How it's done" piece. Dyszel relied heavily on teachers and
other early childhood experts to help guide the contents.
.
Consistent with WDCA-originated kid shows of the past was the
on-going display of viewer's artwork on Kids' Break and WOW!.
.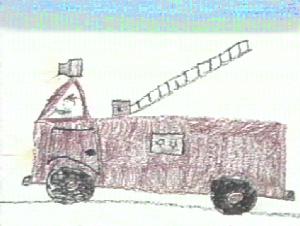 A Budding Van Gogh???

.
First presented in 1972 as Bozo's Art Gallery,
the feature would evolve into Captain 20's Space Gallery
when the Bozo's Circus program departed in 1977.
The feature ran 15 years altogether... until May 1987.

(Dick Dyszel still gets mail from folks who say how
much it meant to them to see their drawings on TV.)

-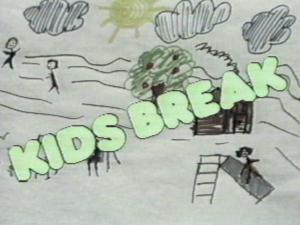 t
-
Kids' Break received several local Emmy nominations
and finally won that honor in 1984. All of the images
shown on this page were taken from the winning
entry program which was taped on March 27, 1984.
.
-..
Kids' Break aired until Channel 20 was sold to TVX Broadcast Group.
The new owners dropped all local programming after May 1st, 1987.
-...
-.
All Photos and Historical Data
Generously Donated by Dick Dyszel
-.
Dick Dyszel
runs his own
CD mobile-DJ
company
Sounds Fabulous
in Northern VA.
If you enjoyed
learning about
Capt. 20 on WOW!,
you'll also want
to visit his scary
distant relative,
Count Gore de Vol.
WATCH FOR: SOUNDS of KIDS' BREAK at Kidshow Klips
All Photographs and Historical Data Generously Donated by Dick Dyszel
All Shows Originated From Metropolitan Washington, D.C. Studios
..
.
Outstanding Sites you'll also want to visit...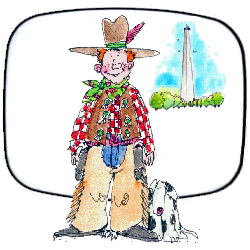 Kaptain Kidshow
Saluting Vintage TV Kid Shows
Produced In Washington, DC
Page Revised: 8/26/04
.
.
Complete List of Shows
.
Complete List of Hosts
.
Sounds From The Shows
.
Your Own Recollections
.
Send Email To Kappy