"Time For Science"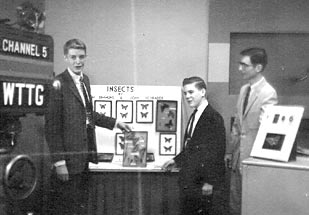 Photo Courtesy: WETA

Aired on WTTG-TV 5
Mondays through Fridays
Fall 1958 to June 1961
(With Summertime Hiatus)
Various Pre-Noon Airtimes

During the last season, Friday's shows
were titled "Time For The Arts".
Host:
Shown as "Darrell Drummond, Instructor" in Newspaper TV Listings.

Daryl Long writes: "Mr. Drummond taught at Thomas Jefferson
Elementary School (formerly Oak Street School) in Falls Church,
Virginia. My older sister was in his class (the seventh grade,
I believe) in 1957. I recall his name being 'T. Darrell Drummond'."
On Mondays Through Thursdays:
Broadcast live (and perhaps also taped for later re-airing)
from WTTG-TV 5 studios in the Raleigh Hotel
at 12th St. & Pennsylvania Avenue, N.W.

During the first season, Friday's programs were produced/filmed at
the color studio facilities of Walter Reed Army Hospital.
Jim Evans first pointed-out this program to Kaptain Kidshow:
"I attended St Mary's Elementary School in the city of Alexandria
from 1958 to 1961. During school hours there was a TV program
called 'Time for Science' that was aimed at elementary school age
kids and we were allowed to watch during our science class. ...

I was on an episode in 1959 demonstrating a science project. It was in the morning and I got to be out of school for the day. I seem to remember watching myself on a monitor after the show so it must have been taped, but my class also saw me 'live' on the show the day I was at the studio."
Alan Leache recalls: "The theme song for the 'Time For Science'
was Jeremiah Clarke's 'The Prince of Denmark's March'."

Hear a mp3 sample... performed by The Chris Sarlas Orchestra


http://www.sarlasmusic.com/ceremony_listen.html
Tom Mechling tells us: "I was a student at R.E. Lee Elementary School
in Alexandria, and we were allowed to watch the show on a special TV. The theme for the show was either 'Pomp and Circumstance' or 'Clarke's Trumpet Voluntary', (whichever one they play at graduation ceremonies.) ...
Prof. Darrel Drummond was a nerdy science sort with horn rimmed
glasses and a high pitched voice; nothing like Mr. Wizard.

I loved the show. Part of it was the novelty of watching TV in school,
but Prof Drummond knew his stuff... It was mostly physical science.

I remember to this day why you can drive a nail with a hammer but not
your fist, and that a whole stalk of celery contains very little bulk,
once the water is removed. Darrel showed this by actually chewing up
a bunch of celery and spitting out the remains into a spoon.
That's the kind of lesson you remember.

I also learned about mnemonics and how 'Roy G. Biv'
lets you remember the colors in the visible spectrum. ..."
Daryl Long adds: "I left the DC area and returned in 1960, when 'Time for Science' was on the air. As the budding geek of my seventh grade class, I was given the enormous responsibility of setting up the TV set in the auditorium for each broadcast. ... I remember that it was produced by GWETA (Greater Washington Educational Television Assoc.). Mr. Drummond became an instant celebrity in my class - partially because of the content of the show; and partially because the show permitted us to watch TV in the middle of the school day. He was held in such high esteem that nobody would believe that a mere mortal, such as me, could have met him.

My sister would have tales of his sense of humor, and I recall one TV
episode that reflected this. The experiment involved food of some
sort, and he had brought some along in a paper lunch bag. As he was
using great care to remove the food from the bag, the announcer
mimicked the beginning of the show and announced this portion
of the program as 'Time for Lunch' (along with the appropriate
text titles and the familiar theme music)."
Robin Drummond reports: "My dad was T. Darrell Drummond, and I can't tell you how fabulous it was to see your item on
Time for
Science
.
Dad took me to work at the studio a lot and it was my great good fortune to substitute for absent children on all the kid shows that were produced at the same time TFS was being aired. In addition, some of the TFS shows featured a little girl whose job was to hand things to Mr. Drummond. That was me.
Dad went on to earn his doctorate in education at the University of Maryland. He spent a year at the American School in London
gathering primary source data for his thesis.
He continued to teach after Time For Science left the airwaves.
In Montgomery County, MD he opened Lake Normandy Elementary School
(as its principal); it was the first "open classroom" school in Montgomery County. He eventually retired from Montgomery County Public Schools as Administrator of Area Five.
He became an adjunct professor at Montgomery College,
teaching both English and American history.
He died in August, 2001 while on vacation,
riding an Italian racing motorcycle in Norway.
I have the original recording of the Time For Science theme music
and a number of black and white photos.
My youngest son found your webpage.
He was trying to explain Granddad to his new bride."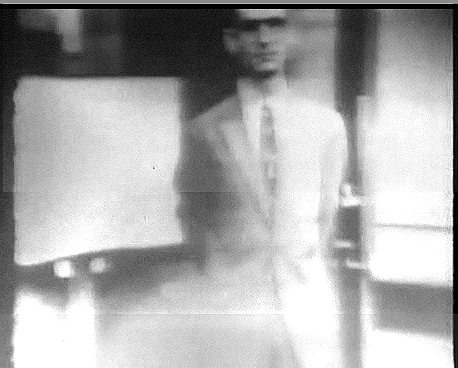 If you have any additional information,
please write to:
kaptainkidshow@yahoo.com
Please state in your message that you give permission for
Kaptain Kidshow to reproduce your message on his web site
Sources: Robin Drummond, James Evans Tom Mechling, Daryl Long and Alan Leache.
Thanks to the WETA web site.
Airtimes from listings in the Evening Star and Wash. Post.