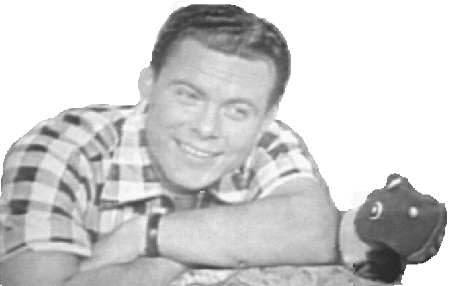 "Billy Johnson"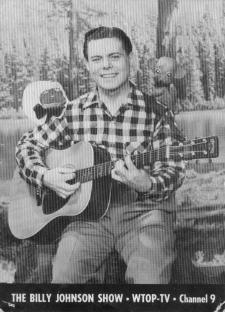 Billy Johnson on Channel 9, c. 1954 or 1955
with Wally (l.) and Ginty (r.)
(Donated by Jack Maier)
Broadcast live from local studios in "Black & White".
Various Show Names, Airtimes, and Channels;
From March 1953 to February 28, 1958 as shown:
Aired on WTOP-TV 9:

"Billy Johnson's Cartoon Club"

(March 1953)
6:30 to 7:00AM Monday-Friday
(April 1953 - May 1953)
9:00 to 9:55AM Monday-Saturday
(June 1953 - September 1953)
9:00 to 10:00AM Monday-Saturday
5:30 to 6:00PM Monday-Friday
(September 12, 1953 - October 1953)
9:00 to 10:00AM Monday-Saturday
2:00 to 3:00PM Saturday Only
(November 1953- December 1953)
9:00 to 10:00AM Monday-Saturday
2:00 to 2:30PM Saturday Only

"The Billy Johnson Show"

(Early 1954)
9:00 to 10:00AM Monday-Saturday
(Fall 1954)
9:00 to 9:50AM Monday-Friday
9:00 to 10:30AM Saturday Only
(Early 1955)
8:30 to 9:30AM Monday-Saturday
(Fall 1955)
7:00 to 8:00AM Monday-Friday
8:00 to 9:00AM Saturday Only
Aired on WTTG-TV 5:
"The Fun House"

(10/1/56 - February 28, 1958)
6:30 to 7:00PM Monday - Friday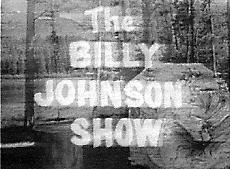 "The Billy Johnson Show"

(Early 1957)
6:00 to 6:30PM Monday - Friday
5:30 to 6:00PM Sunday Only
(Fall 1957)
4:00 to 4:30PM Monday - Friday
Host:
Billy Johnson
as Himself
with his puppets
"Wally"
(sort of a frog), "Ginty" (a mouse),
and
(only at WTTG)
"Reggie" (a bird).

Photo:Billy Johnson
on Channel 5 - 1957
(Donated by Jack Maier)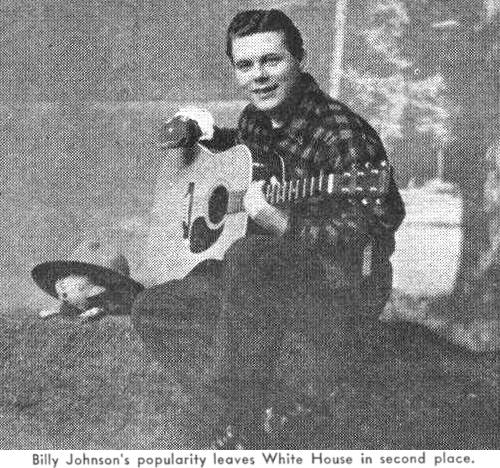 .
He Shows Moppets How to Brush Their Teeth,
Offers Advice, and They Love It

Excerpt and Photo from "On The Beam"
TV Life, October 1953, Vol 1, No.1
(Courtesy: Jack Maier)

If someone were to ask you who is the most looked-at person in the nation's capital, odds are roughly 157 to 1 that you would answer incorrectly. Most of the 157 million Americans would prob- ably say President Eisenhower. But there are about one million persons in the Washington, D. C. area who know that it is 28-year-old, Kentucky-born Billy Johnson.

While President Eisenhower is rarely seen in public, or even on television, Billy Johnson appears on the TV screens eight and a half hours a week over WTOP - TV. His program for small-fry began in March, 1953. Within three weeks the Pulse Survey showed he was the most popular of all local programs at any time of day or night.

Billy Johnson shows cartoons. sings, plays guitar, brings puppets Wally and Ginty before the camera, and makes his advice to the moppets a highly entertaining affair.

Billy's fan mail, from the kids and their parents alike, is overwhelming in quantity and unrestrained in its praise. "My son, Chris," wrote one Maryland mother, "who is 4½ years old, thinks his whole day is ruined if he misses your wonderful program ... You are doing a good job with your casual instructions to the young fry (i.e., about how to squeeze paste from a toothpaste tube). For some unknown reason. Chris listens to you much more willingly than he does his parents and I admit it!"

No performer could ask for a finer tribute.
.

.
.
| | |
| --- | --- |
| Billy Johnson left WTOP-TV 9 in 1956 when the Captain Kangaroo daily national broadcast displaced his locally-produced program. The next year, Billy turned-up at competitor WTTG-TV 5 as host both of "The Fun House" and "The Billy Johnson Show". However, by March of 1958, Billy would be handed his walking papers once again when the long-running DC kid star Pick Temple moved his program downtown from Channel-9 to Channel-5. | |
.
Milt Wishard points-out, Billy Johnson in the trademark checkered shirt was not the same man as Bill Johnson who wore fine mens' suits, hosted Three Stooges comedies and announced for the "Ten O'Clock News".

"... I worked with both men during my time in TV broadcasting. My very first show as a TV cameraman was with Billy Johnson in the summer of 1949 at WLW-D in Dayton, Ohio and then I worked with the other Bill Johnson during my time (1950-1993) with Channel 7 in DC."

The easy way to remember the difference in the Johnsons is; 'Billy' was the smaller of the two and almost always holding a guitar. 'Bill', as I remember, had no musical expertise.

Bill Johnson would have been with WMAL-TV in the late '60s or early '70s as a staff announcer and always in the announce booth. This was in the days before cartridge tapes and all the commercial stuff that came from the ad agencies was on a 16-inch acetate disk. The tags were from a live announcer in the booth."
.
WTOP-TV 9 "The Billy Johnson Show"
(Donated by Tom Buckley, WUSA-TV)

.

During his TV-9 days, Billy featured songs, cartoons, and his puppets, "Wally" and "Ginty", (sometimes spelled "Genty"). Later at WTTG-5,
he added a bird puppet; "Reggie".
Billy's puppets never spoke, but rather lip-synched songs from phono records that were either sped-up or slowed-down for the desired effect.

.
Gary Hayworth wrote: "Wally was the darker one. Ginty was the lighter one with the big ears. Wally's voice sounded like a 45 rpm record played at 33 1/3, while Ginty's sounded like a 45 rpm record played at 78."
"When I recall the show, three things stand out: Billy; the two puppets; and most of all his theme song - 'Up a Lazy River'. I remember Billy singing it at the beginning and end of each show. I was about 5 or 6 when I used to watch it."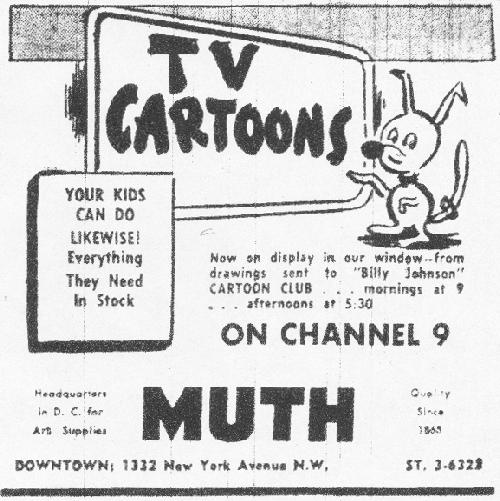 Philip Terzian of Oakton fills-in a few more facts: "The theme song was Hoagy Carmichael's 'Up the Lazy River' (not 'Up a Lazy River'). I do recall the setting being altered to a country store at some point in the show's tenure, featuring an enormous coffee grinder in the vicinity of Billy Johnson and his guitar. "
Hear Billy Sing A Verse of Lazy River at Kidshow Klips!
John Dowling notes; "When I was very young, I was a stone Billy Johnson fan. I even tried to make a bed for Ginty. I think I made one saw cut before I got tired and gave up. Hey, I was 5!"
.
Skip McCloskey
met Billy;
"I remember my
dad taking me
to the High's
in Hyattsville
(we lived around
the corner)
to see Billy.
He was set up
in the back
storage room
signing
these books and
talking to kids."
.
"'The Story of
Ice Cream'
comic book was
handed-out by the
High's Dairy chain.
The back cover
lists some of the
other kids shows
on at that time.
The writing
under the word
'Story' on the
front cover is
Billy Johnson's
autograph."
High's was also the place to get a collection of Billy Johnson's songs:
"Billy (WTOP-TV) Johnson's recordings are now being sold in ice cream stores as well as the disc shops." (Source: Lawrence Laurent's column in the 8/2/53 Washington Post)

.
?>
This live performance (filmed using a kinescope camera) at 6:00pm on Monday, May 27th, 1957 from the Raleigh Hotel studios of WTTG-5 may be the only surviving footage of Billy Johnson's DC kid shows.
The show is available to buy on DVD from Ira Gallen's

tvdays.com

web site.
?>

Part 2 of the kinescope of Billy Johnson's WTTG show, contains some surprises in the appearance of "Milt Grant" of the "Record Hop".
?>

Part 3 of the kinescope of Billy Johnson's WTTG show features two appearances by special guest
Lee Reynolds
of
Grandpa's Place
.
Billy Johnson, seriously ill from heart problems,
passed away on Christmas Day 2006
at age 81 in the presence of his loving family.


JOHNSON, William R.

Beloved husband of Ursula M. Johnson (nee Bamber), Loving father of William Roger Johnson III, Robert Victor Johnson, Teresa Schmid (Martin) and Jude Anne Willcher, dear grandfather of Thomas Johnson, William Roger Johnson IV, James B. Johnson and Alexis Willcher, great-grandfather of Noah D. Johnson and brother of Mary Lou Stiver. December 25, 2006, Age 81. Funeral service was Thursday, December 28th 1 P.M. at the Thomas-Justin Memorial, 7500 Montgomery Rd.. Burial was at Dayton National Cemetery.
Sources: "TV Life" Article/photo and TV Station Publicity Cards courtesy Jack Maier; Billy on WTOP-TV-9 photo courtesy Tom Buckley, WUSA-TV; Thanks to Philip Terzian, Gary Hayworth, John Dowling & Skip McCloskey for his story and the autographed High's comic, Thanks to Milt Wishard for identifying the two different Johnsons.
Ads and Airtimes from the Evening Star & Washington Post. Thanks to Ira Gallen's

tvdays.com

for the videos

.
All Shows Originated From Metropolitan Washington, D.C. Studios
..
.
Outstanding Sites you'll also want to visit...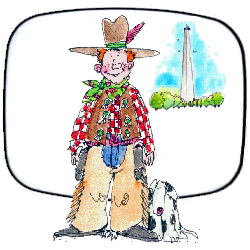 Kaptain Kidshow
Saluting Vintage TV Kid Shows
Produced In Washington, DC
Page Revised: 7/30/07
.
.
Complete List of Shows
.
Complete List of Hosts
.
Sounds From The Shows
.
Your Own Recollections
.
Send Email To Kappy