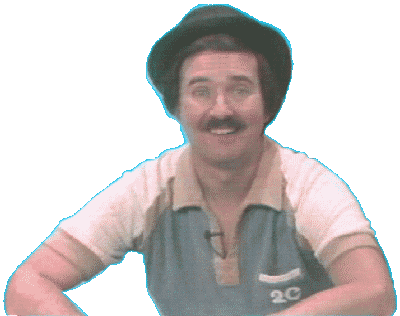 "WOW!"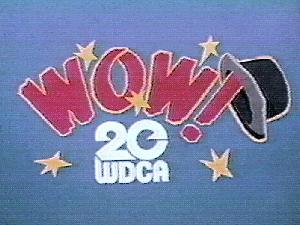 (Donated By Dick Dyszel)
.
Aired on WDCA-TV 20.
Pre-taped and Broadcast
from WDCA River Road studios.
Mondays through Fridays
1980 - 1987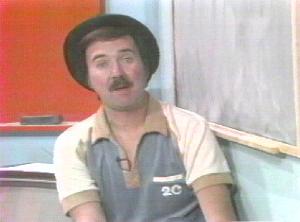 Host:
Dick Dyszel as "Captain 20"
With In-studio Child Participants
-
In 1979, Taft Broadcasting bought WDCA-TV, but the license
transfer was challenged by some local parents' groups who opposed so-called "violent" kid's programming (such as Ultraman,
Speedracer, and even Bugs Bunny) that had aired on Channel 20.

So, Taft promised to produce two daily shows with educational or informational content, a bunch of Public Service Announcements
and a number of kids' specials. In January of 1980, producer/host Dick Dyszel was asked to create and produce one of those shows.

The hot buzz words at the time amongst the critics were "television viewing skills"; the skills needed to watch TV objectively. Dyszel met with local educators, sat-in on a number of pre-school classes and eventually came up with the concept behind the show "WOW!"

The set was designed for one host and four children (ages 4-6). Sometimes a child did not show, or as on a few rare occasions,
up to six kids would participate due to some special activity.

The format was very simple: One-by-one, each kid would
slide-in (down the sliding board) ...
--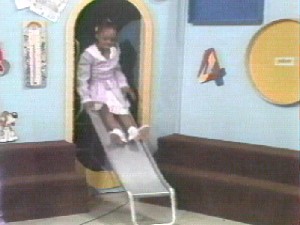 Guests would enter by sliding board.
-
...introduce themselves to the viewing audience...
-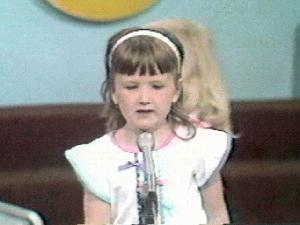 Introducing herself to the home audience.
-
...and eat a nutritious snack.
.-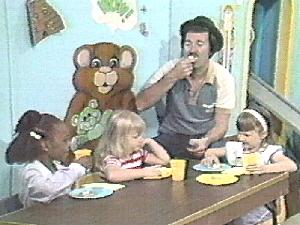 Guests would eat a nutritious snack
--
Kids would also tune-in to see the drawings that they'd sent in.
-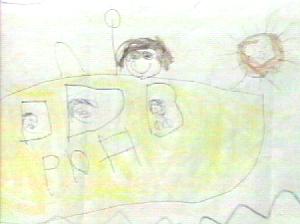 Drawings by home viewers would be displayed.
-
In the middle segment, the guests gathered
around the TV and watched a film short.
-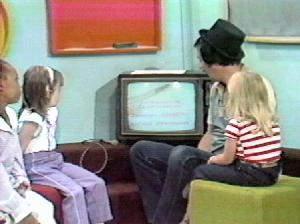 Watching a film short on the "TV".
-
Sometimes it was a "How things are made"
film, while other times it might be a cartoon short.
-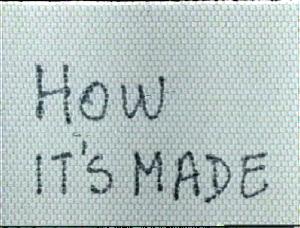 "How It's Made" educational film short.
-
After watching the film, Captain 20 led a discussion about what
the kids' had seen, explaining concepts as needed.
-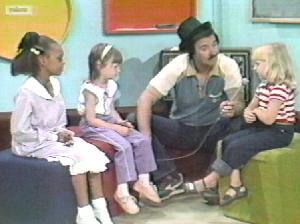 Discussion after watching the flm short
-
The final segment involved a craft project
that was related to the film short.
-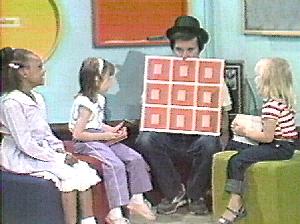 Showing a velcro "BINGO Board"
-
WOW! earned several local Emmy nominations, but never won.
However, the program was a finalist for a National IRIS Award
and received several Parents Choice Awards.
--
-
The show, produced in association with the D.C. Schools Early Childhood Program, aired until Channel 20 was sold to TVX Broadcast Group.
The new owners dropped all local programming after May 1st, 1987.
-
All Photos and Historical Data
Generously Donated by Dick Dyszel
-
If you enjoyed
learning about
Capt. 20 on WOW!,
you'll also want
to visit his scary
distant relative,
Count Gore de Vol.
Watch For Sounds of WOW! To Be Added to Kidshow Klips
All Photographs and Historical Data Generously Donated by Dick Dyszel
All Shows Originated From Metropolitan Washington, D.C. Studios
..
.
Outstanding Sites you'll also want to visit...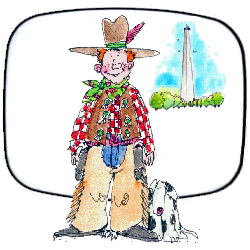 Kaptain Kidshow
Saluting Vintage TV Kid Shows
Produced In Washington, DC
Page Revised: 8/26/04
.
.
Complete List of Shows
.
Complete List of Hosts
.
Sounds From The Shows
.
Your Own Recollections
.
Send Email To Kappy