"Countdown Carnival"
with Bill Gormly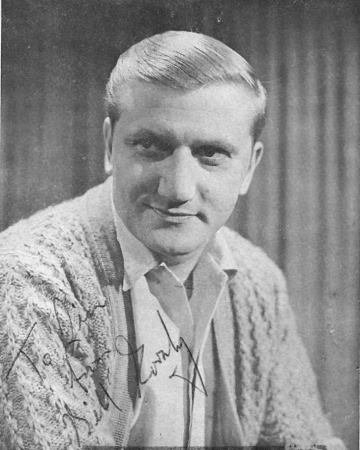 Billy Gormly (Courtesy: Jim Baxter)
Aired on WTTG-TV 5,
Mondays through Fridays,
Afternoons, at various times
From August 1963 to September 1968:
(8/26/63 to 9/16/65)
4:00 to 5:00PM
(9/19/65 to 3/11/66)
3:30 to 5:00PM
(3/14/66 to 9/2/66)
4:00 to 5:00PM
(9/5/66 to 12/16/66)
3:30 to 4:30PM
(12/19/66 to 9/1/67)
3:00 to 5:00PM
(9/4/67 to 9/20/68)
3:00 to 3:30PM
-
Also "The Bill Gormly Show"
Aired on WTTG-TV 5,
Monday through Friday Mornings:
(9/14/64 to 4/30/65)
8:00 to 9:00AM
(Never listed as being broadcast in color.)
-
Host: Bill Gormly as Himself and as various other characters,
(with whom he would interact, via pre-taped drop-ins).
Broadcast live from WTTG-TV studios in the Raleigh Hotel and later moved to Wisconsin Ave. with pre-taped bits and a variety of film features (such as Warner Bros cartoons). The show was shown in COLOR beginning 12/19/66.
-
From 8/26/63 to 9/1/67, a full thirty-minute episode of "The Adventures of Superman",
starring George Reeves,
aired from 4:30 to 5:00 PM each weekday.
-
Gary Helton, wrote: "Gormly was a talented guy who did some really funny characters
like Robin J. Finch (The Bird Man), C. Aubrey Bottomly, and Luke the Janitor. "

Pete White swears: "To this day I still carry a dogeared
photo of 'Uncle
Clyde' in my wallet for luck."

Thanks to Tonette M. Joyce Skube and Pete White for the photo!
-
Phil Wood adds "Extremely talented gentleman. Other characters included
A.C. Sparks, the electrician, Mr. Poucher, the mailman, & Uncle Clyde, a Civil War veteran whose dialogue would invariably include the line 'How 'bout them Redskins?' Gormly would carry on conversations with himself; that is, he'd have pre-taped responses as one of his characters, and proceed to interact
with the pre-recorded video. Greatly underappreciated talent."

John Bevilacqua concludes: "I rode an elevator in the Georgetown University library with Bill Gormly in the '70s. He made reference to a character in one of his shows called 'Elmo Hickey'; 36 years old and still in the 3rd grade. "
(Courtesy: DIVER DAN web site)

Jack Maier recalls; "One film feature/cartoon I'll always remember was Diver Dan. Dan
was a real life diver; the other characters were all fish puppets; (you could even see the strings).

One of the 'bad guys' was Barry Barracuda, (shown at Dan's left in the photo at right), who really looked cool, even as a puppet, because he had lots of teeth."

(Courtesy: DIVER DAN web site)
Jack Maier adds: "Bill Johnson and Bill Gormly were closely associated with the local 'Jerry Lewis Carnivals for MD' Summer fundraisers. You'd send away to Channel 5 for a 'Carnival Kit' that included posters & other materials to help put on a carnival. In addition to having kids appear on the show to present their money, these hosts also announced who sent-in (raised) money."

In 1966, Jack's neighborhood held a carnival, as reported in
"The Greenwich Street Gazette Special 'Halloween Issue'" (#18 Fall 1997):
GREENWICH STREET'S OWN HAUNTED HOUSE

.
In the summer of 1966, there was a haunted house setup in the Daniels' "playhouse" as part of a Carnival for Muscular Distrophy held by neighborhood kids J.P. Daniel, Laurie Bolster and John Maier. These carnivals were a fun way to raise money for muscular distrophy (before the Jerry Lewis Telethon) and were promoted by the afternoon kiddie show hosts on WTTG Channel 5. The playhouse was a perfect place to transform into a haunted house, similar to those of the Addams or Munsters families. A mysterious voice surprised each visitor, along with a remote-controlled robot monster .The fireplace held an iron pot full of "Madame Witch's Brew", complete with snakes, bats and newts. Uncle Ogelthorpe's skeleton (a horseskull) was on display for all to see.
.
Ironically, that house was reported to be really haunted in the years before the Daniels moved there in 1935. Charlotte Hottle recalls Mrs. Minnie Lent (formerly of 500) telling the story that the house's previous owners often heard a baby's ghost crying. No one in the Daniel family ever heard it, though.
.

POSTSCRIPT (May 2001)

.
John Maier & the late J.P. Daniel continued as friends & neighbors for another 35 years. As teenagers & much later as responsible adults, the two friends would reminisce about that MD carnival, and WTTG kiddie shows from all those years ago: Countdown Carnival's Bill Gormly; the Three Stooges' Bill Johnson and their fun fireworks pitches often came to mind on the hot summer days. The most cherish-
ed character, however, was Captain Tugg. At a recent block party, when asked of Tugg & the Channel Queen, J.P. clearly remembered the Captain & Fantail's quest to catch the two spies, Axel & Spike.
A correspondent calling himself only "Kevin"
wrote to NorVaPics.Com on 7/3/02 (in part):

"One of my favorite childhood summertime memories is of sitting at the dinner table eating my supper and watching TV, a fan droning in the background, as Bill Gormly described the various fireworks assortment boxes lined up neatly before him on a long table...

They were always hawked as 'safe and sane' (... as opposed to dangerous and crazy), were 'Available at all local area Dart Drug, Drug Fair, and High's stores!!!', and had names like 'Spirit of '76', 'Miss Liberty', 'Project Mercury', and 'Liberty Bell'. The Cadillac of all the assortments (and of course, the one all we kids dreamed of), came in a big red tube with a black cone on top, and looked like a rocket.

...After finally pestering our parents into getting them for us, all us kids in the neighborhood would take our fireworks out of the boxes, and then spend hours organizing, admiring, and playing with them, and showing them off to our friends, always for at least a week before the big night finally came.

My personal favorite item was always the 'House on Fire', a little red cardboard house with a (very lame) fountain (which always burned out too quickly) sticking out of the top like a chimney. When the fountain failed to catch the little house on fire, which was almost always (not that it was supposed to), my friends and I would dutifully light it ourselves, and ensure it 'burned to the ground', all the time dancing around, laughing and screaming 'Fire! Fire!'. ..."
Crusader Rabbit aired on Countdown Carnival.
(Courtesy: 'TOON TRACKER web site)

Mark Rockman reports: "According to my good friend Bill Halvorsen, a noted Percy Faith expert, the CC theme song was 'Little Bells & Big Bells (Glocke und Glockchen)', written by Helmut Zacharias; from Percy Faith's 1956 monaural album 'Passport to Romance'. Bill recalls Gormly responding reluctantly on the air to a viewer request to name the tune. The same recording was used for ABC's 'Seven Keys' game show hosted by Jack Narz. It turned up in various other places as well."
James Garner comments:

"Countdown Carnival aired during the Rat Fink craze. There was a large collection of Rat Finks on the set, some sent in by viewers, in all sizes including large ones from model kits and small ones from gum- ball machines. One day they showed the 'world's smallest Rat Fink' on a little cushion; so small you couldn't see it."

Rat Fink™ name & device
and "Big Daddy" Roth are trademarks of
Ed Roth ©1999-2004.
Rat Fink device ©Ed Roth 1984/89.
-
Hear The Theme To COUNTDOWN CARNIVAL At Kidshow Klips!
(Courtesy: 'TOON TRACKER web site)

John Bevilacqua says:

"The show broadcast Rod Rocket, Space Angel, Rocky & Bullwinkle, and in the last half hour, Superman. It premiered on 8/26/63. You know, Bill Gormly did look like Superman actor George Reeves."
-.
| | |
| --- | --- |
| (Courtesy: 'TOON TRACKER web site) | Tom Fielding recalls: "Pow-Wow,The Indian Boy" (with his sappy theme song) would always get into jams and his animal friends came to his rescue. Along with the 'Big World of Little Adam', Pow-Wow was among the most hated cartoons among my pals, who wanted to see the animals eat him. But I found a certain charm in his oversized head." |
| "The big attraction on Countdown Carnival for my crowd was 'Roger Ramjet'. But, 'The Adventures of Superman' were the high point of the show for me." | (Courtesy: 'TOON TRACKER web site) |
Scott Marinoff points-out: "Hosts of WTTG kids shows also pitched a 2-piece plastic item, about the size of a softball, into which you'd put a scoop of ice cream - then snap it together - then insert it into the top of an old fashioned
6-oz bottle of Coca Cola - and volia! INSTANT ICE CREAM FLOAT!"
-
Glen
Swanson
provided
these
photos
of the
Astro-Float
for Coke.
-

Jack Maier recalls
the same product
was later marketed
by the 7-UP company
as the "Fizz-Nik",
(modeled perhaps
after the Soviets'
"Sputnik" craft),
for 49 cents each
and was featured
in a Sixties TV ad
that starred monkeys.
-
Before going to WTTG,
Gormly was a popular DJ
at WITH-AM, Baltimore,
in the early 1960s.
When Countdown Carnival ended, Bill Gormly continued as WTTG staff announcer. He eventually joined the Mutual Broadcasting System as a radio newscaster.
Following his career in broadcasting and until his retirement in April 2000,
Gormly was spokesperson for the WSSC (Washington Suburban Sanitary Commission).
Sources: Jim Baxter... Diver Dan is property owned by John Ferlaine, Brian Kellman & Martin Young. Diver Dan images from http://www.planetxmagazine.com/diverdan.html Other cartoon images from Ron Kurer's 'TOON TRACKER web site. Theme song info by Mark Rockman. Music/info courtesy Bill Halvorsen.
Thanks to Gary Helton, Jack Maier, James Garner, Tom Fielding, Scott Marinoff,
John Bevilacqua, Glen Swanson & Kevin who wrote to NorVaPics.Com.
Rat Fink™ name & device & Ed "Big Daddy" Roth are trademarks of Ed Roth ©1999-2004.
Rat Fink device ©Ed Roth 1984/89
Airtimes and some other facts confirmed from TV listings found in the Evening Star,
Sunday Star TV Magazine (provided by Jack Maier) and the Washington Post papers.
Do you remember?
Any Other Cast Characters
Any Other Cartoons/Shorts Featured
Any Other Details/Correctios
Email Us
All Shows Originated From Metropolitan Washington, D.C. Studios
..
.
Outstanding Sites you'll also want to visit...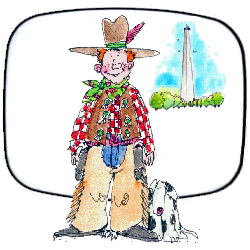 Kaptain Kidshow
Saluting Vintage TV Kid Shows
Produced In Washington, DC
Page Revised: 8/26/04
.
.
Complete List of Shows
.
Complete List of Hosts
.
Sounds From The Shows
.
Your Own Recollections
.
Send Email To Kappy