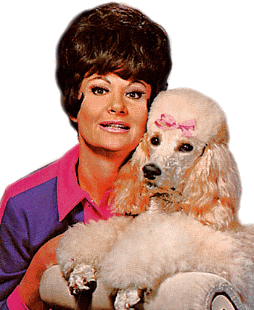 "Claire & Co Co"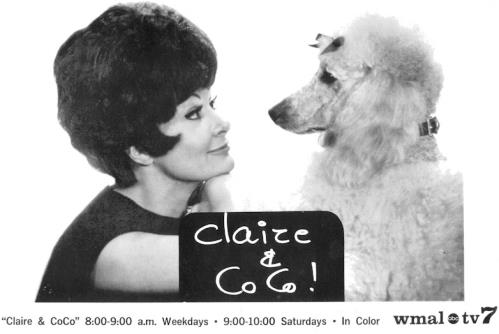 (Courtesy: Chris Athey)
Aired on WMAL-TV 7,
Mornings, at various times
From August 1965 to October 1969:
(8/30/65 to 9/16/66):
8:00 to 9:00AM Monday-Friday
(9/9/67 to 12/22/67):
7:30 to 8:30AM Monday-Friday
9:00 to 9:30AM Saturday
(9/17/66 to 4/7/67):
8:00 to 9:00AM Monday-Friday
9:00 to 10:00AM Saturday
(12/25/67 to 7/13/68):
8:00 to 9:00AM Monday-Friday
9:00 to 9:30AM Saturday
(4/10/67 to 9/2/67):
7:30 to 8:30AM Monday-Friday
9:00 to 10:00AM Saturday
(7/15/68 to 10/12/69):
8:00 to 9:00AM Monday-Friday

Special Programming:
On Friday November 25, 1966, (the day after Thanksgiving),
Channel 7 aired the 1959 movie "A Gift for Heidi" ...
hosted by Claire and Co Co.
.
-

The Sunday Star TV Magazine, 3/9/69
(Courtesy: Jack Maier)

Hostess:
Claire Kleess as "Claire" with
"Co Co" (short for "Coquette"),
her pet white poodle since 1958.

Broadcast live from WMAL-TV studios on Connecticut Avenue at Van Ness; featuring plentiful pre-filmed segments; (some seg- ments with guests were filmed on-location).

The print listings for the black and white show initially stated "Filmed portions in color." But, beginning January 2, 1967, the entire show was broadcast "In Natural Color".
.
Hostess Claire Kleess
(formerly a teacher
at Potomac's Primary
Day School) held a
degree in literature
from Cornell University.

A mother of three,
by the late 1960s,
she was known
as "Claire Lyons".

(Ad Courtesy:John Bevilacqua)

TV Guide Magazine, Week of July 9, 1966
WMAL-TV 7 Promo Supplement from the Sunday Star, 9/12/1965
(Courtesy: Jack Maier)

JRB wrote:
"Claire and Co Co's cartoons included the Revolutionary War charac- ter Hector Heathcoat with a pet dog (or maybe a pet turkey) along on his many adventures. "
Hear a 1 Minute Promo For "Clare & Co Co" by Bill Trumbull
(With a Johnny Batchelder Station ID) at Kidshow Klips!
The Sunday Star TV Magazine,, 9/11/1966


Courtesy: Jack Maie

r

Milt Wishard, who worked at Channel 7


from 1950 to 1993, recalls: "I was a cameraman on this show and Charles Gibson, (today an ABC anchorman and 'Good Morning America' host), was the floor director.


Co Co was a big standard poodle and when she dumped on the studio floor, Charlie had to do the cleanup honors. That's called working in the trenches."

Tom Gauger adds: "...whenever Claire had a touch of something and couldn't come in to do the show, John Lyon (of WMAL Radio) sat in. ... Since John played banjo and sang, he was a great enter- tainer and perfect for the show."
Trisha Katson's 1977 article "Whatever Happened To Those Kiddie Show Hosts?" tells how
"C & CC" featured songs, crafts, learning numbers, kid exercise, geography and phonics.

.

Endorsed by DC area schools, the show won many awards, such as a 1966 Metropolitan Area Media Award (MAMA) by the American Association of University Women (AAUW) and a 1967 Ohio State University award for con-
tributions to educational TV.
(Photo Courtesy: Jack Maier)

.The Sunday Star TV Magazine, August 1965
The Sunday Star TV Magazine, 10/31/65

The show was famous for making fascinating filmed "field trips";
most often to a DC area location.
For instance, the program would
visit the children at a different
foreign embassy every Tuesday;
(an idea credited to WMAL-TV
director Charlie Stopak).

.

Longer trips took C & CC skin-diving
in the Bahamas; helicoptering past
the Statue of Liberty; shark fishing
in Florida; lobster fishing in a kazoo boat; king cobra milking; and touring Montreal Canada's Expo '67.
(Photo Courtesy: Jack Maier)
Kathy Kurke adds "I played Winnie the Pooh in a pantomime on Claire & Co Co around 1965. I took community acting class in about 5th grade, and a few of us were invited to perform a holiday show. I can't remember if it was Thanksgiving or Christmas, but I believe it was the latter since the pantomime was called 'Pooh discovers the North Pole.' It was great fun, but I was very disappointed with Co Co. The dog was unfriendly, powdered, and had red or black painted toenails, although it did not really matter since our TVs were in black and white."
One filmed feature starred Samuel G. Athey, Jr. as "Sam the Safety Man" with his shinyTrailways bus.

Sam gave various safe driver and passenger tips to the kids at home and demonstrated the many steps in learning to drive a full-sized bus.

Mr. Athey passed away in 1984.
(Info Courtesy: Carolyn, Dave and Chris Athey)
(Ad Courtesy: Jack Maier)

The Sunday Star TV Magazine
The Sunday Star TV Magazine, April, 1967

By 1968, the show had a daily
audience of 34,900 kids (from age
2 to 11), plus an estimated 4,300 teenagers, 1,300 men and 4,100 women, according to an article
published in The Evening Star.
(Ad Courtesy: Jack Maier)
"My brother and I had the privilege of singing on the Claire & Co Co show with our church's children's choirs (First Baptist Church of the City of Washington, D.C.) in the show's early days. I believe it was sometime around Easter.
My Dad took pictures on the set and we still have them somewhere."
Jane (Maplesden) Applewhite
Burtonsville, MD
"Back in the late 1960s, my father, Robert Krauss was Claire's hairdresser. We watched her show every morning all the way to the credits, to see 'Hair by Mr. Robert of Saks Fifth Ave'.

I was nine years old, so she invited me to be in the Cherry Blossom parade and ride on the float with she and Co Co. I remember that it was very cold, but being on the float in front of a very large TV set was very exciting!! I waved my white gloved hand until I was frozen.

My family and I went to the Ice Capades with her. We children felt so special sitting with such a 'famous' lady. She was always so nice. I am glad to have known her."

Raschael Krauss McGuire

Photo Courtesy

CapitalWeather.com

Photographer Ian Livingston
Jack Maier reports: "

For a while after the 'Claire and Co Co' show ended,

Claire hosted adult interview shows on WMAL-TV 7, Weekdays from 10:30 - 11:00am. The first version was called 'Now! Women', and was co-hosted by

Gwen Dillard. In June of 1970, the show title was changed to 'Claire'.

"
According to a spokesperson, Claire Kleess Lyons, 80, died suddenly on Tuesday, 3/28/2006, at a hospital near her home in Florida from a clot in her heart.



Claire Kleess Lyons, Loving mother to Alix Foran, Eric Kleess and Guy Kleess, passed away on March 28, 2006. Claire Kleess Lyons was best known as the star of the pioneering children's educational television show "Claire and Coco". "Claire and Coco" aired in the Washington DC area from 1965 to 1969.

"Claire and Coco" combined educational lessons in phonetics, colors, shapes, music, and basic mathematics. It also featured Claire with her poodle, Coco. The highlight of the show had Claire with Coco taking field trips to local embassies to see how children of different cultures lived, and to important cultural and historical sites. Claire's field trips with Coco went as far as to an animal preserve in the Venezuelan Jungle, shark fishing in Key West, the 1967 World's Fair in Montreal Canada, visiting The Trapp Family in Vermont and SCUBA Diving in the Bahamas. The show won many prestigious television and educational awards.

After "Claire and Coco", Claire hosted the TV interview shows "Claire" and "Now! Women".

Claire graduated from Cornell University, entering college at the age of 16. She married her first husband, geologist and Marine Corps Officer, George Kleess in Cairo, Egypt in 1947. Before starring in "Claire and Coco", Claire taught at the Primary Day School in Potomac, Maryland.

She is survived by her three children and her grandchildren, Katherine, Lauren, John, Jessica, Annabel, and John.

A Funeral Mass was held Wednesday 4/5/2006 at 10:00 AM at St. Michael's Catholic Church, 505 Broome Street, Fernandina Beach, Florida with Father Eburn officiating. There was a reception held following the service at 12:30 PM at the Senior Center of Osprey Village, Amelia Island, Florida. In lieu of flowers, the family request that contributions be made to the Humane Society, http://www.hsus.org/.

(Oxley-Heard Funeral Directors, Inc.) (The death notice appears here courtesy of Pat Murphy.)

Sources: "Whatever Happened To Those Kiddie Show Hosts?" by Trisha Katson, 1977, George Mason Univ. Phoebe Magazine, (courtesy: John Ahmad & Jack Maier). An Evening Star article "TV's Claire Films Her Travels", (date unknown). Messages by "John" on 3/14/00 and by "Alan" on 3/16/00 in the DCRTV Mailbag. Email from Milt Wishard, JRB, Kathy Kurke, Carolyn M. Dooley, and Dave Athey. Image and data from Chris Athey.
Images and data from Sunday Star TV Magazines, courtesy Jack Maier. TV Guide ad by John Bevilacqua.
Thanks to Pat Murphy for obtaining the death notice for Claire.
Airtimes confirmed from TV listings in the Evening Star and Washington Post.
Do you remember?
Any Other Cast Characters
Who Played Those Characters
Name of Cartoons/Shorts Featured
Name of Show's Theme Song
Any Other Details/Corrections
Email Us
All Shows Originated From Metropolitan Washington, D.C. Studios
..
.
Outstanding Sites you'll also want to visit...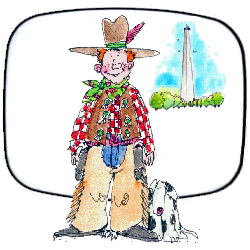 Kaptain Kidshow
Saluting Vintage TV Kid Shows
Produced In Washington, DC
Page Revised: 4/5/06
.
.
Complete List of Shows
.
Complete List of Hosts
.
Sounds From The Shows
.
Your Own Recollections
.
Send Email To Kappy