.
"Fun Park"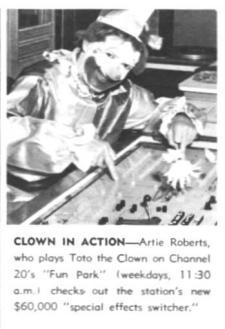 The Sunday Star TV Magazine, 5/1/66.
(Donated by Jack Maier)
Aired on WDCA-TV 20
Mondays through Fridays
12:00 to 12:30PM
Thursday 4/21/66 - Friday 1/27/67
Never listed as broadcast in color.
Host:
Artie Roberts as "Toto The Clown"
Broadcast from WDCA River Road studios.
-
(As of 10/9/66, listed as "Dick Coughlin, host",
presumably with the departure of Artie Roberts.)
This show premiered the day after WDCA hit the air
on Wednesday night 4/20/66. If the TV listings are correct, the first two broadcasts (Thursday 4/21
and Friday 4/22) were called "Magic Mountain".
Source: TV listings in the Sunday Star TV Magazine.
Donated by Jack Maier.
Do you remember?
Any Other Cast Characters
Who Played Those Characters
Other Cartoons/Shorts Featured
Name of Shows' Theme Songs, if any
Any Other Details/Corrections
Email Us
All Shows Originated From Metropolitan Washington, D.C. Studios
..
.
Outstanding Sites you'll also want to visit...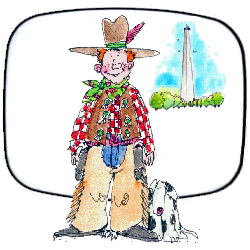 Kaptain Kidshow
Saluting Vintage TV Kid Shows
Produced In Washington, DC
Page Revised: 8/26/04
.
.
Complete List of Shows
.
Complete List of Hosts
.
Sounds From The Shows
.
Your Own Recollections
.
Send Email To Kappy