"The Little Rascals"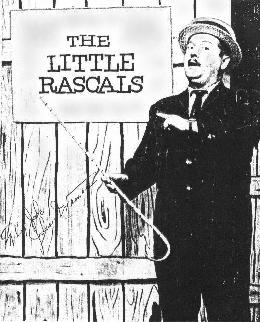 (Donated by Jack Maier)
Aired on WMAL-TV 7
Mondays through Fridays
6:00 to 6:30PM
(8/24/59 to 3/10/61)
Host:
Jackson Weaver as "Uncle Flapjack" in a loud plaid jacket
with a topless straw hat and a carnival barker's cane.
Broadcast live from WMAL-TV 7 Connecticut Ave./Van Ness studios
with Hal Roach "Little Rascals (Our Gang)" short subjects.
Jackson Weaver was the first voice of the "Smokey (The) Bear"
U.S. Forest Service fire safety mascot.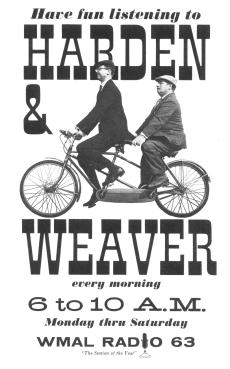 Advertisement from the 1963 AFTRA Directory.

(Donated by Skip McCloskey)
From 1960 until Jackson Weaver's
death, Weaver and Frank Harden
teamed for the hugely-popular
"Harden and Weaver" morning
radio show on WMAL-AM 630.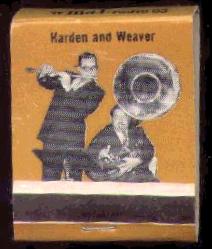 Prior to hosting "The Little Rascals", Weaver was "Quiji The Clown"
(pronounced "WeeGee") in a full clown costume and make-up. He also did
a 1953 show "Seeing Double" and countless other duties for Channel 7.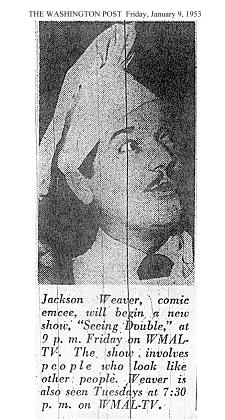 Jackson Weaver died in 1992 at the age of 72
from heart and kidney failure.
Sources: "Whatever Happened To Those Kiddie Show Hosts?" by Trisha Katson, 1977, George Mason Univ.'s Phoebe Magazine, (provided by John Ahmad & Jack Maier). Airtimes from TV grids in the Evening Star and Washington Post. "Harden and Weaver" ad from the 1963 AFTRA Directory donated by Skip McCloskey.