"Commander Retro"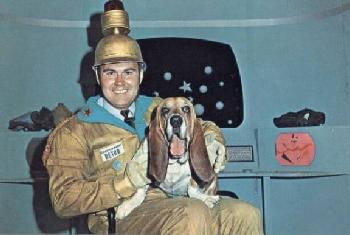 Willard Scott as COMMANDER RETRO
with Luther as Dr. Strangedog
(Courtesy: Jack Maier)
Aired on WRC-TV 4
9/17/66 to 2/24/68
Saturdays
8:30 to 9:30AM
Broadcast "In Living Color"
Host:
Willard Scott as "Commander Retro"
with his co-star "Dr. Strangedog",
(played by his own hound, "Lester").
Pre-taped and later broadcast from WRC-TV 4
with studios and transmitter at 4001 Nebraska Avenue, N.W.
Bonnie Aikman's "D.C. Studios" column in the 9/11/66
Sunday Star TV Magazine promotes the show as:
"'Commander Retro and Dr. Strangedog'... An account of the adventures of a physicist who's been turned into a talking dog. Willard Scott (remember Bozo?) is playing the commander, and now we know where the show got that wacky premise...."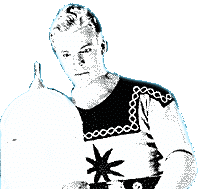 Buster Crabbe as "Flash Gordon"
John Bevilacqua writes, "You might mention that Commander Retro featured the Flash Gordon and Buck Rogers movie serials."
Hear Willard Scott Describe "Commander Retro"
at Kidshow Klips From An Interview With Sean Hall
Courtesy: Willard Scott & Sean Hall (heard on an edition of WTOP radio's"issues")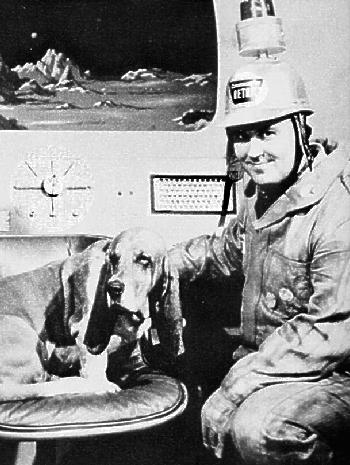 In a 1977 interview with Trisha Katson for "Whatever Happened To Those Kiddie Show Hosts?", Willard Scott is quoted as saying; "This was a terrible show, a real turkey...
but it was more fun to do than any of them."
Scott Marinoff contributes: "The Dr Strangedog plotline was that he'd been a human German spy, stowed away on the rocket ship. He ate too many hotdog sausages - exploded - and somehow turned into a dog! It was really Willard's basset hound, called Lester.

Part of Commander Retro's rocket ship control panel included mini-cube icetrays with blinking Christmas lights behind it! Not much to look at in person, but really nifty for the home viewers. NBC's "Star Trek" was on the air in first-run at the time and my guess is that it was a local kidshow tie-in with that show. It makes sense, since WRC was an NBC owned and operated TV station."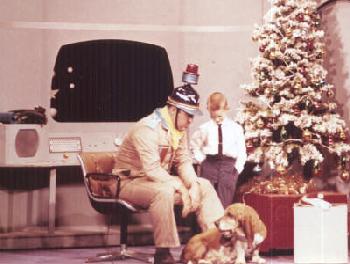 Ruth Prickett, who now resides in Indiana, shares a photo:
"This show aired the Saturday before Christmas 1967. Pictured is Robert Day, my son... and I treasure it. Carl Day, Robert's father, worked at WRC at that time. Robert enjoyed very much being on the show and when he went back to school after the holidays, his classmates asked for his autograph. Robert lives in California now. Works in computers, and enjoys the outdoors every chance he gets. This summer he joined in the large group bike riding from San Francisco to Los Angeles for AIDS benefit."
Sources: "Whatever Happened To Those Kiddie Show Hosts?" by Trisha Katson, 1977, George Mason University's Phoebe Magazine, (provided by John Ahmad & Jack Maier);
Center photo from "Willard Scott's The Joy of Living" published in 1982;
Article from the Sunday Star TV Magazine of 9/11/66, courtesy Jack Maier;
Bottom photo courtesy of Ruth Prickett. Top photo courtesy of Jack Maier.
Thanks also to Scott Marinoff, John Bevilacqua and Skip McCloskey.
Airtimes confirmed from TV listings in the Evening Star and Washington Post.