..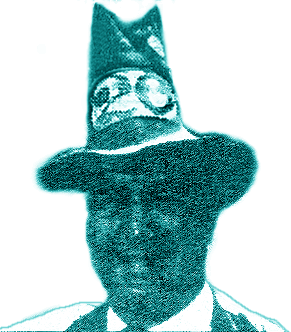 "Uncle Artie"
Aired on WDCA-TV 20
Mondays through Fridays
Various Showtimes
Thursday 4/21/66 to Friday 9/16/66
Host:
Artie Roberts as "Uncle Artie"
-
Broadcast live from WDCA-TV River Road studios with
"cartoons, puppets, film features. Gigantor, a robot, is featured."
Tom Buckley recalls: "Kids came on the show down a sliding board. Artie's trademark was sort of a hillbilly hat made from filling a hat with hot water to alter its shape. I remember him showing how to make one on-the-air."
Mark Cohen adds: "After Uncle Artie explained how to make his hillbilly hats, with great excitement I took my father's best hat & proceeded to stretch it out of shape until a gaping hole appeared. Needless to say I was sorely punished.

About a week later, I got what I felt to be poetic justice. One of the child participants told a joke: 'Q: What did Batman find in the Batroom? A: Gomer's pile and Honey's waste.'; (referring to popular shows of that time; "Gomer Pyle, USMC" and "Honey West").

Poor Uncle Artie lost his composure and was totally embarrassed. I was wat- ching the show with a friend and both of us rolled on the floor with laughter. Such a blunder could only happen to Uncle Artie."
Glenn Powell relates; "Born 1957, I grew up in the DC Area (Connecticut Park Elementary, E Brooke Lee Jr. High, Springbrook High) and was a devoted follower of Captain Tugg, Captain Lee, and Uncle Artie on Channel 20.

Much to my delight, Mark Cohen writes of an episode of Uncle Artie where two kids told what was, in those days, a dirty joke!

I too saw that episode. It was actually two kids who seemed a little older than the others. The Batman jokes were in vogue. These two boys had real wise-ass attitudes. When asked their names, they were saying things like 'John John- son', 'William Williamson', 'Robert Robertson', stuff like that. My mom was watching and said 'Those kids are going to get in trouble'. You could see Uncle Artie was getting ticked. Finally, they tell the joke. Artie shakes his head... I remember his quote... 'We don't tell jokes like that on Uncle Artie.'

Cut to commercial… when they come back, both kids were GONE! But it was ME who got cuffed in the back of the head! My Mom actually nailed ME in the head with a "That's what you'll get if YOU EVER ACT LIKE THAT ON A SHOW!"
The "Uncle Artie" show was renamed and moved in 9/66
after the departure of host Artie Roberts.
=
"Gigantor"
Monday-Wednesday-Friday
4:00 to 4:30 pm
Mon. 9/19/66 to Fri. 9/30/66
Monday-Wednesday-Friday
3:30 to 4:00 pm
Mon. 10/3/66 to Fri. 8/27/67
(As of Monday 10/10/66, listed
as "Dick Coughlin, host.")
Source: TV listings in the Sunday Star TV Magazine. Donated by Jack Maier.
Thanks also to Tom Buckley, Mark Cohen, and Glenn Powell.
Fuzzy photo from The Washington Post, Thursday, 8/25/1966, page D22,
Do you remember?
Any Other Cast Characters
Who Played Those Characters
Other Cartoons/Shorts Featured
Name of Shows' Theme Songs, if any
Any Other Details/Corrections
Email Us
All Shows Originated From Metropolitan Washington, D.C. Studios
..
.
Outstanding Sites you'll also want to visit...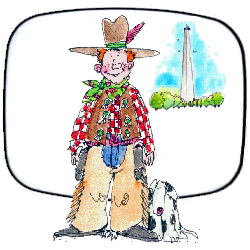 Kaptain Kidshow
Saluting Vintage TV Kid Shows
Produced In Washington, DC
Page Revised: 6/24/04
.
.
Complete List of Shows
.
Complete List of Hosts
.
Sounds From The Shows
.
Your Own Recollections
.
Send Email To Kappy