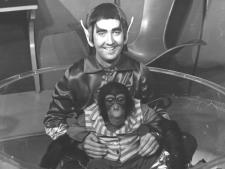 -
The gerbil gimmick had played out, so "Monkey Races" were born. Instead of galloping gerbils, a randomly chosen tape of racing chimps would air.

Dyszel recalls: "The animals were 'The Saboo Chimps'. They had a nasty habit of pulling-down zippers. I couldn't hold one for more than a minute before they would unzip my uniform to get at my mic. We often suspected that they were initially trained as part of a strippers routine! Kinky!"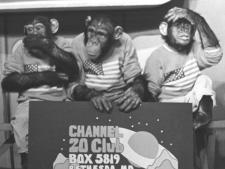 WDCA scored a coup in '74 when Walt Disney Studios allowed their pre-recorded cartoon characters to race. Thus, began the Disney Races.
-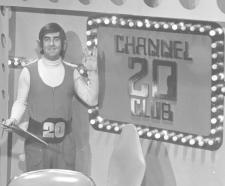 Dick Dysel as Captain 20 in 1975 on the
bridge of his new and second spaceship set.
-
In 1975, station founder and General Manager Milt Grant
came-up with the "Channel 20 Club Card" promotion.
(A similar promotion for Grant's own "Record Hop" on WTTG-TV 5
in the late '50s and early '60s had been a huge marketing success.)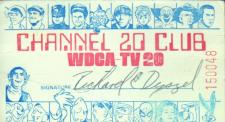 Cards were distributed to kids by mail (self-addressed, stamped envelope) or through local retail outlets and Captain 20 personal appearances.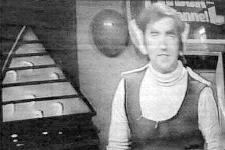 During the 3 years they were valid, some 250,000 cards were handed-out.
-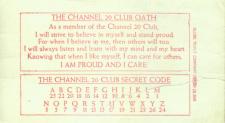 -
Each card's number matched a numbered stub in the contest drum. Five
times a day, Captain 20 picked a number at random to read on the air.
When a winner returned their card to WDCA, they'd receive the prize.
(The very first Grand Prize was "Christmas in Disney World".)
-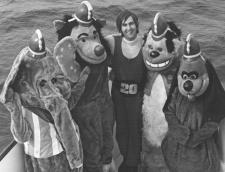 Capt. 20 & the Banana Splits cruise the Potomac.
--
'Til '77, his bits aired various times each weekday. But when TV stations were pressed for a commitment to "quality" (meaning educational) kid's programming, Captain 20 got his first real show. His alien features were softened and "Captain 20's World" hit the air.-
.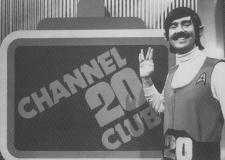 Dick Dyszel as Captain 20 the bridge of his
third and last spaceship set. (1977)
---
The show was produced with close cooperation of the DC school system and focused at first on preschoolers. Over the next year, it evolved into the "Channel 20 Club" and was expanded to cover early school age kids.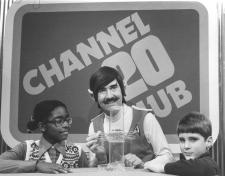 Captain 20 (Dick Dyszel) Gets His 1st Real Show
Captain 20 continued to run contests and awarded different prizes using a variety of methods. By 1979, he was also doing public safety PSAs.
-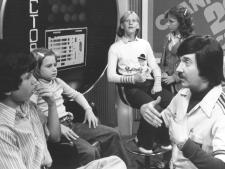 Captain 20 in a new uniform and without "alien ears" greets
Diamond Elementary School students from Gaithersburg. (c.1979)
-
A mainstay of WDCA kid shows was the ongoing display of viewer's
artwork. Introduced in 1972 as "Bozo's Art Gallery", the display
became Captain 20's "Space Gallery" when Bozo's Circus departed
in 1977. The feature ran 15 years altogether... until May 1987!
(Dick Dyszel still gets mail from folks who say how
much it meant to them to see their drawings on TV.)
-
Host/producer Dick Dyszel would soon also be responsible for
WDCA's innovative local educational shows "WOW!" and "Kids' Break".