"Pete's Place"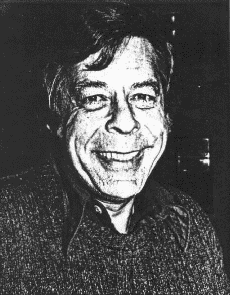 (Photo from 1977 by Trisha Katson, GMU)
Aired on WTTG-TV 5
Mondays through Fridays
February 1956 to May 1957
(2/20/56 to 3/24/56)
Shown as "Looney Tunes,
with Host Pete Jamerson"
12:00N to 12:30PM
(3/26/56 to 12/7/56)
Renamed "Pete's Place"
12:00N to 12:30PM
(12/10/56 to 5/10/1957)
3:30 to 4:00PM
Host:
Pete Jamerson as "Pete"
Broadcast live from WTTG-TV 5 studios in the Raleigh Hotel at 12th St. & Pennsylvania Ave., N.W. with puppet bits and cartoons.

In the Sunday Star's "News of D.C. Studios" column of April 1, 1956;
Dis is da Place:WTTG-5 may have the season's local small fry sleeper in "Pete's Place" weekdays, noon to 12:30... The eyes of the front office help opened wide when a contest conducted by Pete (Pete Jamerson who doubles as announcer and weatherman) drew 1578 pieces of mail. This is Pete's first click in the kiddie circuit... Did you know he has a Hollywood background, appearing in such films as "The Crystal Ball" and "Between Us"?
Tom Fielding recalls that the show's theme music was "a full
orchestra version of the 'Comedian's Gallop'. Pete used the
part of the piece that sounds very similar to the 'Can-Can'."
Hear A Modern Performance of the "Comedian's Gallop" Recorded by Cuttime Players at Kidshow Klips!
(Visit Cuttime Players' Website at www.cuttime.com)
In 1954, prior to "Pete's Place", Pete hosted "Peter Jamerson's
Matinee For You" on TV 5, every weekday, 1:30 to 2:30PM..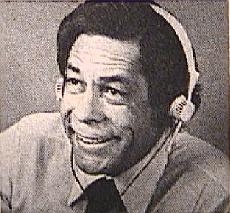 Pete Jamerson in the '70s at WGMS Radio
(From an ad in Washingtonian Magazine)
(Donated by Dave Statter)
In 1977, Trisha Katson spoke with Pete Jamerson for an article titled "Whatever Happened To Those Kiddie Show Hosts?".
He told Katson that "Pete's Place", directed by Lee Reynolds,
was "a chance to play himself and rely on puppets for laughs."
-
he article states Pete Jamerson directed and produced musicals
in Fairfax County Virginia with high schoolers for "S.T.A.G.E., Inc.".

Karen Callen shares: "I was in those S.T.A.G.E. shows Pete spearheaded in the late '60s. The acronym stood for "Summer Theatre And Good Entertainment." Pete and his wife, Cornelia, were great to all of us kids. I dated his stepson, then known as Sandy Jamerson. Sandy's legal name is Alexander Chadwick, better known now as Alex Chadwick of NPR and National Geographic."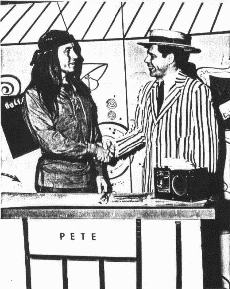 Pete Jamerson (on right) in his later TV-7 program "Pete & His Pals",
with Michael Ansara of ABC-TV's "Broken Arrow" (on left).
Jamerson took the "Pete's Place" concept to WMAL-TV 7 in the
Summer of '57 as "Pete & His Pals". (Later, he did a different
AM show for Channel 7 titled "P.J.'s Club".) At one time or
other, he worked for TV 7 News and as a staff announcer.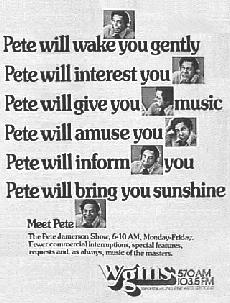 Washingtonian Magazine, March 1977 Ad
for Pete Jamerson's WGMS Radio show.
(Donated by Dave Statter)
After leaving Channel 7, for many years Jamerson hosted
a morning program at WGMS 103.5 FM/570 AM radio (above).

Scott Wykoff wrote in the DCRTV Mailbag:
"In my first job in radio I worked with Pete at WMER (1440) in Portland, Maine. Pete hosted a morning information show on the talk & business station. Pete retired to Maine but still had the radio bug and worked for the station for several years. He also had a love for the water and enjoyed spending time out on his boat in Casco Bay. I was sad to hear a few years ago that Pete had passed away. He was a good friend and a true gentleman. "
Sources: "Whatever Happened To Those Kiddie Show Hosts?" by Trisha Katson, 1977, George Mason University's Phoebe Magazine, (provided by John Ahmad & Jack Maier). Basic data by "John" on 3/14/00 and Mr. Jamerson's later history by Scott Wykoff, on 3/16/00 in the DCRTV Mailbag. WGMS ad (from Washingtonian, 3/77) and the blown-up picture of Pete with headphones provided by Dave Statter.
Information on the program's theme music was provided by Tom Fielding.
Airtimes confirmed from TV listings in the Evening Star and Washington Post.