"P.J.'s Club"
f.k.a. "Funny Company"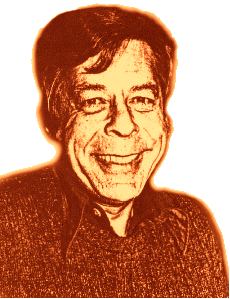 (Photo from 1977 by Trisha Katson, GMU)
Aired on WMAL-TV 7
Mondays through Fridays
September 1963 to January 1965
(9/9/63 to 10/4/63)
Shown as "Funny Company"
8:00 to 9:00AM
(10/7/63 to 10/17/63)
Renamed as "Cartoons"
8:00 to 9:00AM
(10/18/63 to 1/1/65)
Renamed "P.J.'s Club"
8:00 to 9:00AM
Host:
Pete Jamerson as "P.J. Moneybags"

When the show debuted in September 1964, its title was "Funny Company"; "Pete Jamerson is host for this new cartoon series that attempts to combine education and enjoyment with examples of the value of enterprise".

But, the ratings must have been a disappointment to station management. On 10/7, the TV listings changed to say "Cartoons" while the show was being re-tooled. Then, on Friday, 10/18, the show offically became "P.J.'s Club".
Broadcast live from WMAL-TV Connecticut Ave./Van Ness studios
with pre-recorded off-stage voices, sound effects from records,
animal films, and cartoons.
In 1977, Trisha Katson interviewed Pete Jamerson for an article titled "Whatever Happened To Those Kiddie Show Hosts?". Katson wrote that P.J.'s character wore a fright wig, a suit of tails, and a Walrus mustache. Jamerson told Katson; "That was a zany, crazy program; a real wild show.... Bumbly old P.J. and everything would fall down and we had a lot of fun."
-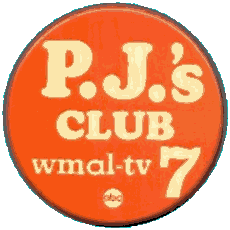 Donated by Ralph Bull
-
The article states Pete Jamerson directed and produced musicals
in Fairfax County Virginia with high schoolers for "S.T.A.G.E., Inc.".

Karen Callen shares: "I was in those S.T.A.G.E. shows Pete spearheaded in the late '60s. The acronym stood for "Summer Theatre And Good Entertainment." Pete and his wife, Cornelia, were great to all of us kids. I dated his stepson, then known as Sandy Jamerson. Sandy's legal name is Alexander Chadwick, better known now as Alex Chadwick of NPR and National Geographic."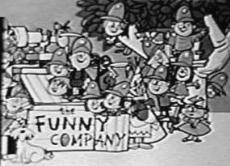 The Funny Company (Funny Co. Prod./Ken Snyder Prod. 1963)
(Courtesy of "The Toon Tracker")
From Tom Fielding: "Hey, remember 'The Funny Company'? Those were
shown on P.J.'s Club and on Stu Kerr's 'Mr. Morning' show in Baltimore."
Hear The Funny Company Cartoon Theme Music at Kidshow Klips!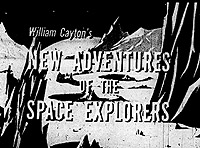 Learn more at "TheSpaceExplorers.com"
Still Frame Courtesy of John V.
from Jerry Beck's Web Site
Ralph Bull of Alexandria recalls... "Pete occasionally aired two cartoons in serial form with something like 25-30 episodes. One was a fantastic version of 'Beauty and the Beast' and the other was a wonderfully animated science fiction adventure entitled 'Space Explorers'. Both were superb and 'Space Explorers' used animation and live action to weave the story together. I've tried unsucessfully to locate copies of these for many years."
Learn more at Chuck Scholtz's "TheSpaceExplorers.com"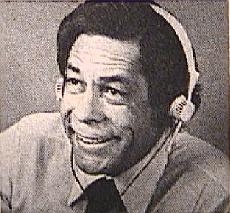 Pete Jamerson in the '70s at WGMS Radio
(From an ad in Washingtonian Magazine)
(Donated by Dave Statter)
In 1954, before going to work for Channel 7, Pete hosted "Peter Jamerson's Matinee For You" for competitor WTTG-TV 5, every weekday,
1:30 to 2:30PM. Then, from 1956 to '57, he hosted
"Pete's Place", (as well as doing other on-air work) at Channel 5.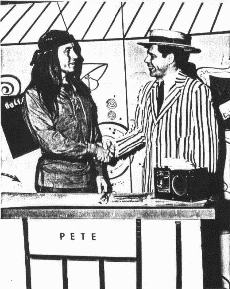 Pete Jamerson (on right) in his WMAL TV-7 program "Pete & His Pals",
with Michael Ansara of ABC-TV's "Broken Arrow" (on left).
Jamerson took the "Pete's Place" concept to WMAL-TV 7 in Summer '57
as "Pete & His Pals". At one time or other, he also worked for
TV 7 News and as a staff announcer.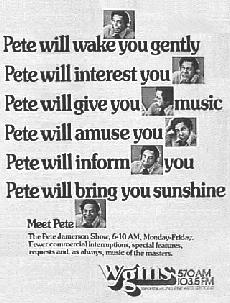 Washingtonian Magazine, March 1977 Ad
for Pete Jamerson's WGMS Radio show.
(Donated by Dave Statter)
After leaving Channel 7, for many years Jamerson hosted a morning program at WGMS 103.5 FM/570 AM radio (above).

Scott Wykoff wrote in the DCRTV Mailbag:
"In my first job in radio I worked with Pete at WMER (1440) in Portland, Maine. Pete hosted a morning information show on the talk & business station. Pete retired to Maine but still had the radio bug and worked for the station for several years. He also had a love for the water and enjoyed spending time out on his boat in Casco Bay. I was sad to hear a few years ago that Pete had passed away. He was a good friend and a true gentleman. "
Sources: "Whatever Happened To Those Kiddie Show Hosts?" by Trisha Katson, 1977, George Mason University's Phoebe Magazine, (provided by John Ahmad & Jack Maier). . Basic data by "John" on 3/14/00 and Mr. Jamerson's later history by Scott Wykoff 3/16/00 in the DCRTV Mailbag. WGMS ad (Washingtonian , 3/77) and the blown-up picture of Pete with headphones provided by Dave Statter.
Info and still frame from "The Funny Company" is courtesy "The Toon Tracker" site.
"Space Explorers" still frame courtesy of John V. from Jerry Beck's Web Site
Learn more about "Space Explorers" at Chuck Scholtz's "TheSpaceExplorers.com"
Airtimes confirmed from TV listings in the Evening Star and Washington Post.