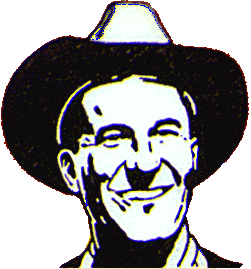 -
"Pick Temple"
Choose
From
6 Pages:

1

2

3

4

5

6
-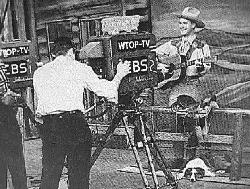 Pick Temple and a very relaxed Lady at WTOP-TV 9
From "Broadcast News", 1955 (Courtesy: Dave Statter)
Dr. L. Parker Temple III gives some behind-the-scenes
details of Pick's popular pony rides:

"This, as much of the history, varies with time. At first, we simply had a western saddle on the fence post (shown above). But that soon gave way to real props (shown below). We had a shetland pony (live - and a problem at times) nicknamed Piccolo. Dad had to really watch Piccolo - because he had a bad temper.

One child was selected from the hayloft, and allowed ten to twenty seconds to say "Hello" to all their friends and family following a brief interview. Usually, the child would get nowhere near finishing, and so we set the rule that you were allowed to say "Hi everybody else" when the cow moo'ed. The sound was one of those small cylindrical toys that sounds only vaguely like a cow, but it was good enough. Folks who were on the show or who watched it regularly still laugh about saying "Hi everybody else" in front of their friends who think they have lost their minds. It was a very common phrase in DC in the 1950s.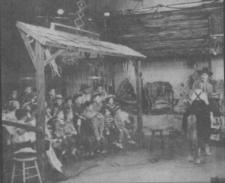 As to the bad temper - Dad had to tightly hold Piccolo's reins, as he would try to turn and nip at the kids. That never happened, as Dad always held him very tightly. But he came home many times with a chunk taken out of his own hand by the pony.
For a while we did not have the room to move the pony, so he was just kept on the inside of a fence rail. Later, however, we would walk the pony around the fencepost to give the kids a bit of a ride. Dad would pretend to turn one of the metal decorations on the saddle and that would start the music for the ride. Great thrill for the kids who were selected."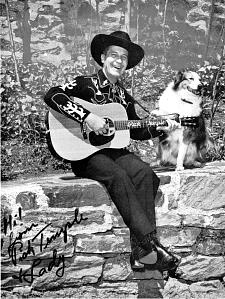 Autographed 1962 photo of Pick and Lady sitting on the wall behind
the Philadelphia studios of WFIL-TV (Courtesy: Park Temple)

Will Ravenel recalls a special contest: "I remember vividly the transition between Pick's having one of the Giant Rangers sit on a saddle laid over a fence to the introduction of Piccolo. Initially the pony had no name, so Giant Food ran a contest to choose
one. To participate you picked up an entry form at Giant that had a line drawing of the pony for the contestant to color; there was also space for your name and address and the name you wanted to give the pony. You sent the entry form in to the station.

I colored the drawing of the pony with crayons, but I was stuck for a name. My older sister Kathy, who was probably 15 then, wrote in 'Wooly'. After all my hard work on coloring, I felt my chances of winning the contest were now doomed because, first, 'Wooly' was a stupid name for a pony; and, second, because the name was too close to my own ('Willie'). I figured Pick would think I was trying to sneak-in my own name. Still, Wooly was one more name than I could think of, so that was that.

The winning name was 'Piccolo', of course, which I felt at the time was brilliant. I don't recall the prize for winning the contest-- probably Sealtest ice cream (which reminds me-- there was a coupon for a free half gallon of Sealtest ice cream in the bag of treats I got at the end of the show I attended) and Heidi bakery products and a guest of honor appearance on the show."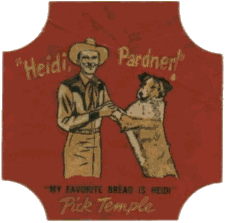 Examples of Western films shown on the "Giant Ranch":
Tim McCoy in "Border Caballero" (aired 1/3/55);
Kit Carson in "Missing Hacienda" (aired 1/4/56);
Bill Williams in "Gunsmoke Valley" (aired 1/7/57);
Kit Carson in "Bullets of Mystery" (aired 1/3/58).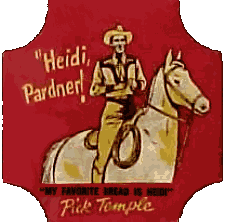 Pick's theme song was "My Favorite Bread's Heidi",
sung to the tune of "On Top of Old Smokey".
-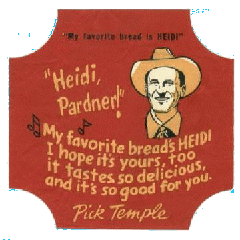 -"My favorite bread's 'Heidi',
I hope it's yours too.
It tastes so delicious,
And it's so good for you!
-
So let's all eat Heidi,
And before very long,
All Giant Rangers,
Will grow big and strong."
-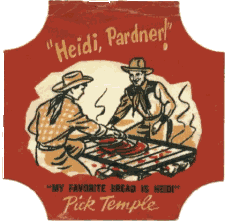 Real 1950s Heidi Bread Wrappers
(Donated by Jack Maier)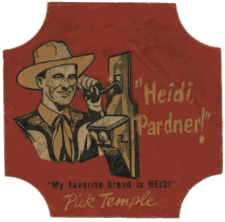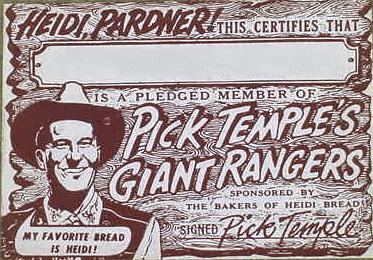 Pat McKenna memorized The Pick Temple Pledge: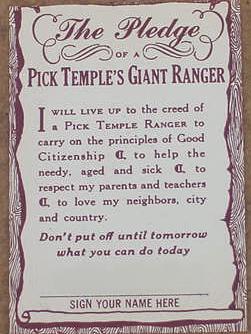 Read a related 1983 article:
"Where Are They Now?
A Pledge To Pick"-

Around 1960, Pick Temple became associated with the "Old Virginia City" western theme park in Northern Virginia.
-
As son Park Temple remembers it: "Dad was brought into the Old Virginia City project by one Stanley Jeter. He wasn't in at the very first, coming up with the idea. They approached him because of his name and status, and asked if he would be interested. I believe he invested in it, and also expected a part of the profits. Dad, a steam engine enthusiast, used to run their miniature steam engine on the weekends, and had a great deal of fun at it.
.
I worked there on weekends as well, both in the train robbery
portion and the hourly bank robbery. I was carrying the money, and would always get shot. I learned how to do stunt falls, and it was great fun. The place never made it financially and went under after about a year. It is now long gone, replaced by a Home Depot and a Price Club."
-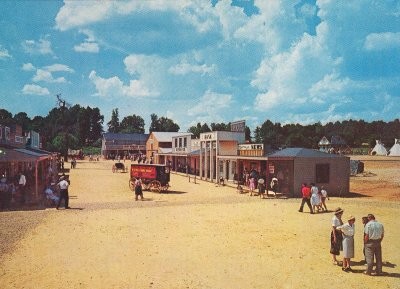 (Image From Don Thompson's NorVaPics.com web site)
-
Don Thompson, webmaster of a site that celebrates Northern Virginia history, adds: "The Fairfax Herald indicates that the building Permit for Old Virginia City, specifically mentioning the church, store and jail, was issued in May of 1961... I think Old Virginia City breathed it's first when Pick Temple and Stanley Jeter first opened the park around 1961. It remained open for about a year before going bankrupt. The park was opened again around 1963ish by a Mr. Green and his associates. As far as I have been able to determine, they were the owners until the park closed. ... some of my sources indicate that it ran out of gas in the '60s and others say it was the early '70s. "
Some facts from "Whatever Happened To Those Kiddie Show Hosts?" by Trisha Katson, (Summer 1977; George Mason University's "Phoebe" publication), and donated by John Ahmad through Jack Maier. Additional Sources: Jack Maier, Park Temple, Will Ravenel, Skip McCloskey, Pat McKenna, Tom Fielding, Tom Buckley, Tim Hollis, Dave Statter, Jimmy Gscheidle, K.J. Armstrong, Don Thompson & Bob Benedik (Rifleman tape). Airtimes from the Evening Star and Washington Post papers.
"Pick Temple"
Choose
From
6 Pages:

1

2

3

4

5

6
All Shows Originated From Metropolitan Washington, D.C. Studios
..
.
Outstanding Sites you'll also want to visit...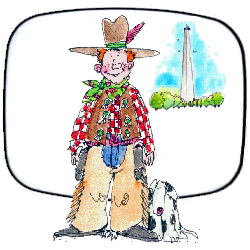 Kaptain Kidshow
Saluting Vintage TV Kid Shows
Produced In Washington, DC
Page Revised: 8/26/04
.
.
Complete List of Shows
.
Complete List of Hosts
.
Sounds From The Shows
.
Your Own Recollections
.
Send Email To Kappy