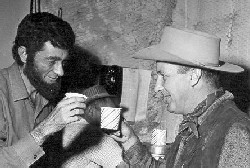 Royal Dano ("Abe") Toasts Pick Temple
Behind The Scenes On "The Rifleman" Set
(From The Photo Album of Pick Temple.
Courtesy of Dr. L. Parker Temple III)
Click on the image to see a larger image.
-
Tom Fielding remembers when Pick made a brief one-time appearance on ABC-TV's "The Rifleman" western-adventure
series which starred Chuck Connors; "Pick announced it in advance on his show, and held up stills of him with Connors."
-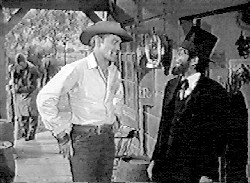 Lucas McCain (Connors) and Honest Abe (Royal Dano)
as Lincoln heads into the saloon and finds trouble.
-
"The episode was about a friend of Lucas McCain who
resembled Abe Lincoln (played by Royal Dano)."
--
During a trip into town with the McCains, Abe visits
the local saloon for a long cold drink of water.
-
-
Hear A Sound Byte Featuring Pick Temple From
"The Rifleman" episode;"Honest Abe" at Kidshow Klips
-
It was in that particular scene that, as Tom Fielding recalls;
"Pick played guitar and sang 'Bluetailed Fly
(Jimmy Crack Corn)'" with the crowd.
-
-
Although the town's people of North Fork, New Mexico
humor Abe, the plot thickens as a stranger in the bar is determined to cause a fight with the man in the stovepipe hat.
-


-
Program #130.118, "Honest Abe", first aired Monday 11/20/61 from 8:30 to 9:00pm on ABC-TV. During that era, Pick Temple's Ranch was broadcast on local ABC affiliate WMAL TV-7 in
what would be its final season on DC television (below).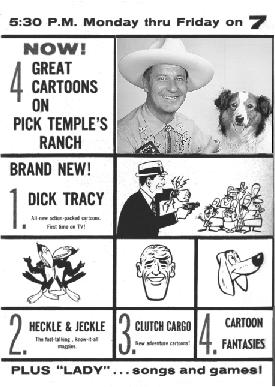 "TV Guide" Magazine, 6/3 to 6/9/61 Issue
(Donated by Jack Maier)
Acquire a VHS Copy of "The Rifleman" episode;
"Honest Abe" from Bob and Tim's TV Tape Traders
Tim Hollis, (author of "Hi There, Boys and Girls! - America's Local Children's TV Programs.), believes ABC had a promotion where local performers, like Pick, from network affiliates
would make a cameo appearance on "The Rifleman".
Additional Sources: Jack Maier, Park Temple, Will Ravenel, Skip McCloskey, Pat McKenna, Tom Fielding, Tom Buckley, Tim Hollis (author of "Hi There, Boys and Girls! America's Local Children's TV Programs"),, Dave Statter, Jimmy Gscheidle,
K.J. Armstrong & Bob Benedik (Rifleman tape).
Airtimes from the Evening Star and Washington Post papers..