"Cowboy
Joe
Campbell"

Can Also Be Found
at These
Kaptain Kidshow Pages:

.

.
.
.


CLICK EACH IMAGE FOR A LARGER VIEW

(Photos ©2004, Estate of Joseph Pendleton Campbell. All rights reserved.)
Following service with the Navy in WW II, young Joseph Pendleton Campbell tried his hand at acting, songwriting, and nightclub singing before returning to his hometown of Staunton, Virginia.

Joe's long broadcasting career began by simply walking into local radio station WTON-AM in search of a job.
A quick visit to DC in 1951, only hoping to sell one of the songs he had written, led Joe to a chance tour of the WMAL Radio/TV studios and an unexpected job offer of staff announcer and DJ.

After Joe did a spot on WMAL's Miss Ruth Anne's Kindergarten, (a Romper Room type show), for Sunbeam Bread, account executive Paul Menzer asked if he sang and played guitar. Joe said that he sang a bit and had learned to play guitar as a kid. So, Menzer spoke to WMAL station manager Charles Kelly, and the next day Joe donned a cowboy hat and brought his guitar to work.

Sunbeam Bread faithfully sponsored "Cowboy Joe" on television for several years. Their first TV program together, "

Joe's Ranch

", debuted on the evening of March 18, 1953 as a fifteen-minute Wednesday-only show positioned right before the 6:45pm news wrap-up. In a snap, the popular show was extended to six-nights-a-week with a 45-minute Saturday presentation. at 6:00pm.

In time, Paul Menzer, who had become Joe's personal manager, thought it might work to Joe's advantage to take his act to NBC's WNBW, Channel-4 (soon to be re-christened WRC-TV), so Joe obtained a release from station manager Charles Kelly and moved over.

Upon arriving at Channel-4, Joe was first assigned in his cowboy role to a long-running favorite of DC area kids,

Circle 4 Ranch

. The Saturday production eventually added a second airing every Sunday morning opposite

Pick Temple

on Channel-9 and, as Campbell writes in his autobiography, he

regularly beat out the competition.

On Monday morning June 14, 1954, Channel-4's top brass endeavored to extend Joe's weekend success with a brand-new fifteen-minute-a-weekday program. The new Cowboy Joe offering preceded the NBC network show "Ding Dong School" with Miss Frances, (airing from Chicago).
The Circle 4 Ranch full-hour format allowed Joe to perform elaborate skits featuring his "picking and singing". By late autumn 1954, many of these skits involved hand-puppets,

"Longhorn", "Shorthorn", (and later, "Penelope"). Few folks know those puppets were the brainchild of Joe, and built by a soon to be rising star on Channel-4's staff

.

Joe's director,

Bob Porter

, (who would step into the spotlight as

Cousin

Cupcake

from 1959 to '66) introduced him to a newly hired University of MD freshman

Jim Henson

who worked off-camera in set design/construction. Joe personally designed "Shorthorn", "Longhorn", and eventually "Penelope". Jim Henson then crafted the puppets according to Joe Campbell's exact specifications.

When picking a name for these cloth characters, Bob Porter first suggested "Moppet Puppets." However, it was Joe Campbell who coined the term "Muppet" during that conversation, and the name stuck. On December 18, 1954, James Maury Henson signed a handwritten contract (shown on right) giving Joe Campbell 51% ownership of the muppets known as "Longhorn" and "Shorthorn."
Although Joe would perform his own singing and dialogue "live" during each broadcast, he provided the voices for Longhorn, Shorthorn and Penelope through the magic of pre-recording. In that era, such recordings were made on large 33rpm acetate transcription disks; several of which have survived for 50 years, and are cherished by the whole Campbell clan. (Hear a sample MP3.)
Watch For More Photos From


Joe Campbell's Scrapbook

Soon!

to be continued...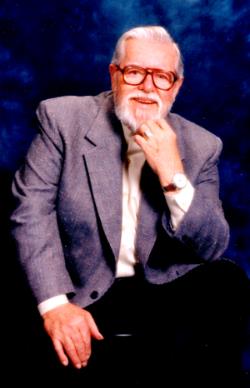 (©2004, Estate of Joseph Pendleton Campbell. All rights reserved.)
Joe Campbell passed-away on November 10, 2003 at age 79,
but not before he was able to complete, and see, his auto-
biography, "On The Edge of Greatness (But No Cigar)", in print.
Photos and articles ©2004, Estate of Joseph Pendleton Campbell. All rights reserved.
Data provided courtesy of Sharen Campbell Dowdy with Mark and Phil Campbell.
Some data provided by TV listings in The Evening Star and The Washington Post.
All Shows Originated From Metropolitan Washington, D.C. Studios
..
.
Outstanding Sites you'll also want to visit...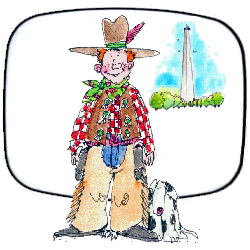 Kaptain Kidshow
Saluting Vintage TV Kid Shows
Produced In Washington, DC
Page Revised: 8/26/04
.
.
Complete List of Shows
.
Complete List of Hosts
.
Sounds From The Shows
.
Your Own Recollections
.
Send Email To Kappy