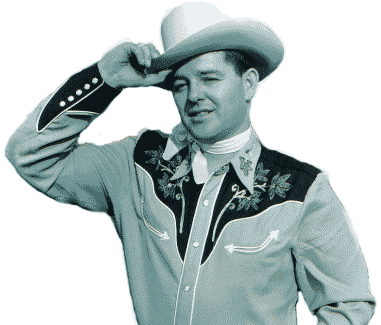 "Joe's Ranch"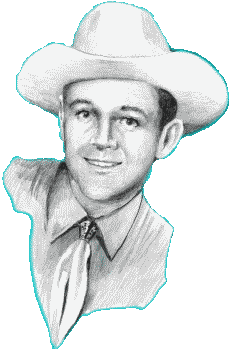 Photos ©2004, Estate of Joseph Pendleton
Campbell. All rights reserved.
.CLICK EACH IMAGE FOR A LARGER VIEW



Aired on WMAL-TV 7.
Broadcast Live from
Trans-Lux Bldg. studios.





Various Airtimes
March 1953 - August 1953
15-minute Weekday Broadcast


45-minute Saturday Broadcast
(March 18 - April 3, 1953)
6:30 - 6:45pm, Wednesday
(April 4 - April 18, 1953)
6:30 - 6:45pm, Wednesday
6:00pm - 6:45pm, Saturday
(April 20 - June 21, 1953)
6:30 - 6:45pm, Weekdays
6:00pm - 6:45pm, Saturday
(June 22 - August 28, 1953)
6:30 - 6:45pm, Weekdays

Host: Joseph Pendleton Campbell
as "Cowboy Joe"
When WMAL announcer Joe Campbell read a bread commercial on Miss Ruth Anne's Kindergarten, Sunbeam Bakers' Paul Menzer asked Joe if he sang and played guitar. Joe said that he sang a bit and learned to play guitar as a kid. So, Menzer spoke to station manager Charles Kelly, and the next day Joe donned a cowboy hat and brought his guitar to work as "Cowboy Joe".

"Joe's Ranch" debuted on the evening of March 18, 1953 as a fifteen-minute Wednesday-only program positioned right before the 6:45pm news wrap-up. In a snap, the popular show was extended to six-nights-a-week with a 45-minute Saturday presentation. Sunbeam Bread continued as a faithful sponsor.

This recently discovered sheet shows that Fred Bushmeyer and Joe Campbell wrote the TV program's theme, titled "The Young Cowboy".

The song laments the brutal demise awaiting a young cowboy who seeks only justice, but earns immortality.
(CLICK TO READ LYRICS)

Joe had to juggle between doing his cowboy show and announcing for notables like columnist Drew Pearson. If the break between shifts was too tight, Joe would announce for Pearson's program in full western gear with a real 44.40 in his cowboy holster.

Mr. Pearson's assistant, Jack Anderson, nearly dropped his teeth the first time Joe walked-in dressed that way. Joe joked he was Pearson's bodyguard, but Jack Anderson didn't laugh.

WMAL-TV promoted Joe's Ranch with personal appearances by Joe Campbell on two days at Glen Echo's 1953 season open. Joe (joined by his horse) signed autographs along with Miss Ruth Anne and an actor representing Superman. Some lucky visitor won a snazzy new 1953 Pontiac and everyone had a blast. (READ MORE)

Contests were often used by station management to keep local cowpokes faithfully tuned-to Joe's Ranch night-after-night. One such competion was Ralston Cereal's "Spaceship Drawing Contest" which cross-promoted the ABC-TV network weekend series "Space Patrol".

Before Joe's TV show debuted, his WMAL-AM Friday late-night radio show, titled "Saturday Shift", had featured hip artists like Charlie Parker and Stan Kenton. But after the kids' show began, music on the radio show switched to cowboy artists like Gene Autry and Hank Williams on Monday nights in the same time slot. Listeners raised hell about the switch, but, after-all, the new show was the radio companion to TV's "Joe's Ranch".

The show attracted at least one budding artist. Decades after the program ended, Joe's son Mark visited an Alexandria antique shop with his wife, Diana, and was stopped in his tracks by this oil portrait. The family wonders to this day, "Who painted Joe Campbell's picture?"

Cowboy Joe made countless personal appearances... some which catered to a very select crowd. In this photo, Joe is entertaining boys and girls at an unidentified private party in 1953.

From the looks of this scene, it's obvious that NOT every kid enjoys having their picture taken!

Part of a singing TV cowboy's job involves mingling with untold masses of young admirers. Here Cowboy Joe is surrounded by guys and gals of all ages at an outdoor event on a warm day.

---

In time, Paul Menzer, who'd become Joe's manager, thought it might work to Joe's advantage to take his act to NBC's WNBW, Channel-4. So, Joe obtained a release from WMAL station manager Charles Kelly and moved to Channel-4 for "Circle 4 Ranch"

and the

"Cowboy Joe Campbell" show.


---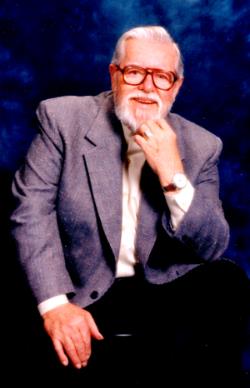 (©2004, Estate of Joseph Pendleton Campbell. All rights reserved.)
Joe Campbell passed-away on November 10, 2003 at age 79,
but not before he was able to complete, and see, his auto-
biography, "On The Edge of Greatness (But No Cigar)", in print.

The book may be ordered through Amazon.com or Barnes & Noble.
Photos and articles ©2004, Estate of Joseph Pendleton Campbell. All rights reserved.
Data provided courtesy of Sharen Campbell Dowdy with Mark and Phil Campbell.
Some data provided by TV listings inThe Evening Star and The Washington Post.
All Shows Originated From Metropolitan Washington, D.C. Studios
..
.
Outstanding Sites you'll also want to visit...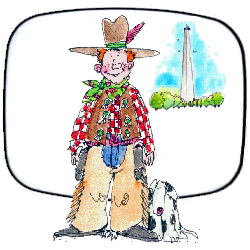 Kaptain Kidshow
Saluting Vintage TV Kid Shows
Produced In Washington, DC
Page Revised: 8/26/04
.
.
Complete List of Shows
.
Complete List of Hosts
.
Sounds From The Shows
.
Your Own Recollections
.
Send Email To Kappy