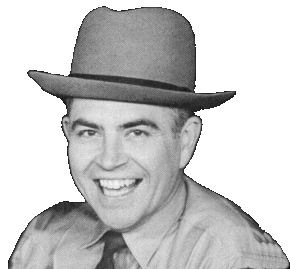 "Ranger Hal"
Choose
From 6
Pages:

1

2

3

4

5

6
.
Broadcast live
six-days-a-week
from WTOP-TV's
"Broadcast House"
Upper NW DC studios,
with puppets, skits,
bits, cartoons and
educational short subjects.

(Donated By Tom Buckley, WUSA-TV)
A Saturday Birthday Party Show.
From Hal Shaw's WTOP-TV Biography.
(Donated By Tom Buckley, WUSA-TV)

The program
featured in-studio
youngster participation
on Saturdays only,
as the Ranger's
Saturday show
was always a
full-blown
"Birthday Party".
Tom Fielding clearly recalls a particular Ranger Hal show: "Good Friday 1964".

"Local elementary students voted the prettiest girl in their school
for Easter Princess... the winners to appear on Ranger Hal."

"Sandy LaMond was by far the prettiest girl in Hyattsville Elementary School
and was easily voted by the students as our Easter Princess. I had a secret crush
on Sandy (revealed here for the first time) and even though I tuned in
to the show every day, on that Good Friday I watched with special interest."

"A cartoon Easter Egg was superimposed on the screen. As Hal read each
Easter Princess' name, and the school where she was from, the cartoon egg would
appear to break open and reveal the Princess, apparently within the egg. Hal
interviewed each girl, and I believe each got an Easter basket of goodies."
The "Ranger Hal" show
was the brainchild of
Channel 9 Program Director
Jim Silman in association
with Hal Shaw from a pilot that Silman had developed called "Lookout Billy", (according to a telephone interview conducted
with Silman in 2001.)

Jim Silman in the WTOP-TV Control Room
(1955 Photo Courtesy: Dave Statter)
According to Frank Scheer,
"The Richmond, Fredericksburg & Potomac Railroad Company (with sponsorship by the Falls Church Junior Woman's Club)
ran these charter trains from Alexandria to Possum Point, Virginia and return; they'd sing music en route, give out candy, and give the kids a thrill with a train trip in some heavyweight RF&P coaches."
-
Bill Elvin in the 10/3/91
Great Falls Current - McLean Providence Journal wrote:
"Hundreds of youngsters on
the train would sit waiting
for the magic moment ...
when Ranger Hal himself
would appear".
-
(Quote donated By Jack Maier)

Ranger Hal and Ozzie led "Little
Folks Train" rail excursions.
(These tickets were owned
by Mr. Frank Scheer.)
Sources: "Whatever Happened To Those Kiddie Show Hosts?" by Trisha Katson, 1977, George Mason U. Phoebe Magazine, (Courtesy John Ahmad & Jack Maier)."Gag" ad: Skip McCloskey from 1963 AFTRA Directory. Kine stills: Tom Buckley, WUSA-TV. Thanks to Jack Maier, Tom Fielding, Dave Statter, Gerald Owens, Frank Scheer, Steve Moore & Dave Hughes' DCRTV.com Airtimes from Washington Post & Evening Star.

.

"Ranger Hal"
Choose
From 6
Pages:

1

2

3

4

5

6
All Shows Originated From Metropolitan Washington, D.C. Studios
..
.
Outstanding Sites you'll also want to visit...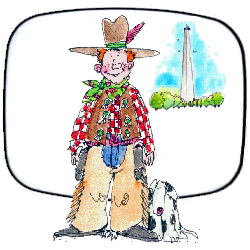 Kaptain Kidshow
Saluting Vintage TV Kid Shows
Produced In Washington, DC
Page Revised: 8/26/04
.
.
Complete List of Shows
.
Complete List of Hosts
.
Sounds From The Shows
.
Your Own Recollections
.
Send Email To Kappy