For the aging population of local "baby boomers," the memories of Channel 9's "Ranger Hal Show" glow like campfire embers.

The once wide-eyed audience of area youngsters recall the rustic wood cabin and the Ranger's sidekick puppets, Oswald Rabbit, Dr. Fox and Eager Beaver, perched, (or more appropriately, stuffed), on the window ledge; the heard-but- never-seen Look-Out Scout, Scotty Irish; the grainy black-and-white Walter Lantz cartoons; and always the affable "Ranger Hal" in relaxed command.

This was vintage children's television in its awkward but golden simplicity.

"I loved being the 'Ranger,' "says Hal Shaw, who today at age 60 still beams the familiar grin and instant likeability that made him a Washington TV kiddie show hero. He wistfully adds, "It was freedom and creativity for 13 years."

A visit with the old ranger in his Herndon, Va., home is an instant rewind to those nostalgic times. There, the puppets sit cheerfully if uneasily immobile on the sofa and his living room is crowded with citations and awards, including three Emmy's for "outstanding children's programming' — reminders of Shaw's past popularity. His accomplishments, however, didn't begin or end with "Ranger Hal."

.

Shaw arrived in Washington in 1957 with a drama degree from the University of North Carolina and early fame as the first TV announcer/performer in the state of Maine, where he ended up after exploring job possibilities in New York City.

"In those days people were hungry for television that stations could get advertisers to sponsor 'test patterns,'" he recalls. As staff announcer at WTOP-TV (now WDVM), Shaw's break came that first summer he substituted for the vacationing Pick Temple whose Giant Ranch was then a giant TV success. The advertising people at Schwinn Bicycles decided to sponsor Shaw in a new children's show, and he developed the ranger character.

"I thought that a forest ranger stood for everything right and good," Shaw explains, "and he had to know what he was doing." So, in addition to standard kiddie fare, Shaw's program provided an imaginary window to an outdoor world of camping and nature, With fire prevention a perpetually "hot" topic, Smokey the Bear was a frequent guest, to the delight of the U.S. Forest Service, which made Shaw an Honorary Ranger.

"I bought the uniform at Sears, but the hat is authentic," he smiles. And the uniform still fits.

Weekends found the ranger packing a portable cabin into his station wagon and exploring the local shopping centers. A jittery line of 1,000 anxious children waiting to meet "Ranger Hal" was not unusual at his countless personal appearances. "I learned a great respect for children," he says. "They are true believers, and I was careful not to take advantage of their belief in me."

Unfortunately Shaw's success began to sour when the show left the air in 1969 — bumped by a clown named Lorenzo. He was also forced to close an unprofitable summer camp which he had established on the grounds of his six-acre estate. Adjustment into a new (and adult) role as sales manager for WTOP was, he admits, difficult. Then a brain aneurism ended his career and forced untimely retirement in 1978.
.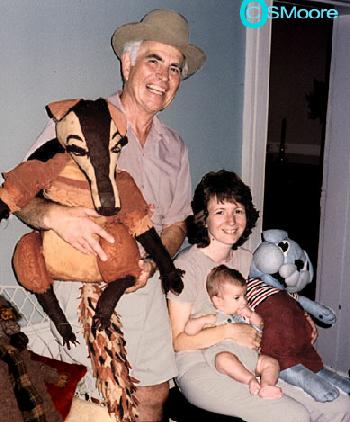 Hal Shaw, Margaret Moore and the Moore's son Charlie in the Mid- 1980s
(Copyright, Stephen Moore)
However, the cruelest blow, in Shaw's view, fell on Thanksgiving Day 1983 when he lost Rosemary, his wife of 31 years, to cancer. "Rosie was always the real talent in the family," says Shaw. Indeed she was a gifted soprano who, with their three children, performed with him at many Christmas programs for the National Security Agency and the Department of Agriculture.
Neurosurgery slowed the old ranger down but didn't bring him to a halt. He went back to school at Northern Virginia Community College, (NOVA), graduating cum laude, and he is currently busy with creative writing courses.
And on New Year's Day of this year (1985) he remarried. Says Shaw of his new wife, "Joan is very attractive and very British."
Shaw avidly follows the careers of "alumni" of his show including network newsman Max Robinson, who began his career operating the puppets; Shaw's first director graduated to "Sixty Minutes"; and another director who now produces football games for CBS.
"And I still get a thrill meeting and hearing from fans,' admits Shaw, "many of whom now have children of their own. It excites me to know how much they enjoyed the program. I'm continually amazed at the recognition. To think that I made that much of an impression. But I guess the fact that I was on the air for 13 years — I had to reach somebody."