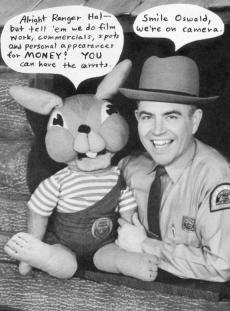 "Gag" ad from the 1963 AFTRA Directory
as Oswald & Hal solicit for promotional
opportunities. (Donated by Skip McCloskey)
Hal Shaw and Channel-9 management actively publicized Ranger Hal with
frequent personal appearances all over the Washington D.C. metro area.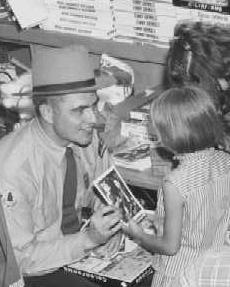 Ranger Hal hands-out publicity cards at a toy store appearance.
Notice the boxes of "Colorforms" stacked above Hal's head.
(Donated By Tom Buckley,WUSA-TV)
Hal greets a happy girl at a Grand Union opening.
The lines seemed to stretch-on forever.
(Donated By Tom Buckley, WUSA-TV)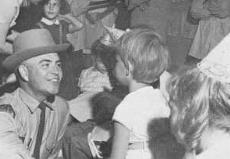 Hal & more fans ... Photo From His WTOP-TV Bio.
(Donated By Tom Buckley, WUSA-TV)
.

.-
Sources: "Whatever Happened To Those Kiddie Show Hosts?" by Trisha Katson, 1977, George Mason U. Phoebe Magazine, (Courtesy John Ahmad & Jack Maier)."Gag" ad: Skip McCloskey from 1963 AFTRA Directory. Kine stills: Tom Buckley, WUSA-TV. Thanks to Jack Maier, Tom Fielding, Dave Statter, Gerald Owens, Frank Scheer, Steve Moore & Dave Hughes' DCRTV.com. Airtimes from Washington Post & Star.