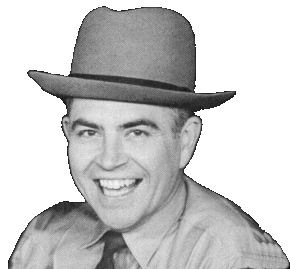 "Ranger Hal"
Choose
From 6
Pages:

1

2

3

4

5

6
.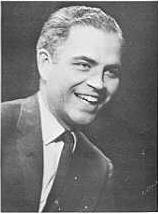 Harold Shaw In His Street Clothes
1960s Photo From His WTOP Bio
(Donated by Tom Buckley, WUSA-TV)
Some facts obtained from DCRTV's "Nostalgia & History" pages.
View the "Ranger Hal Tribute" at Dave Hughes' DCRTV.com web site.
As Tom Fielding explains, Hal Shaw continued to make personal
appearances for many years after his show left the airwaves:

"Between 1974 and 1980, I was head projectionist at Greenbelt's
Beltway Plaza theater. We ran kiddie matinees on weekends...
and there was one snowy Super Bowl Sunday show I'll not forget."

"Two weeks before the show, theater posters announced a live on-stage performance featuring an odd assortment of characters including
Pink Panther, Bugs Bunny, Deputy Dawg, Speed Racer,
Hot Shoppe Jr. icon Pappy Parker, plus a surprise guest star."

"Nobody in the theater knew who the guest star would be."

-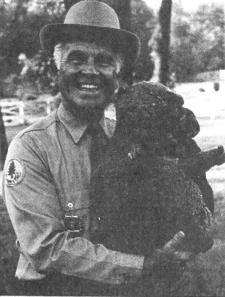 "Ranger Hal and Eager Beaver will share in the
'Magic of Milling' tomorrow." 1980s photo
by Kathryn Brown of the Journal Papers.
(Donated by Jack Maier)

-

"I arrived early on the day of the show so the technical crew could teach me
to operate a small spotlight. I was shown how to turn it on and off...
and then I was told, 'When Ranger Hal comes on... '."

"In disbelief, I cut-off the tech in mid-phrase.. 'RANGER HAL?'.
He replied, 'Er... yes, Ranger Hal... when he... '."

"Again I cut him off, 'Ranger Hal is gonna be here?'
'Yes... Ranger Hal is the star of the show. When he comes out on stage, all you have to do is follow him with the spotlight. Try to keep him centered in the light.'"

-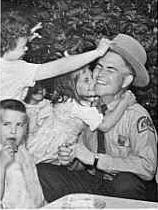 ,
1960s photo From His WTOP Bio
(Donated by Tom Buckley, WUSA-TV)

-

"As the tech went to check the sound system, I was thinking that Ranger Hal
had been off the air for a good six or seven years. Kids in the audience
would probably not even know who he was."

"A half hour or so before the show was to start, with a knock on the projection booth door, I found a snow-dusted Ranger Hal in full uniform, holding a small portable TV. He was a little grayer than the last time I saw him
on television, but it was the same Ranger Hal that I grew up watching."

"'Hello... I was wondering if there was some place I could plug in my TV?
I really don't want to miss the game.'"

-

-

"I set up a spot for him to watch the Super Bowl in my booth, and we chatted
while he adjusted his set. He sat in our big beat-up booth recliner and
tuned in to the game, as the theater below got packed with a full house of kids."
-
"The show started with a reel of Warner Bros. cartoons. After 20 minutes of animated goofiness, Hal went on stage, and the audience went wild! If the kids didn't know him, parents and older siblings sure did. I really couldn't follow the show. I was concentrating on keeping the spotlight on Ranger Hal. (That, plus the fact that the sound system was not hooked into the theater speakers,
so the sound was not piped into the booth.)"

-

"The show went well, as Hal interacted with the costumed characters, and there was much laughter from the audience. When the show ended and Hal returned to watch the game, the rest of the cast had heard about Hal's TV. Soon the booth was loaded with cartoon characters... taking off their heads to enjoy the game. Speed Racer lit a cigarette, as the Pink Panther laughingly chided Pappy Parker for not bringing his famous fried chicken. All I could think was how surreal it all seemed."

-

-

"After a half-hour of rest, it was time for the next show.
I ran the projector, and when the last cartoon was winding down,
the characters put their heads back on, and Hal readied himself."

"Again it was a full house. Again the show went well. Afterwards, Ranger Hal
came back up and thanked me for the use of my booth. I told him it was
my pleasure, and how much it meant to me to be able to meet him."

"I followed him downstairs, opened the door for him, and watched as he
drove off across the snowy parking lot, and thought that
it was the best Super Bowl Sunday I ever had."

.

Gerald Owens wrote the following in the DCRTV Mailbag of 2/8/02:
.
"I was fortunate enough to interview Ranger Hal back in 1998 (one of his last,
if not THE last interview he ever gave) as part of Channel 9's 50th anniversary
celebration. It was as if I'd gone back in time. When we got to his house, there
he was sitting on his couch, advanced in age and illness, in the original Ranger
Hal uniform. And it still fit! He was surrounded by Oswald Rabbit and the rest
of his famous sidekicks. Though many of them had weathered over the years.
I'm 41 now, and admit that I rarely watched the show, and hardly remember it.
But it didn't matter. During the hour or so we spent with him, the vitality and
charisma he showed made it abundantly clear why he was such a big hit. Here
he was, dealing with a painful and unmerciful disease like cancer, yet his
famous smile never left his face the entire time we were there. He was gracious
with his time, answering every question with a story from the '50s and '60s
that put it all in perspective. It's rare that we get to experience history
first hand. I'm lucky that I have. It's one of my most memorable interviews."
.

Harold Shaw, 74, died of cancer in 1999 at his home in Herndon.

.

.
Sources: "Whatever Happened To Those Kiddie Show Hosts?" by Trisha Katson, 1977, George Mason U. Phoebe Magazine, (Courtesy John Ahmad & Jack Maier)."Gag" ad: Skip McCloskey from 1963 AFTRA Directory. Kine stills: Tom Buckley, WUSA-TV. Thanks to Jack Maier, Tom Fielding, Dave Statter, Gerald Owens, Frank Scheer, Steve Moore & Dave Hughes' DCRTV.com. Airtimes from Washington Post & Evening Star.

.

"Ranger Hal"
Choose
From 6
Pages:

1

2

3

4

5

6
All Shows Originated From Metropolitan Washington, D.C. Studios
..
.
Outstanding Sites you'll also want to visit...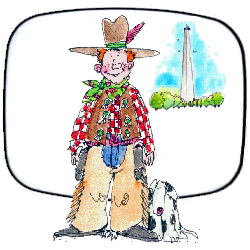 Kaptain Kidshow
Saluting Vintage TV Kid Shows
Produced In Washington, DC
Page Revised: 8/26/04
.
.
Complete List of Shows
.
Complete List of Hosts
.
Sounds From The Shows
.
Your Own Recollections
.
Send Email To Kappy