December 2001

Great website! It really brings back memories.

I'm originally from Phila., but my family and I moved to Beltsville in the early '60s.

I'm 47, and one of my favorite shows was Countdown Carnival, which my brother and I would watch every day after school. I don't really remember much about it except that it showed Superman.

And also, does anyone remember the Lloyd Thaxton Show? Or Wing Ding, with (I think) Jack Alix?

Thanks for the memories!
Jackie Gentilini
December 2001

Wow - I almost fell out when I stumbled across your web page.

I thought my brother and I were the only people alive who remember Hoppity Skippity. My brother, who's 51 now, and I (I'll turn 50 in July '02) actually got to be on the show when I was really young. I (barely) remember sitting on a log and talking to the rabbit. My brother innocently asked him why he had a zipper down his back. I thought the big rabbit was so neat, but my brother was convinced, and tried to convince me, that he wasn't real after that. I didn't believe him.

Robin Cunningham
Fri, 16 Nov 2001

Hi, just wanted to drop a line and tell you how your web site brought a smile to my face this morning.

I am about to work on a project for Larry Harmon's Bozo the Clown and in the search I came across this web site.

How incredibly interesting to read about a personality I began to become familiar with later in life.

What a perfect character match to personality... I would have never known Willard Scott was putting a smile on East Coast kid's faces while I was growing up with Howdy Doody.

Thanks for the walk down memory lane and the education that came along with it.

Glenn Gutridge
Tue, 25 Sep 2001

When my brother was in first grade, I was in half-day kindergarten at Wood Acres Elementary School in Bethesda, (just a few miles from Channel 20). My mom chaperoned his class trip to Bozo's Circus (starring Tony Alexi) and I got to go along as mom could not pick me up from kindergarten on time. My friend, Katy, was in the same situation, so we both got to go.

When we got there, they said that Katy and I could be on the show with the "biiiig" first graders. We felt quite important being with these older kids (and if first graders seemed old, you can imagine my impression of Bozo himself!). Katy and I were put front and center since we were smaller. I got to play this relay where you had to pass a clothespin from your knees to someone else's.

...There was a pause for commercial or something. I was EXTREMMMMMELY shy at this stage in life. And I remember this moment as vividly as if it were the actual moment it happened.... During the break, Bozo said, "When we return, I'm going to talk to YOU!" and he pointed his big, puffy, white finger at me. My heart was racing a million miles an hour.

Sure enough, we started to tape again and he said something that to me sounded like Charlie Brown's teacher talking. Then he motioned for me to stand up and I did. He knelt down next to me and I remember this zinc oxide stuff on his head and I could see sweat beaded up on top of it. He then asked me, "If you had a million dollars, what would you do with it?" I can still feel the anxiety that this question caused me. I was panic stricken. See, I was terrified that I would get the answer "wrong" and I had NO IDEA what "a million" meant. So I just stood there. It was like Cindy Brady on the Brady Bunch episode where she gets stage fright and freezes up. That was me. I stared...frozen. He asked again. I continued to stare. Then, thru the lights, I focused on my mother who was desperately trying to sign SOMETHING to me to say. She was moving her hands as if they were on a steering wheel. I figured that the "right" answer must be a car. So I said, "I'd buy a car." He asked what I'd do with it, and I answered in a total monotone, "I'd give it to my mom."

I think Bozo all but yawned at my autistic-like response. So he sorta gently got me the heck back to my seat and then asked my friend Katy to stand up. SHE was NOTTTTTT shy and still to this day I joke with her about how she showed me up. She was asked the same question and she started chirping out this adorable response about how she "would buy all the dolls in the world, and all the dresses in the world, and all the tea sets in the world, and all the dogs in the world, and all the cats in the world....." Then they replayed that episode until I was in about 3rd grade. I was horrified each time I would see that shot of the camera zooming in on my zombie like face.

My mom turned 70 a couple weeks ago. My brothers and sister and I made a memory book for her and wrote a bunch of memories. The BOZO show came up along with many other favorite family stories. It would be total hoot to ever get to talk to the "real" Bozo after all the years we have had him with us in our memory of that show!!! :)

Ann Werth Sander
Houston, TX

John "Tony" Alexi comments on Ann's recollections:

I have a vague recollection of your appearance on the show, and you were charming. The joy is in the effort, and emotion, not necessarily the answer. A chat with the audience was a regular segment, and I particularly enjoyed using the youngest members . . . their mere appearance on camera was a special delight. I am proud to be part of your family's history, even in such a small way. I enjoyed my time at WDCA-TV, and especially cherish the Captain 20 cut ins, because it gave me a chance to use my improvising skills, and develop a myriad of characters. This Kaptain Kidshow site also stirs my memories, and your note adds dimension to that time when life was simpler.

God Bless You and your entire family.
Tony Alexi

PS I was not aware that these shows of my era were rebroadcast for several years. I would be interested in confirmation on this. Stay happy, and "Jus keep laugh'n!".
Fri, 21 Sep 2001

Thanks to all who've sent memories of the 50's/60's kid's shows.

Cap'n Tugg was the most important person on TV... when I was 6-7-8!

Countdown Carnival was everyday, after school. How I admired (envied) the renderings of the Mayflower "moving" trucks, shown as good entries in this sponsor's contest. Having no such talent, I just entered a couple of the random postcard-type drawings. One day my card was picked! The Countdown Carnival guy said my name & address ON TV!!!! I won the game LOVE (like Twister, with hearts instead of big dots). My favorite character was the old guy "from Springfield" who whistled his S's.

Does anyone have info of Barry Richards? Most likely aired on Channel 13, late 60's to early 70's. Possibly had bands play in the studio. A regular sponser was Bragher Gutman's Jr Bowl.

Deb Tamburo

Kaptain's Log Note: "Hairy" Barry was one of many hosts of "WING DING" on Channel-20 in the late '60s. Watch for more about Barry and Teen Dance Shows!
Fri, 21 Sep 2001

I stumbled across your Pick Temple page and really enjoyed the trip back through time. I was on that show, although I can't remember much about it. I must have been very young, not even in school. I was born in '54, so maybe around'58 or '59.

I remember looking through one door and seeing the Milt Grant Show being taped. My recollections are that I rode the pony, and was very shy when interviewed. Family history tells me that when asked what my father did, I said "He plumbs." (He was a plumbing contractor) When asked what I wanted to be when I grew up, I said a bus driver. I think we had ridden a DC Transit bus to get wherever the taping was done and I was fascinated. I have recollections of also trying to wiggle the stamp off my nose. Is it possible I would have been selected to do both things? Possibly, I would just stand in front of my TV and "play at home" when those contests were held, but my faulty memory makes me think I did it on the show.

Do these shows exist on video anywhere? I'd love to get the episode I was on, but don't know how to go about finding the date, etc.

Thanks again for the great memories! I also loved Cap'n Tugg and Ranger Hal and never missed Captain Kangaroo. I was on TV again for having participated in a carnival for MD, and I was interviewed by Bill Gormly, who at the time was my hero for being the host of the Three Stooges local showing.

Jennifer DeBernardis
Sun, 9 Sep 2001

Your site gets better and better each time I visit!

This first item, while not exactly about DC Kids Shows, is relevant because as a result of holding Carnivals Against Muscular Dystrophy, we received tickets for trips to Marshall Hall aboard the Wilson Line.

I've surfed the Web for something - anything - about Marshall Hall Amusement Park or Glen Echo Amusement Park, but there really not much about either place online. This is really too bad because anybody who was a kid in the DC area in the 50s/60s certainly has fond memories about both parks and the cruise boat!

Departing from Southwest DC's Maine Ave Pier. The Wilson Line would sail lazily down the Potomac and they'd lift the drawbridge of the Woodrow Wilson Bridge so we could cruise under. Then it was on to Mount Vernon, where a few folks would get off or on. Then, onward across to the Maryland side of the Potomac to Marshall Hall. I remember the pier would take you right past the building where the slot machines were (fun for the adults), but the kids would keep going, making a beeline for the rides and arcade attractions.

I'm wondering what success others have had in finding online sites about either Marshall Hall or Glen Echo?

Some more TV memories... The first time I met Willard Scott was in 1968 at WRC-TV to see two tapings of Commander Retro. The story/plotline about Dr Strangedog was that he'd originally been a human German spy who stowed away one the rocket ship. He had eaten too many hotdogs - exploded - and somehow turned into a dog! It was really Willard's basset hound, called Lester. That day I also got to meet Mary, Willard's wife. I grew up about five blocks from Willard's boyhood home and when we'd pass by, Willard's mom and dad would usually invite us in for cookies and to show us the latest entry in their scrapbook of Willard's career. I think Willard got his sense of humor from his mom because she had a print of the poker-playing dogs on the wall of her kitchen!

About the Commander Retro set... I'm not sure if you can see it clearly in the pictures on your site, but part of the control panel of Commander Retro's rocket ship included mini-cube icetrays with blinking Christmas lights behind it! Not much to look at in person, but really nifty for the home viewers. The NBC series "Star Trek" was on the air in first-run at the time and my guess is that it was a local kidshow tie-in with that show. It makes sense, since WRC was an NBC owned and operated TV station.

Keep up the good work!

Scott Marinoff
(grew up in Alexandria VA - now in San Diego area)
Sat, 08 Sep 2001

I just came upon your site after typing Bozo, Ronald McDonald, Willard Scott into the Google search engine.

Like Pick Temple, I made a Washington to Philadelphia move, but I remember my favorite kids' shows from the late 1950s and early 1960s (plus ones that my sisters watched later). I had forgotten that Willard also hosted the Mickey Mouse Club re-runs, which I also remembered watching around 1962. (The original shows were on when I was just barely old enough to be aware of them.) ...

... I'm tired of hearing about Sally Starr, Gene London, Chief Halftown, Pixanne, and the other ones that the people who grew up in Philadelphia always talk about. I want to remember Willard Scott (not as a Today Show weatherman but as Bozo and Ronald), Cap'n Tugg, Ranger Hal, and Pick Temple.

And by the way, I've only met one person in Philadelphia who remembers Pick's short-lived show on Channel 6. ...

... I met a celebrity for the first time (at Four Corners in Silver Spring.) My parents took me to see Miss Barbara from Romper Room at the Peoples Drug Store there. I noticed on your web site that you did not know the name of the Romper Room teacher from Fall 1955 until 1957, and you were guessing that it was Miss Nancy. Miss Barbara probably was the teacher whose name you are missing...

Later, I waited in line with some friends and family members to meet Ranger Hal outside the Grand Union in Langley Park. This was a special treat because most of the interesting stuff I would hear about on T.V. would take place downtown or in Virginia or some other place in Maryland (Rockville, Bethesda, Oxon Hill) that was hard to get to in those pre-Beltway, pre-Metro days.

Regina Litman
Former resident of Silver Spring with no "s" at the end, MD
Current resident of Huntingdon Valley with a "d", PA
Fri, 7 Sep 2001

Thanks for finally proving me not crazy. For decades I've harbored the memory of Space Explorers and found NOBODY with any idea what I was talking about (and I travel in some well-heeled Sf and animation circles). Finding your mention of it, and Jerry Beck's explanation of its history, I'm just floored... also with your marvelous site on DC kids' shows.

I have some other memories of Cap'n Tugg and his ever-failing automatic spy-traps that I should write up for you.

JVDL
(another veteran of appearances on DC TV with Ranger Hal and Willard 'BOZO' Scott)
Fri, 7 Sep 2001

Hi... what a great website... My sisters and I each appeared on the Pick Temple Giant Ranch. I was chosen to ride the pony, one sister shot the snake. Are there any pictures/films to be had from those shows? The little loaf of Giant Bread was great, as well as the ice cream. Can't remember off hand too much other stuff, but it was great seeing this stuff again.

Growing up in Arlington was interesting. Jimmy Dean was our neighbor, and I baby sat for his kids. I got to meet Roy Clark, Patsy Cline, and others in JD's band.

My mom was terminally ill last year, and one of my brothers got in touch with Jimmy Dean, who promptly called my mom to talk about the old days. That was really sweet of him. It was a thrill for her to have him remember, and she "bragged" to her friends for days. We have pictures of he and mom talking over the fence, it had appeared in an article about him...

Pat Burchett
Thu, 30 Aug 2001

Love your webpage! My name is Gene Crowell and I was born in Prince George's County, Maryland in 1969. I was fortunate enough to live in an area that received BOTH Washington, DC and Baltimore stations. So I grew up on two very creative and wonder kid shows. Captain 20 on WDCA TV-20 and Captain Chesapeake on WBFF TV-45

Although both were different, I loved each show for what it was. Aside form the usual good stuff like, Speed Racer cartoons, Lost in Space, etc. Captain 20 was a very hands on show. He allowed us to send in artwork for the "Space Gallery" and participate in many wonderful games via phone calls. Captain Chesapeake was cool because he was on a boat and had a talking sea monster "Mondy".

The great thing about each of these timeless shows was the fact that they each promoted self esteem, confidence and ethical behavior. Captain 20's club card states on the back the oath of: 'As a member of the Channel 20 club, I will strive to believe in myself and stand proud. For when I believe in me, then others will too. I will always listen and learn with my mind and my heart. Knowing that when I like myself, I can care for others. I AM PROUD AND I CARE.'

Captain Chesapeake would always say in each show, 'Be somebody important, be yourself!'

Stuff like that sinks in and lasts a life time. In the early 1990's I had the pleasure of meeting each of these great kid show icons. I interviewed George Lewis "Captain Chesapeake" for Scary Monsters Magazine for his late night horror host persona "The Ghost Host" and later met Dick Dyszel Captain 20 at a local film convention in Baltimore called Fanex presents Nastalgia-Vision.

As a staff employee of Fanex, I then got to moderate the children's show panel and the horror host panel as well. I was friendships with both gentlemen over the last 10 years. Dick is still very active with convention appearances and his website: www.countgore.com and I get to see him at least twice a year. I periodically stayed in contact with George until his passing in December, 2000.

Although I have told these great guys how much they meant to me as a kid, I don't think they could ever never really know what they actually did for me and the thousands of other Maryland children. I just keep thinking if we had these guys back on TV, how much good they could accomplish with today's issues regarding children. I bet they could clean up!

Ahhh, great TV like that is gone forever. That's sad.

Gene Crowell
Laurel, MD
Sun, 26 Aug 2001

I found your website after visiting the Northern Va. memories. ... I did not live in Northern Virginia, but rather way out in the country on a farm near Colonial Beach. I grew up watching Pick , Tugg, Bozo, and even a little bit of Milt Grant.

Cap'n Tugg's Channel Queen was the set for many adventures. I remember two adventures involving Fantail. One time the faithful parrot was sent into space and another time Fantail was sent to the center of the earth in a machine called the "Earthworm". I still remember the sound of the tug and when the good captain wanted to move away from the helm he would drape a small rope (white) around one of the hand prongs of the helm. He would move to the back of the boat to use the radio to call Commander Salamander or converse with Fantail when he was sent into space. The captain also had a telegraph that he would ring when he wanted the engineer to shovel in a little more coal. Lee Reynolds was a poor ventriloquist however, because you could see his mouth move when he would make Fantail talk. Usually after the Cap'n Tugg show, there would be a Three Stooges show with one short and one cartoon.

I also can remember a lot about the Pick Temple Show and even have an ex-sister that rode Piccolo the Pony. Remember the song "My Favorite Bread's Heidi"? How about the shootin'gallery where the Henson like puppet would spit out the caught bullet in a dish. I don't know why I remember this stuff in such detail, but I grew up with those shows.

... (I also remember) cartoon serials in the summer time around midday. There were three serials that I can remember; one was about an evil witch, (Sleeping Beautyish), another was a space adventure, but the last one I know I am right about, it was a cartoon serial about Beauty and the Beast. The Beast was shown at the end and he was an ape like creature. It seems these serials had about 17 or 18 episodes. Maybe someone else will remember them.

Remember this off of WPGC? "Eddie Leonard Sandwich Shop, you should try 'em. For the very best in sandwiches, just buy one. No matter where you are, you'll find that you're not far, from an Eddie Leonard Sandwich Shop." I even remember the tune that goes with it. Does anybody out there remember the words to the Milt Grant Show?

Bart Baker
Wed, 1 Aug 2001

I was born in 1954 and watched Cap'n Tugg from 1958-62. One thing I vividly remember was Cap'n Tugg's radar that was used on Christmas Eve. In the middle of his program, Cap'n Tugg would head towards the rear of the Channel Queen to announce to his young audience that he would try to pick up Santa leaving the North Pole (it was still about 5PM EST).

Sure enough, a blinking light would suddenly appear on the radar screen that was Santa. However, if I remember correctly, Cap'n Tugg would tell his young audience that Santa was heading west from the North Pole because it was already nighttime in other countries. However, he told the boys and girls that by the time they got to sleep, Santa would be approaching the East coast. This was one additional thing that ALWAYS got me to bed early.

Eric Umstead,
Minneapolis, MN.
Wed, 1 Aug 2001

I'll tell you the good stuff (about my appearance on Hoppity Skippity). On the TV screen. it looked like Hoppity was sitting out in the woods. He sat on a (fake) tree stump; the kids sat on a (fake) tree that had fallen down next to the tree stump.

When I was on, there were three of us, the usual number, give or take one or two. The back drop was a black and white photograph of the woods. It was mounted on a piece of wood or something. Like I said, on TV it looked like Hoppity and the kids were in the woods. Sitting there, on the show, I realized what this thing really was. I recollect grabbing the side of it (this big piece of plywood with a photo of the woods), and pulling it toward me. Oh my goodness! I quickly let it go and it returned to its original position.

One more recollection. During the show, Hoppity announced that he was going to be at some store or something on the weekend. My mother was there in the studio with us, sitting against a wall to the right of us, out of sight of the cameras. I yelled over, "Can we go?" She nodded yes, probably a little mortified.

That's all I remember. Maybe my sister Judy remembers more. She would have been around eight.

Steveku
Thu, 14 Jun 2001

I just found Hoppity Skippity on the Net. That only goes to show you that no matter how obscure something was, or how long ago, you can find something about it by looking on Google.

When I was five or six (which would have been 1953 or 1954), I appeared on Hoppity Skippity. My mom took me downtown to the WTTG studios, probably on the streetcar. I remember the door having a big "5" on it. From reading your site, I now realize I was at the long-defunct Raleigh Hotel.

I was crowned (or elected) king for the day. Hoppity gave me a paper crown. I proudly kept it on my bedpost for probably an entire year! It made me feel like a real king, and I hoped I could be one someday. Was I disappointed when my dad told me that our country had a president instead of a king! Oh well.

Tom Hoffman
Sun, 10 Jun 2001

I can't believe that I found this site. Although I am not from the Washington area, here in south central Pennsylvania we did receive Channel 4, Channel 5, Channel 7, and Channel 9.

I watched Cap'n Tugg and especially remember the cracker that would not crumble in outer space. There was a story line about his parrot going into space. I also remember when the Captain would try to sing the theme song to "The Mighty Hercules".

Another great show was Countdown Carnival with Mr. Bill Gormly. I rode an elevator in the Georgetown University library with him in the 70's. He made reference to a character in one of his shows called Elmo Hickey, 36 years old and still in the 3rd grade. Of course the show broadcast Rod Rocket, Space Angel, Rocky and Bullwinkle, and in the last half hour, Superman. As best as I can figure, the show premiered August 26, 1963. You know Bill Gormly did look like Superman actor George Reeves.

You might mention that Willard Scott's Commander Retro also featured the Flash Gordon and Buck Rogers movie serials.

Also, remember when Bill Johnson told the audience to watch for the changes in the show name, "The Three Stooges" to "The Stooges". Soon after, the comedy team of Mack and Myer joined The Three Stooges. It was great when Bill Johnson brought the MD carnival kids on.

I see no mention of another Channel 5 personality. You must include Paul Hallet. He was still at WTTG in 1981.

Channel 5 broadcast Walt Disney's Zorro in September 1965. Do you remember Saturday afternoons and "Jungle Call", featuring Tarzan movies? There was a Thursday night movie that ran sci-fi films... called "The World Beyond".

I understand that the site is for DC originated programs, but can you include shows from the Baltimore stations? I remember "Lorenzo", "Pete the Pirate", "Polly Wally Doodle", and the "5:30 Show" (5:00 Show) that featured movies of Tarzan, Andy Hardy, Laurel and Hardy, Jane Withers, etc.

That was television.

John Bevilacqua
Gettysburg, PA
Sat, 9 Jun 2001

After 40 years you've finally given me the evidence to remind my family and friends that I'm not completely crazy. I've been describing the Astro Float to people for years, and been met with blank stares. But no more... now I've even got a picture to show (any idea where I could find some? eBay is empty). This morning I also re-discovered the Hasbro Frosty Sno-Cone maker and the Kool Aid Dispenser my mother bought for me at F.A.O. Schwartz in NYC.

Born in NYC (Soupy Sales, Romper Room, Capn. Kangaroo and Wonderama), I moved to LA when I was 5, and so my memories are of Diver Dan (do you think Trigger Fish got gill cancer from the cigarette perpetually dangling from his mouth?), Clutch Cargo, Sheriff John and Engineer Bill (red light, green light).

As you can see from my email address, I am now involved in another labor of love; the preservation of The Dick Van Dyke Show on DVD with a release of the entire series in celebration of the 40th anniversary which begins October 3. My father, Sam Denoff, was one of the writers and producers of the series, as well as That Girl and other great sit-coms...

Douglas Denoff
ceo,executive producer
www.dvdondvd.com
Tue, 5 Jun 2001

I discovered your site through DCRTV's Mailbag, and I couldn't be more delighted! I won a bicycle back in 1969, courtesy of Captain 20 and the gerbil races. Thank you for bringing back some wonderful memories. Your site is fantastic!

Karen J.
Stafford, VA
Tue, 5 Jun 2001

What more can we find out about the life and fate of "Miss Connie" from Romper Room and DC theater? Are there any photos of her? One writer says that she took her own life. This is extremely sad. I recall my parents taking me to see her in a children's play at The Warner Theater. Are there any further details available about her? She was a talented and fascinating person.

Regards,
Lawrence
Mon, 04 Jun 2001

I grew up in Baltimore, but spent a lot of time working the "lumimen" foil and those rabbit ears to get snowy images of Cap'n Tugg, Romper Room, and Creature Feature. You happen to have any of a Baltimore show for kids called "Pete the Pirate"... over on WBAL-TV 11 which was an NBC affiliate during the 60's?

I was notorious for oversleeping on Saturday morning (waking at 11am), all the good cartoons were long over by then. I made up for it by manipulating those rabbits ears on weekday afternoons though!!

I found your website in of all places the SCAN-DC mail list. One of the list members posted your web address and another website dedicated to the Count.

Your website bought back some fond memories, I showed it to my wife (she's a rare commodity: she's a native Washingtonian) last night and she/we got quite a hoot from the audio and pictures.

I've got plenty recollections to share about TV in the "olden" days. My father didn't allow much watching of the boob tube as he called it. So when he yielded it was definitely a treat!! Then there was grandma, who let you watch what you want anytime!!

I've tried to explain to my kids, over and over what it was like then to watch TV in the old days. How we didn't look at TV and eat at the same time as we do too often nowadays. We sorta eased into eating and watching TV together, it took years. How people used to not call or come over around dinner time. Fish on Friday. They laugh when I tell them how my father took the phone off the hook when we ate. Try today getting all the family to sit-down at the same time, whew!!

How we all went over to that lucky kids house that had a color set!! We got our first color set in 1970! How do you explain rabbit ears to kids that have fiber optics and cable? I told my grandson about crystal radio sets, he didn't believe me. And things are supposed to be so much better now compared to then!! I don't think so.......oooops I ramble!!

Thomas Gunn
Wed, 23 May 2001

I came accross your site while searching for Ranger Hal info. Very nice, I really enjoyed it, and I am passing the URL on to my friends.

You should consider doing a similar site for the national shows, cartoons, & game shows... Green Acres, Dick Van Dyke, Bewitched, Beverly Hillbillies, Mighty Mouse, Kimba The White Lion, Astroboy, etc. The amount of content is endless.

Rob Wilson
Stephenson, Virginia
Sat, 26 May 2001
Subject: Voices for "Diver Dan" by Allen Swift.

The name of the perfomer who did the voices for the puppets and "Diver Dan" is Allen Swift. He was a comic/character actor, mimic (impressionist/ dialectician and character voice actor), puppeteer, cartoonist, storyteller, singer and comedy magician who didn't manipulate the puppets in those "DD" TV puppet films, but he gave the fish puppets a life and personality all their own.

Mr. Swift was also the voice of "Diver Dan". The actor playing "Diver Dan" (in the diving suit) was the series scriptwriter Mr. Frank Freda. Actress Suzanne Turner played "Miss Minerva The Mermaid Queen".

Mr. Swift was also a regular comic actor, mimic, puppeteer, magician and scriptwriter on NBC TV's "Howdy Doody Show" weekday evenings from l953 to May, l956.

From Monday evening September l0, l956 to Friday September 23, 1960, Mr. Swift was the first sea-captain host/performer of WPIX TV Channel-11 (NYC's) "Popeye Show", where he entertained and informed "His Mateys" (his viewers) with songs, stories, craftmaking, hobbies, magic tricks, cartooning lessons, informational segments and interviews with visiting guest performers and personalities between the reruns of the "Paramount/Fleischer Popeye" and "Paramount/Famous Popeye" Movie cartoons. Mr. Swift was unjustly fired from WPIX TV Channel-11 (NYC's) "Popeye Show" following a creative dispute with station management. He went on to do voiceovers for movie and TV cartoons and radio/TV commercials.

He also wrote, produced, directed, staged and performed in numerious Broadway, Off-Broadway and summer stock plays and musicals. His most notable stage performance was the drama "Checking Out!", where he wrote, produced and played the ex-stage actor "Morris Applebaum". The character of "Morris Applebaum" was based on a Yiddish stage actor that Mr. Swift met while he was performing in the hotels of New York State's Borscht Belt. Mr. Swift's only on-camera TV performances in recent years were on CBS-TV's "Kate & Allie" and "The Equalizer".

Kevin S. Butler
Wed 25 Apr 2001

I cannot begin to describe my excitement at discovering your web site. Suddenly I was thrown back 40, 45 years and was linked again to the child I was who loved so very much watching Ranger Hal, Pick Temple (both of which I was a participant) and so many other programs. I felt life had come full circle while reading your participants comments, giving me a magic feeling that could only be shared by fellow Washingtonians who grew up during this period.

Roots remain roots, no matter how distant we are from them, we remain linked to them forever. What especially struck me was the precious memories of Pick Temple. I cannot help but feel that with the endless cable television kids shows today that there was something in the simplicity of the early live childrens shows that cannot be duplicated.

Who can forget the excitement of going to the Giant and filling out a form to appear on Pick Temple? Even though I live far away from Washington today, I suddenly found myself yearning for Heidi Bakery products advertised by Pick.

Just an anecdote about the show Uncle Artie, which appeared in the beginning of Channel 20:

After Uncle Artie explained how to make one of his hillbilly hats, out of great excitement I took my fathers best hat and proceeded to stretch it out of shape until a gaping hole appeared. Needless to say I was sorely punished. About a week later, I got what I felt to be poetic justice. One of the child participants of the show told a joke: "What did Batman find in the Batroom? Answer: Gomer's pile and Honey's waste."; (referring to two popular shows Gomer Pile and Honey West). Poor Uncle Artie at that point seemed to lose his composure and was totally embarrassed. I was watching the show with a friend and both of us rolled on the floor with laughter. Such a blunder could only happen to Uncle Artie.

Your web site is a revelation for me and I am sure for thousands of others. Those years are so far away, and yet so close. We are forever in debt to you for making it possible for us to relive those golden moments.

Mark Cohen
Sat, 31 Mar 2001

Thanks for bringing back such fond memories!

I'm 51, and grew up in Hyattsville, Md. during the 1950's -1960's. I remember Pick Temple started to plug the upcoming Vincent Price movie, "Master Of The World", about a week before it opened. The day before it opened, he had the miniature flying machine used in the film. We couldn't wait to see this film! When my mother dropped us off at Sidney Lust's Allen Theatre in Takoma Park, we encountered a line around the shopping center.

Yep, I got 50 cents from my mother... 30 for the admission and rest, as she would say, "for junk". Those were the days!

Paul Sanchez
Fri, 30 Mar 2001

I was born in 1954 and grew up in Arlington, Virginia. Every week my parents would grocery shop at the local Giant Food store. And just like ALL little tykes who wanted to get on the "Pick Temple Show," each week I would ask for an entry card to mail in. I'm sure I had been mailing in entry cards for well over a year with no success. Suddenly one day, however, I got the first piece of mail in my life. It was from PICK TEMPLE asking me to be on his show!!! My only thoughts were, "Here's my chance at 5 years old to be on television!"

My parents, brother, and I drove to the studios and I vividly remember the Production Assistants sitting me on the outside from what I recall were something like a set of bleachers. I only remember this because of one "unusual" event that happened. At one point, Pick called for his dog, Lady, to come out on stage and Lady came trotting right beside me over to Pick. When Pick said it was time for Lady to go home, she came trotting past me again and I put my hand down & rubbed her as she came by. It was a silly little moment but one that I have never forgotten in my 47 years of living.

In addition, my mother and father were seated in bleachers directly ACROSS from us. At a given point, Pick asked us to wave to our parents out in "TV Land." The camera was facing us so when we waved, it looked as if we were waving into the monitor.

Finally, as all us little tykes were departing, Pick shook each one of our hands as he handed us a bag full of goodies from Giant Food. After leaving the studio and entering our car, I somehow assumed that part of the goodies were 4 donuts from Giant (their bakery was excellent). There were four of us in our family and I remember telling my parents how each of us could only get ONE donut since there were only four (assumption). But when I opened it up, there were chocolate chip cookies instead! They were just as yummy!

Eric W. Umstead
Minneapolis, MN
Tuesday, March 27, 2001

Ranger Hal did a song that went something like: "Litter Bug Litter Bug shame on you. Look at the terrible things you do." Does ANYONE know the rest of the words to that song?

Scott Schuler
Friday, March 9, 2001

I hope you'll find time to incorporate one more memory in your Pick Temple page.

Each show, a lucky kid got to sit on (memory fails - was it a prop horse, or a cow?) and had a limited time (until the cow mooed) to say "Hi" to all his friends at home - I always thought it was hilarious to hear "Hi, Timmy, Mary, Billy, Eddie, um ... Mom and Dad, Susie, Louie" ... MOOOOOOOOO!

Also, he had bits with puppets "Quoth, the Raven" and "Lo, the poor Indian".

Someone commented about Willard doing a rabbit character - I distinctly remember a short period when I could see "Willard the Rabbit" - big plush white rabbit suit with big floppy ears and his face sticking out. But, sadly, that's all the details I have.

Wayne Keyser

Park Temple, Pick Temple's son, comments on Wayne's recollections:

"This, as much of the history, varies with time. At first, we simply had a western saddle on the fence post. But that soon gave way to real props. We had a shetland pony (live - and that was a problem at times) that was nicknamed Picolo. Dad had to really watch Piccolo - I forget his real name - because he had a bad temper.

One child was selected from the hayloft, and allowed about ten-twenty seconds to say 'Hello' to all their friends and family following a brief interview. Usually, the child would get nowhere near finishing, and so we set the rule that you were allowed to say 'Hi everybody else' when the cow moo'ed. The sound was one of those small cylindrical toys that sounds only vaguely like a cow, but it was good enough. Folks who were on the show or who watched it regularly still laugh about saying 'Hi everybody else' in front of their friends who think they have lost their minds. It was a very common phrase in Washington DC in the 1950s.

Now - as to the bad temper - Dad had to tightly hold Piccolo's reins, as he would try to turn and nip at the kids. Never happened, since Dad always held him very tightly. But he came home many times with a chunk taken out of his own hand by the pony.

For a while we did not have the room to move the pony, so he was just kept on the inside of a fence rail. Later, however, we would walk the pony around the fencepost to give the kids a bit of a ride. Dad would pretend to turn one of the metal decorations on the saddle and that would start the music for the ride. Great thrill for the kids who were selected.

... One of the puppets on the show was a raven whom Dad named "Quoth" in honor of his Baltimorian heritage and Edgar Allen Poe. So, in full, the puppet's name was "Quoth the Raven". At least WE thought it was funny. I don't believe we had a "Lo The Poor Indian", or if we did, it was immediately removed. However, all the puppets were similarly named with a tongue in cheek. We had a fox named "Yon Cassius". Sometimes referred to as "Yon Cassius with the lean and hungry look". A monkey puppet became Leif Mulcher. And so on.

I probably shouldn't include this, but one of Dad's favorite inside jokes was the name for a dragon puppet. His name was "Miassiss". I'll leave the rest to your imagination.

Park Temple
Fri, 23 Feb 2001

When I recall the Billy Johnson show, three things stand out: Billy, the two puppets (Wally and Ginty), and most of all the theme song -----"Up a Lazy River." I remember Billy singing that at the beginning and end of each show. I was about 5 or 6 when I used to watch it.

Wally was the darker one. Ginty was the lighter one with the big ears. As I recall, Wally's voice sounded like a 45 rpm record played at 33 1/3, while Ginty's sounded like a 45 rpm record played at 78.

I was trying to find information about the TV show that featured the big guy in the rabbit suit. I found something about him (Hoppity Skippity) on your site and then found the info on Billy Johnson. (I really didn't remember Billy Johnson's name, but I remembered what he looked like.)

The only thing I remember about Hoppity Skippity was that, at the end of the show, Hoppity would say, "And you wemember, kids, I'm a weal wive wabbit!"

Thanks for the memories.
Gary Hayworth
Monday, February 5, 2001

What a blast from the past it was to see pics of Pick Temple on your site!

Growing up, I lived across the street from Pick on East Parkhill Drive in Bethesda. Although he moved away when I was still just a toddler, his visage remained as a large, somewhat unidentifiable, yet friendly, part of my early memories, and it was a relief to finally remember the name that went with the face.

I grew up watching Cap'n Tugg on WTTG, and vaguely remember seeing the stuffing fall out of his shirt once during a broadcast! Mr. Axel Grackel used to occasionally haunt my dreams!

Jeffery Haas
(casually sipping an an Astro-Float)
Jonesboro, Arkansas
http://www.geocities.com/jhaas84_2000/LeonLive
January 23, 2001

... I remember "Pick Temple's Giant Ranch" because I was not only a regular viewer, but a participant for one episode sometime during 1955 or 1956.

The set of the show was a ranch with a live horse and a set of bleachers. There was also a well (from which, I believe, the carton of Sealtest Ice Cream was pulled). We kids sat in the bleachers and participated in the show individually as selected by Pick Temple who was dressed in a cowboy outfit.

One child (I was lucky enough to be selected) was chosen from the bleachers to ride the live horse (about eight steps worth), talk with Pick, and passively participate in the Sealtest Ice Cream commercial while riding/sitting on the horse. Once the show was over, the rider (me) got to take home several half-gallons of Sealtest Ice Cream for my part in the commercial. The ice cream was terrific! I believe that each child got one half-gallon carton of the ice cream.

Pick was very nice to me as I recall and the horse must have been very docile and walked very slowly! Most of the kids were about four or five years old, I believe. I have fond memories of the show.

That's about all that I can remember except that the parents could view the set from a set of windows mounted in the very high wall (to the participants' right on the set) at about a second or third-story level. It was very high up on the wall (to me). I had a great time!

From: Dr. F. Edward Blake, Jr.
Sent to Dave Hughes' DCRTV Mailbag
Weds, 10 Jan 2001

Great website.

As I turn 50 next month, I'm old enough to remember yet another early 1950's kid show called Hoppity Skippity. A guy in a rabbit suit, sponsored by Giant/Heidi who had kids on the show and played games and showed cartoons. My sister was on, and as the kids were leaving they got an assortment of baked goods to take home. My sister was last in line, and they ran out, so they gave her a box of peanut brittle.

One day Hoppity announced he was taking a vacation for awhile, but he never came back. The show just ended. The guy who wore the suit was a local broadcaster whose last name was Huber (I think) and I can recall his obit in the Post in the 1970's. I believe the show was on WTTG.

Phil Wood
Send your DC kidshow memories to:
kaptainkidshow@yahoo.com
Please state that you give permission for Kaptain Kidshow to reproduce your message on his web site.
All Shows Originated From Metropolitan Washington, D.C. Studios
..
.
Outstanding Sites you'll also want to visit...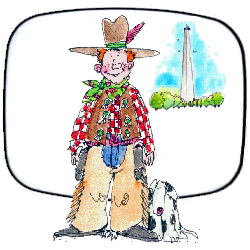 Kaptain Kidshow
Saluting Vintage TV Kid Shows
Produced In Washington, DC
Page Revised: 8/30/05
.
.
Complete List of Shows
.
Complete List of Hosts
.
Sounds From The Shows
.
Your Own Recollections
.
Send Email To Kappy