.

Sun, 17 Dec 2000 and Sat 30 Dec 2000

Thanks and what a great site.

During the run of PJ's Club, Pete occasionally aired two cartoons in serial form with something like 25-30 segments per cartoon. The one cartoon was a fantastic version of "Beauty and the Beast" and the other was a wonderfully animated version of a science fiction adventure titled "Space Explorers". Both were superb and "Space Explorers" would use both animation and live action to weave the story together. I have tried to locate copies of these for many years but have been unable to do so. These cartoons were apparently used in other children's shows throughout the country as well.

If anyone has information on them, please email me: annaland (at) msn.com

...During the early 50's there used to be a kid's show on WTTG entitled "Hoppity Skippity". It featured a man dressed in a rabbit suit whom I believe to be Willard Scott! I remember seeing Hoppity at a live appearance at the K.C. Drug Store in Kent Village Shopping Center in Prince George's County during the early 1950's. This "rabbit" picked me up and held me for a brief moment, just long enough to have someone take a photo of it and post it in the drug store window at a later date.

I'm not sure if the man was indeed Willard Scott but my father always told me that it was. I've never seen anything about this show and have never been able to link Willard Scott to the show. Once, while working in the Tyson's Corner area of Virginia, I ran into Willard Scott at Tyson's Corner Shopping Center. It was during the Christmas season and he was in a really good mood. I asked him at that time if he was ever Hoppity Skippity and he laughed, making some remark as to how old I was or something. So I never received a good answer.

Ralph Bull
Alexandria, Virginia

Kap notes: A new website named www.TheSpaceExplorers.com has emerged as of March 2004.

Thu, 7 Dec 2000

Well, I think my Dad (Pick Temple) would have been thrilled with your site. Splendid research and accuracy. I am really impressed with all the stuff you have dug up.

One thing you might find interesting -

In November 1950, the Federal Communications Commission approved the first color television system. It was developed by Columbia Broadcasting System, and was based on rotating "color wheels" in both the sending and receiving units. The system failed because it could only receive signals broadcast with the color wheel system, and was not "compatible" color - that is, it had no true black or white. Obviously, the National Broadcasting Company's "color dot" system was the one that proved successful. Nevertheless, the CBS folks used the most colorful show they had available to sell their system to the FCC. You guessed it - they used my Dad's show. By the way, the system did eventually achieve some measure of prominence - the color wheel system was used to broadcast color pictures from the surface of the Moon on the Apollo landings.

... Dad was approached at one point about syndication - I'd have to look in his diaries to find out what year - but it was sometime in the mid-late 1950s. He would have gone head-to-head with Howdy Doody (that was the concept, in any case). Unfortunately, he did not go that way,or else we would have had much better records of the show. ...

Dad also tried a show in the Philadelphia area after he went off the air here. In 1962-63 he was on WFIL on weekends. The show was popular, but just did not fit in with the declining market for live TV. He found that he had gotten in on the ground floor of live TV, only to outlive the phenomenon when TV converted to serials and cartoons. But it was a wonderful run - and a wonderful life.

He had been in the Census Bureau for 17 years before going into TV, and returned to civil service after the end of the run of the TV shows. He retired from the Office of Economic Opportunity in 1972.

Dr. L. Parker Temple III

Wed, 6 Dec 2000

I came across your site last night, and it is wonderful.

Pick Temple was my great uncle (we used to call him "Uncle picky Poo", my dad and uncle gave him the name when they were little) and when the page finished loading and I heard his voice, I got all choked up inside.

I am too young to have been on the show but my dad and uncle were both on it on many occasions. I do remember spending time with him in Phoenix when I was little up until he passed away when I was a teenager. We used to have a lot of fun together playing golf (he let me drive his golf cart and act as his caddy), and spending time with him and Aunt Jeanette.

One time when I was in elementary school, one of my teachers who grew up in the DC area didn't believe me that he was my great uncle, so he sent me a tape stating that he was. The tape was an old interview of him with Arch Campbell and it still makes me teary eyed when I listen to it.

The pictures are wonderful and the information is great also. I sent the link to my grandparents (Uncle picky Poo was my grandmothers sisters husband), my dad, and my uncle and they all loved it...

Anyway, I just wanted to let you know that you did a great job on the site and I'm sure that if they have the internet where Uncle Picky Poo is today that he would love it also.

Pick Temple's Great Nephew

Mon, 4 Dec 2000

WOW! WHAT A GREAT SITE!!!

I'm 46 and I grew up in Alexandria VA in the '60s.

I recall 2 visits to WTTG as a result of having MD (Muscular Dystrophy) Carnivals. The first time was at the Raleigh Hotel in the very early '60s. Bill Johnson had us on the air - as I recall there was a huge line of kids who'd had carnivals and the set we were on was just Johnson in a chair in front of a curtain with us speaking into a lavilier microphone he was holding.

The 2nd visit was on the Wisconsin Avenue location on the Cap'n Tugg Show. I recall being hugely disappointed that none of it was real and how small it all was! LOL Fantail the parrot (when not in use) hung upside-down to the right of the Channel Queen's wheel; (out of camera range, of course). It was also a disappointment that Lee Reynolds had a fake beard and a putty nose - AND - during the cartoons, he'd run-up some stairs to the control room & we all saw him sneaking a puff on a cigarette!! : (

During the 2nd visit I remember it being a very large studio and some of the sets for other local shows were there - Countdown Carnival, and maybe even Panorama.

Thanks for letting me share!

Scott Marinoff
San Diego CA

PS - Pardon the typos and spelling errors I wanted to type as quickly as these memories have flooded back - some 35 yrs to 40 yrs later!

Fri, 1 Dec 2000

Cap'n Tugg Still Entertains Kiddies

We frequently leave our children with Lee Reynolds for the weekend. He is married to my aunt.

The first time he babysat (not knowing his colorful past), I asked him, "Do you like kids?" He replied, "Heck No." He was kidding, but I didn't get the joke. We found out shortly after that, that he was a popular child entertainer.

Our children loooove to go visit him. They say he tells the best stories.

At 74 years young, Lee Reynolds still flies, sails, and entertains "kids" of all ages.

We were so thrilled to happen upon this web site.

Mike & Cheryl Henley

(Cheryl adds: Why can't Cap'n Tugg leave retirement and get on the air again? The children's programs today are so violent; such garbage! Now, Cap'n Tugg would be such a relief.)

Fri, November 17, 2000

Thanks so much for bringing back so many memories! Closest thing to having a time machine!

I was born in the Washington DC area in 1955, and lived there until 1962. One of my fondest early memories is of appearing on the The Pick Temple Show in 1960.

Even after 40 years, I still vividly remember that afternoon in 1960; sitting in the audience bleachers along with 50-60 other young kids-- including my older brother Bobby. There, in living color, were the well-known characters:

Pick's sidekick (filling in that day in his absence), the pony, Lady, the puppets, etc. Wow! Despite all the distraction, I also remember being very focused on watching the studio monitors so as to not miss out on any of the Popeye (or Bugs Bunny?) cartoons being shown throughout the show.

In keeping with the Western theme, I was all decked out in my favorite Wyatt Earp outfit and my brother's best jade-handled six-shooters! To my amazement, I was soon selected by the host to come down onto the studio floor and try to shoot one of several balloons set up along the top of a puppet stage. Despite the fact that my brother had made me "hip" to the fact that my guns were actually useless-- and that in reality a stagehand would pop the balloon from behind with a pin -- I was so proud of myself and of my display of marksmanship! I distinctly recall, as a 4 year old, the enormous size of the TV cameras as they moved in on me while I chatted with Pick's fill-in. I also remember the take-home goody bag containing, among other things, a miniature loaf of bread.

I also remember seeing Willard Scott as Bozo the Clown at a neighborhood event at the Park Fairfax swimming pool. In almost Santa style, each of the kids lined up to sit on Bozo's lap and receive a gift. Willard/Bozo gave me a suction cup "third eye" to be place on my forehead. Again, because back then all we'd ever seen were grainy black & white images on TV, the colors of Bozo's costume (and red hair!) were shocking.

Thanks to your website, I'm now starting to dredge up long-forgotten memories of Cap'n Tugg and Ranger Hal. This could be dangerous!!!

Bill Walsh
Long Island, NY

Fri, 29 Sep 2000

What a "mountain of memories" on your site!! Thanks so much.

My youngest brother Dick was on Romper Room for a week in 1965 or 66. I remember going down with him to the WTTG studios and being devastated to see that The Captain's Tug was not real!! It was, however, a memorable experience...all of the sets, Cap'n Tugg, Romper Room, Countdown Carnival and The Bill Johnson Show, were all in one large studio...

I've got the site bookmarked and will come back again to listen, laugh and remember!

Bill Scanlan

Sun, 17 Sep 2000

Thanks for telling me about your website. I have just looked at it, and I really enjoyed it. Especially like the parts on Pick Temple and Ranger Hal.

I had no idea that so many other people still had fond memories of those days.

Don Brown

Thu, 07 Sep 2000

I remember when Pick appeared on "The Rifleman" with Chuck Connors. He announced it in advance on his show, and held up stills of him with Chuck Connors.

The episode was about a friend of Lucas McCain who resembled Abe Lincoln (played by Royal Dano). Pick appeared in a bar room scene where he played guitar and sang "Bluetailed Fly" (Jimmy Crack Corn)...

Pick also made personal appearances with Lady at Edmonston Elementary School every year when I was there in the late '50s.

Great site! Thanks for the memories!

Tom Fielding

Mon, 07 Aug 2000

What a delight it was to come across a photo of one of my childhood heroes, Cap'n Tugg, on your website!

I was born in 1959 and lived in the DC area from 1963 to 1974. Cap'n Tugg was my favorite show when I was a small child, and to this day I have a weakness for bearded men!

I've often wondered whatever became of the man who portrayed Cap'n Tugg. In fact it wasn't until I stumbled across your website that I knew the name of the actor...

One of the products that I remember Cap'n Tugg promoting on his show was a liquid flavoring that came in a little white cardboard container and was poured into milk. But for the life of me I can't remember the name of the stuff.

Other shows I have fond memories of from my days as a youngster in DC include Ranger Hal, Diver Dan, Astroboy, and Tom Corbett: Space Cadet. I also enjoyed Wonderama and was saddened to hear that host Bob McAllister had passed away.

The last time I was able to tune in any DC television stations, I was pleasantly surprised to see Gordon Peterson still doing the news after all these years!

Well, good luck with your cool website! It really takes me back.

Sat, 05 Aug 2000

I'm too speechless to respond coherently, but I'll be spending much time on your site, reliving my youth.

My parents took me to meet Cap'n Tugg when I was a wee tyke. Scared me silly.

Thanks for the effort.
Dave Nuttycombe

Tue, 6 Jun 2000

The web site you sent brings back so many fond memories. I am going to share them with my kids! I especially love the Pick Temple, Cap'n Tugg and Ranger Hal clips.

I always wanted to go on Ranger Hal to give Oswald Rabbit a carrot, but I did get to do it once at the parade in Takoma Park. I also wanted to go on Bozo, but I got sick the day our Camp Fire Girls club went so I had to watch from home... my sister got to sit in the circle with him and tweek his nose though!! (Thanks Willard!... hehe!) ....

An interesting thing about Pick Temple show. Whenever they were ready to go to a cartoon, we got to shoot our guns (pow, pow, pow!) and the cartoon would show... "Shoot for the cartoon".... I loved this show too!

Nancy Gamroth
Austin, Texas

Send your DC kidshow memories to:
kaptainkidshow@yahoo.com

Please state that you give permission for Kaptain Kidshow to reproduce your message on his web site.
.



All Shows Originated From Metropolitan Washington, D.C. Studios
..
.
Outstanding Sites you'll also want to visit...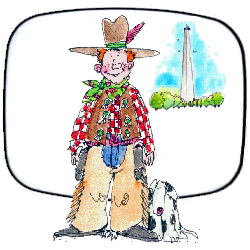 Kaptain Kidshow
Saluting Vintage TV Kid Shows
Produced In Washington, DC
Page Revised: 8/30/05
.
.
Pick Temple
Complete List of Shows
.
Complete List of Hosts
.
Sounds From The Shows
.
Your Own Recollections
.
Send Email To Kappy