December 2002

I was very much enjoying your site on forgotten TV shows. Romper Room is my all time favorite show from childhood. I wish it were repeated in syndication somewhere. For about 30 years now, I've longed to get some sort of reproduction on video, picture, j-peg, whatever, of the Magic Mirror segment.

What I saw on your site just now gave me some hope:

"Mac" McLanahan adds: "Another thing I did had to do with the infamous Magic Mirror. I went to a film producer in Baltimore (I believe his name was Max Brecker) and looked at a number of film effects he had. I picked one that looked kind of hallucinogenic with a changing swirl of colors eminating from the center. Once again, we duplicated this piece of 16mm film and sent it to all the stations. This is what millions of kids saw as they held their collective breath, hoping to hear their names spoken."

I found that swirl of colors that Mr. McLanahan referred to absolutely magical in its simplicity. Is there any to locate a tape of the show, or some sort of reproduction of the magic mirror's swirl of colors?

Thanks for your help and for making such thorough and respectful homage to Romper Room on your site.

Stacey Morris
December 2002

How do I buy any video of Washington DC's Ranger Hal... My wife claims he was her only good male role model... If such a video exists of the good Ranger please point me in the right direction.

Dan Webb
Brainstorm Comics
Frederick Md
November 2002

I was so psyched to find your website! I had vague memories of growing up in the '70s and watching Captain 20 on his Channel 20 cartoon show. I remember the gerbils (I'm sorry, but that's hilarious) and I definitely remember the monkeys, because I was one of the people who won a bike. I picked number 3 because he had been beating everyone that week. If I recall, the monkeys had to run across and climb some kind of ladder. Because I was so young, I actually thought the monkeys were racing in the studio.

Unfortunately, my bike got stolen eventually, but I'll never forget my mom calling me to the phone that afternoon.

Thanks for the memories--what a great site.

Cat Needham
(formerly of Gaithersburg, MD)
Sun, 24 November 2002

Being a 55 year old from the generation of which your sights focuses, it is great to be able to locate some of the adventures of the good ol' days!

Perhaps, you will be able to answer a question for me - "The Lone Ranger" made a personal appearance in this area in the '50's and I thought it was on the Pick Temple Show. If you have any information about this I would appreciate receiving it as I was fortunate enough to have met him at that time. I still remember how I felt when I looked into his eyes and felt transported to a place that was far away.

I believe that it was sometime in the time frame of 1954-1956 as I was about 7 or 8 years of age. I was attending St. Mary's Parochial School in Alexandria at the time and resided on Ashton Street. I recall my grandmother permitting me to watch shows which my mother would never have let me watch (for her own reasons). I sent a card in and was fortunate enough to have my name drawn to join Mr. Temple in the "hayloft". I remember wearing my western hat and feeling pretty special at that time just by being one of those chosen to participate in his show. ...

Please tell Mr. Temple's son that I thank him for sharing his memories of his father with so many of us who admired him if only from the confines of our living rooms.

Phyllis M. Scott
October 2002

I really enjoy your web site. I have a brief story about Cap'n Tugg, but I just want to mention that I was looking at the Tugg page, when I noticed a photo "courtesy of Richard Cook of The Glen Echoes". I know Richard -- in fact, I'm the tenor in his barbershop quartet: The Glen Echoes! Small world! (Click the GlenEchoes link by the photo, and you'll see what we look like.)

I watched Cap'n Tugg for years. I can't tell you exactly when -- my sense of chronology is poor. One thing that has stuck with me for years, and I suppose always will, is how Commander Salamander announced himself on the radio: "This is Commander Salamander of the Coast Guard -- we guard the coast, you know."

Mike Holmes
09 October 2002

Your website is the greatest!! There's so much in it I'd forgotten about, but then to see so many of those faces again & have the memory click in...it's just great. I actually got your website from my sister, who's still in the DC area, and I don't know where she got it from. But what a treat! Thanks for doing it all. It hadn't occurred to me that so much of that ephemera (buttons, stickers off the end of bread loaf wrappers, etc.) would turn into a trove for memorabilia collectors, but why not?

By the way, my favorite radio shows were the Joy Boys and (well before them) "The Man Who Owns Midnight--Steve Allison," who did a live remote broadcast over (I think) WWDC-AM from a table in a nightclub (the name of which escapes me) and took phone calls from listeners via 7-second tape delay. He was a sleazeball, probably, but it all sounded so sophisticated and adventurous!! Any idea whatever happened to HIM?

P.S. I did radio briefly in the area, starting in the mid 60s at WMUC, briefly at WASH and WFMD. And I"m not done browsing your website yet, not by any means. Thanks again & best wishes.
October 2002

I was a cameraman on WMAL-7's "The Black Phantom". It was broadcast live (pre-videotape) from the Ice Palace at 4461 Connecticut Ave.

The Phantom was named Guy I. Aylward. He was a staff announcer who came out of the booth and into "makeup" when needed. I remember that Guy and his big cape were prone on a long table with a big fan blowing in his face for the closing shot.

This flying effect could be enhanced by tossing talcum powder into the fan for a nice cloud look...

Did you ever hear the legendary story of the "Dead Monkey" that has been morphing around broadcast gatherings for nearly fifty years?

The real deal happened on Tom Willette's show at the "Ice Palace". This time I'm in the control room (video control) with director Charlie Stopak and the gang. The show is about 80% kids movies and 20% live cut ins with Tom and guests.

We are in a film segment and Tom is almost ready in the studio with the featured guest (Woman with a monkey, dressed and treated like an infant). Film segment runs out in one minute, but there is a PROBLEM... the monkey just died in the woman's arms.

Pandemonium in the control room "What will we do?" all over the place. So I turn to Stopak with the immortal suggestion "Tell her to stick her hand up the monkeys ass and work it like a puppet".

If you walk past 4461 Connecticut Avenue on a dark night, you can still hear the laughter.

Milt Wishard
September 25, 2002

Concerning the show Time For Science... Mr. Drummond taught at Thomas Jefferson Elementary School (formerly Oak Street School) in Falls Church, Virginia. My older sister was in his class (the seventh grade, I believe) in 1957. I recall his name being "T. Darrell Drummond".

I left the DC area and returned in 1960, when Time For Science was on the air. As the budding geek of my seventh grade class, I was given the enormous responsibility of setting up the TV set in the auditorium for each broadcast. I don't recall the broadcast channel, but I do remember that it was produced by GWETA (Greater Washington Educational Television Association). Mr. Drummond became an instant celebrity in my class - partially because of the content of the show; and partially because the show permitted us to watch TV in the middle of the school day. He was held in such high esteem that nobody would believe that a mere mortal, such as me, could have met him.

My sister would have tales of his sense of humor, and I recall one TV episode that reflected this. The experiment involved food of some sort, and he had brought some along in a paper lunch bag. As he was using great care to remove the food from the bag, the announcer mimicked the beginning of the show and announced this portion of the program as "Time for Lunch" (along with the appropriate text titles and the familiar theme music).

Daryl Long
September 2002

For years and years, I had been waiting to go on the Bozo Show -- since I was 9 or 10. Well... my wish to get on a TV show came true when I received a letter in the Fall of 1960 informing me that I was going to be on the Bozo Show, only it was "the Bozo Show with Cousin Cupcake"! Boy, was I disappointed! All these years anticipating the fame of being on Bozo, and then to get selected for a Saturday morning with his Cuz. Not only that, I was now 13 years old. How could I possibly go on live TV with a bunch of 8, 9, and 10 year olds?

Embarrassment be damned! I was going on TV!

So... bright and early Saturday morning, I got up, washed, and carefully donned my crisp Boy Scout uniform with my sash containing all my hard-earned merit badges. I was resplendent!

My Dad dropped me off at the studios and said he'd pick me up in about two hours or so. Even my Dad couldn't bear the embarrassment of being seen with me in that environment. Can't blame him.

So I trooped on in with my letter in-hand and was directed to a kind of holding area along with a bunch of "little kids." I stood at least a head taller than anyone else on the show, with the exception of Cousin Cupcake himself.

We were all led into the studio and I was amazed at all the bright lights and the heat they generated. I could see where the cameras were and I intentionally -- as best I could -- positioned myself so that I could be picked up in the background. As I recall, the studio area was set up like a circus setting with a ring platform down in front. This was where Cousin Cupcake sat and where he spoke with the kids.

The only real part of the show that has a profound memory impact was when Cupcake invited me up to the front with him and we had an actual dialog about my merit badges and my neckerchief slide (a carved Indian head which I had hand-painted). I got my TV fame!

My siblings watched all this on TV at home. Later they told me they were rolling on the floor laughing because I looked so silly as a big boy among all those little kids. I could not have cared less. I was a TV star as far as I was concerned.

In retrospect, I probably set the record as the oldest kid to be on the show. I am still disappointed to this day that I only got to be on the Cousin Cupcake Show and not Big-Time Bozo's.

It was a lot of fun, nevertheless.

The site is fantastic! Keep up the great work. Those of us native Washingtonians really appreciate all the nostalgia and grey-matter jogging. Thanks.

Jim Jenkins
Tue, 27 Aug 2002

I just discovered this website on the Pick Temple Show, and have been transfixed for the last hour. The memories others have submitted certainly have created a flood of my own. I particularly enjoyed the details from those who experienced the show first-hand, live, because I never was one of the "peanut gallery", though a couple of little boys were who lived next door. It was fascinating to hear how it all was put together! Thank you for sharing! I loved the show as much as anyone, that's for sure. I'm quite sure I watched it every day. I'd like to add a post-script, so to speak.

In 1959 my parents bought a new home in a brand-new neighborhood in Silver Spring, Md. It was a model (there were 3) and those 3 homes were the only ones in the subdivision called "Kemp Mill". We were the first family to move in. Though the development escalated over the next few years into a huge one, for a while it was mostly woods around us, with very few homes. A couple of blocks from our house was a large farm, actually a horse farm. It had to have been at least 100 acres, and it backed up to Wheaton Regional Park. An old farmhouse stood in the middle of the property, and there were riding lessons given, some fenced corrals, and lots of trails to ride on. It was heaven for me. I was 10 years old.

Well, one of the ponies boarded at this farm was Piccolo. I remember him being quite the celebrity; we all loved it when his handler would come up and take him out of the stall so we could get a good look. He was a tiny grey Shetland - awfully cute, but I can tell you he was indeed a cranky little guy. It was known around the stable that you weren't to put your hands near his face, because he would definitely bite. He also had an annoying habit of walking closely behind you and stepping on the backs of your shoes or boots! And he was stubborn. I always marveled at how well-behaved he appeared on the show! I would have given anything at the time to have been one of the lucky kids to ride his "musical saddle" and say "Hi, everybody else!" I always remembered Pick's final words of wisdom on each show, "Don't put off until tomorrow what you can do today." What wonderful memories! Thanks for the opportunity to finally be able to share them with others who also enjoyed those carefree, magical days.

Robin Lichterman
Silver Spring, MD

Park Temple, Pick Temple's son, comments: "The recollections of Piccolo are absolutely right on the money. I think his name was actually Tony, Piccolo was his 'stage name'. And he was MEAN! Dad had to really hold his reins at times to keep him from nipping at the kids, and more than once he bit or stepped on Dad. But, Dad being the consummate professional, no kid ever knew, and neither did the audience. However, we certainly heard the stories when we sat down to dinner that night."
Fri, 23 Aug 2002

I found your site about DC children's show to be fantastic and a great joy to one who holds those days dear. I was on the Cindy Lou Show with my Cub Scout Den. Lee Reynolds lived near us in Old Town Alexandria and my Mom knew him. She was our Den Mother, so that is probably how we got on as a group.

The Show was sponsored by "Flav-r Straws" and I got picked to do a commercial. The straws were filled with flavored powder and you dunked them in milk 'tll the milk turned chocolate or strawberry or whatever. I did not like milk very much, and the milk they had us drink had been sitting out under the TV lights and was very warm. I did not care for it. For some reason, I got a huge cardboard facsimile of a kid sucking on a Flav-r Straw, but I left it behind.

One of the things Cindy would have the kids do was shoot at these plastic chickens with a ping-pong ball gun. The object was to hit "The Old Red Rooster" It seemed a fairly hectic exercise. Another highlight was this quick draw thing. All the kids had weapons and some of us were chosen to "draw" against each other. The kid who killed everyone else won some prizes. It is my opinion that I should have been that child, however; the prize went to one Bucky Hayden. (buttered his holster) I think the reason he won was because I messed up that Flav-r Straw gig.

... The show was at night and on the way down in the elevator I stepped on the foot of Bob Wolfe, the guy who broadcast the Senator's games on TV. He did not hit me, but I could tell he was pissed off.

I had been telling people Pick Temple stories for years, but no one remembered or they grew-up in another area. I started playing the guitar about the time Pick went off the air. Looking at your site, I remember that he did some extremely cool tunes, some of which I still play. It was obvious that Mr.Temple really loved music and trains, for he would sing the true lyric regardless if the cowboy or engineer was shot or boiled. I doubt that you would see such a thing today.

Pick Temple's cow was called "Ickums" and certain kids on that show were allowed to blaze away at the old outlaw and later they shot balloons which some guy with a sharp object had to pop from behind.

I am trying to remember something about Jackson Weaver. There was a show where they had these puppets, and one was called Wackson Jeaver. They were more like hand puppets than Muppets. It might have been the show where Weaver played the clown.

Actually there were two clowns "Wee Gee" and his brother "O-gee". I think that one of them didn't speak and they alternated days. Another thing about that show was the clowns played cartoons, but instead of a sound track, they would use classical music. I don't know if it was a licensing issue or what. The cartoons were old black and white and starred that Farmer Alfalfa guy. They mostly seemed to be about a running battle he was having with mice. He would build something, and the mice would knock it down. He'd get a cat and the mice would beat it up. Kind of rodent slapstick.

The Clowns had a theme song with the words:
"I am such a funny clown
I like to ramble round and round
The Circus is my home
I'll never care to roam...." (fade out to circus music.)

Now it is possible that Bozo sang that, but I think it was the Jackson Weaver Clown.

That Lee Reynolds guy was in a lot of stuff. I did not realize that the Jingle Dingle thing was a franchise. Jingle D was a very strange marionette. He had this little stage with this thing called "The Tell-a-Bell". He would sing a song that went: "Jingle Dingle, Jingle hey. Let's hear what the Tell-a-Bell says today." There were these numbered lights on the back of the stage that were supposed to represent clouds. (Like Cloud 9 and Cloud 3.) Jingle would take reports from the clouds who conversed with him by their light coming on and someone ringing an electric bell to mimic a sort of code. Then Mr. Dingle would tell us what it all meant weather-wise and sign off with: "Jingle Dingle Jingle day, that's what the Tell-a-Bell has to say." (Big finish) I think kids disliked JD as much as they did Mr. Bluster.

I'm sure that there are many more memories locked in this site and, since I never put off until tomorrow what I can do today, I must go find them.

Thomas Mechling,
former finalist in the "Cindy Lou Quick Draw Contest."
(I still think that other kid "buttered" his holster)
August 2002

Do you remember "Astro Snacks", a locally produced variation of Twinkies that was promoted heavily on WTTGs Countdown Carnival with acted segments featuring Captain Astro? He had a silver space suit with a spherical transparent helmet, but there was a big opening in the front of it so that we would be able to hear him speak.

Sometimes the additional actors would be a couple of kids in a lunch room exclaiming "Captain Astro!!!" when Captain Astro made the scene. But there was at least one production in which the extra was one of the Gormly characters. (It might have been A.C. Sparks.)

The jingle foor the product was in the form of a pledge, which was recited with right hand upheld, I think:

"In my lunchbox will always be,
A delicious Astro Snack for me.
Another for my pal to share,
I'll always see that both are there.
And after school I'll always eat
My favorite Astro Snackin' treat!"

Countdown Carnival also aired a serial called Jungle Girl, which was filmed in the Saturday-at-the-movies style. Yes, Jungle Girl was cute. It always seemed to me like there was a note of sly appreciation in Bill Gormly's voice when he was giving the intro just before they cut to the Jungle Girl chapter.

I once sent a joke in to Bill Gormly's show ("What do you call a bird that has been run over by a lawn mower? Shredded tweet.") He sent me an autographed picture, but I didn't realize that it meant that the joke would be used. (I doubt if the picture lasted more than a few months.)

A couple of weeks later I was watching and, completely by surprise, there was Mr. Poucher doing my joke with Bill Gormly as straight man. (Mr. Poucher was at the other end of a magneto crank phone, I think.) It was the most thrilling moment of my entire life. I can still picture Bill Gormly slamming the earpiece back in the cradle, smirking as if in true disgust, and ruefully saying "...shredded ..tweet." I'll never forget the excitement.

I think that Bill Gormly was absolutely brilliant, like New Jersey's "Uncle Floyd" Vivino, but without the sleaze. (On the other hand) I thought that the Bill Johnson show was strange. The way I recall it, Bill Johnson and the set of his show were just a wrapper around one animated cartoon and one Three Stooges production, but he himself didn't do anything entertaining, and it didn't look like a kid show.

His set was nothing more than a giant 'B' suspended three feet off the ground and a 'J' standing on the floor. During the opening music, he would be hiding behind the staff of the 'J'. Then he would take one step to our left/his right so that he was standing in front of the hook of the 'J', which he would use as a podium. He would just stand there like a news anchor and introduce the cartoons and the Stooges ("Today, for your Looney Toons cartoon, it's Bugs Bunny and Elmer Fudd in...") How bizarre. Really.

Bill Johnson's giant 'B' later showed up on Countdown Carnival, standing upright but sideways on the floor so that the lobes were pointing down. It was supposed to be Mr. Scratch's vending machine and they did some "naughty unpredictable vending machine" gags.

Paul Aitkenhead
August 2002

This is a great site.

To this day I still carry a dog-eared photo of Bill Gormly as "Uncle Clyde" in my wallet for luck.

Thanks for the memories.

Pete White
August 2002

My name is Robert Hunnicutt and my dad, Mike Hunnicutt was a kid show host in the early '50s.

As I remember, he featured the Little Rascals and also showed some old silent movies - Buster Keaton, for example and he played the piano along with the film and did a humorous narrative.

Later on, as I recall, he had Wilkins coffee as a sponsor and they had the first appearance of Kermit the frog doing the Wilkins ad. ... My dad thought that Kermit would never go anywhere. Ha!

Dad was on weekdays, mid-day and sometimes, when I came home from school for lunch, I would watch. We lived in Spring Valley, just behind American University and I went to Horace Mann Elementary School about a 10 or 15 minute bike ride.

I guess I was in about the 4th or 5th grade. Maybe even the 6th grade during this time. ...

Robert Hunnicutt
August 2002

I remember Time For Science. I was a student at R.E. Lee Elementary School in Alexandria, and we were allowed to watch the show on a special TV. The theme for the show was either Pomp and Circumstance or Clark's Trumpet Voluntary. (Whichever, it is the one the play at graduation ceremonies.) The instructor was Prof. Darrel Drummond. He was a nerdy science sort with horn rimmed glasses and a high pitched voice, nothing like Mr. Wizard.

Anyway, I loved the show. Part of it was the novelty of watching TV in school, but Prof Drummond knew his stuff. If I remember correctly, it was mostly physical science. I remember to this day though, why you can drive a nail with a hammer but not your fist, and that a whole stalk of celery contains very little bulk, once the water is removed. Darrel showed this by actually chewing up a bunch of celery and spitting out the remains into a spoon. That's the kind of lesson you remember. I also learned about mnemonics and how "Roy G. Biv" lets you remember the colors in the visible spectrum. ...

I noticed in the Hoppity Skippity site there was no mention made of the rabbit talking to the cartoon king on his special elongated telephone. Also, Hoppity had a kid's art gallery where he would display pictures sent in by his (so-called) "fans". I question "fans", as a great deal of the drawings would show a crudely rendered bunny with a knife cutting or a machine-gun gunning him followed by the words: "You are not a real live rabbit!!" Of course, the game bunny would assure us that he was, in fact, that very thing indeed.

He lied. I saw him live at a trade show held at the roller rink and you could see his zipper big time. It was a great rabbit suit though and it has allowed me to watch that "Harvey" film with J. Stewart lots of times because I am sure Harvey looks just that way.

My older sister claims that Hoppity Skippity was in her bedroom one night and when she saw him he put his finger to his lips and said "Shush." I think she was having a dream, but she still sticks to the tale and she is almost 60 years of age. Go figure.

Tom Mechling
Fri, 26 Jul 2002

I was searching the Internet for Ranger Hal and I found your site. On page 2 of the Ranger Hal section, you have a photo of my father, Henry Baranek (aka Henry Baran), who was Ranger Hal in Jacksonville!

We knew about the original RH up here, and saw him on TV when we visited relatives who lived here. My Dad's show was on WJXT, Channel 4, from 1958-1969. He had no competition for the morning children's market: the other station in town (there were only 2 commercial stations most of those years) had an afternoon kids' show.

WJXT started in 1949, and when they had a 50th anniversary special in 1999 they had a few seconds of "Ranger Hal" clips. We were pretty happy. On the one hand he was big in Jacksonville -- but on the other hand his show ran only 11 years out of the 50. (WJXT recently became a CNN affiliate station, and the brief "history" page on their Web site doesn't mention Ranger Hal. It's easy to understand. But it seems like everyone who was a teenager in North Florida for those years remembers him.)

My Dad really enjoyed doing the show, as well as all of the other things that go with being a local celebrity, such as visiting new shopping malls and hospitals, and "exploring" the many attractions around Florida, which he filmed and showed during his show. He was very professional in his role. I remember that he told me his philosophy was to treat his audience like they were young adults instead of little children. Needless to say, we were proud of him.

He died in Jacksonville in 1979 of a health problem (inoperable tumor on his heart).

David Baranek

(See Dave's web site dedicated to his Dad at: http://members.cox.net/rangerhaljax)
Mon, 22 Jul 2002

I was totally blown away by your Web site. I have vivid memories of weekday afternoons absorbed in watching Cap'n Tugg, Bozo, Miss Connie, Pick Temple, Ranger Hal, and Cousin Cupcake.

I didn't realize how much history my family shared with Cousin Cupcake. My parents and Bob Porter knew each other from community theater back in the late 50s and early 60s (the Fairfax Players). I'm sure that is how my mother got the tickets for my sister and I to appear on his show, as well as on Bozo. I have bragging rights to sitting on Willard Scott's lap! I was somewhere between the ages of 5 and 7 when I was on both shows. I use to stare into the camera, then glance at the TV monitor and see myself. Amazing stuff.

I was also on Pick Temple's Giant Ranch. ... I remember receiving the Giant Food goodie bag after the show and standing in line to meet Pick. I told him that I got a haircut, which was probably two weeks before the show, but it was news anyway. He replied that he also got his hair cut. For that brief moment, me and the Pick bonded and I was absolutely thrilled by it all.

However, what may have been the biggest influence in my childhood was "The Adventures of Pow Wow" cartoons, shown on Countdown Carnival and I think Cap'n Tugg, too. My fixation on Native Americans was so intense that I drove my family absolutely nuts. Maybe because growing up in white bread suburban Northern Virginia, Pow Wow was so exotic to me. I wanted black hair and brown eyes so I can look like an Indian though I had light brown (now gray) hair and blue eyes. I thought the feathers and fringes were so cool and I wanted to learn to play a drum. I've been a drummer for almost a decade now, and I owe most of it to Pow Wow.

Thanks for bringing back all those memories for me.

Roberta
Fri, 05 Jul 2002

Great web page! Maybe you should put Mike Fury in the list along with Wonderama....they were kid shows in the 70s and 60s too.

I remember the "Beth and Bower" show (I always thought Beth was a babe with great looks like Grace Kelly). I remember her last name being Arnold and always wondered whether she was related to Benedict. :-)

If you should ever one day meet her, tell her that one of her fans thought she was one hot babe and ask if she was ever related to Benedict Arnold--I always wanted to know! :-)

B
June 2002

I was fortunate enough to have been on the Pick Temple show and really enjoy reading all these memories.

I was very excited the day I got dressed in my cowboy clothes and Dad took me to the show. I was so excited that when the elevator door opened to take us up to the studio I charged in before the people could get off. The elevator operator snatched me up and gave me a stern lecture that I should always let people get OFF the elevator before I get on. A lesson many folks have yet to learn, I try to teach this fine point of etiquette today to those who might listen.

Thus chastened, I went up to the studio. I remember being sternly told before the show that if anyone sang "My favorite bread's Bond" instead of "My favorite bread's Heidi", they would be kicked off the show. Convinced me to be good!

One of the games played on the show was 'Pass the Spinach'; a version of 'Hot Potato' with a tie-in to the Popeye cartoons. I was chosen to get in the circle and Pass the Spinach, (A can of Giant Spinach, I'm sure!) One by one, the other kids were eliminated from the game and it was just me and another kid. Luck was with me that day and I won! Boy was I proud! TWO free cartons of Heidi ice cream! I remember going to the Giant on South Capitol Street, across from Eastover Shopping Center, and getting two cartons of orange sherbert with my coupons.

Pick Temple sure had a great show. It really made me feel special to be on it. It's nice to relive these memories. Now, if only Giant would have some of those delicious hard chocolate chip cookies in the yellow bag the next time I visit DC...

Thanks for this great site,

Tom Wolfe
Summerville, SC
June 2002

Congrats. I looked up your web site via my Yahoo search for Pick Temple... a result of seeing the buttons featured on the cover of the Post's 125th Anniversary Section.

My father owned the Bethesda Pet Foods and Supplies shop across the Street from the Zephyr restaurant, in a space that is now Tempo Books, just down the hill from Channel 9. (Count's Western Wear eventually moved in next door and finally took over my dad's space when he went out of business.)

My understanding is that Pick Temple bought Lady from my dad and that for years afterwards Pick would have my father's mynah birds, parrots, and other exotic animals on the show to help promote the pet shop.

My sister landed in the Peanut Gallery, but every year I filled out the card and every year I remained unlucky. Part of me regrets not being one of "Pick's Giant Rangers" to this day. ...

Cheers,
Richard Peabody
June 2002

My mother was on the Pick Temple show in the '50s. She had always talked about it because she was able to stand upfront and whistle for the camera.

Thank you for putting this together so now I know what the show looked like.

Jstolle70
Wed, 05 Jun 2002

I thought of another DC area kids' show this morning that I haven't yet seen mentioned on your site. It was called "The Black Phantom" and featured a guy in a dark Batman-like outfit who stood in one spot (there was no set that I can recall; it looked like the show was being broadcast from an alley) and introduced two episodes of a cliffhanger serial that ran during the program.

The first serial he showed was THE BLACK WIDOW and featured this sinister Vampirella-type woman who disposed of her enemies by siccing her black widow spider on them. There was another serial he showed after THE BLACK WIDOW ran its course, but I don't recall the title. When that second serial was over, they showed THE BLACK WIDOW again.

My sisters and I totally freaked on THE BLACK WIDOW, so seeing the same chapter play again didn't faze us one bit.

The only departure from this format came when The Black Phantom welcomed a bunch of guys who did martial arts to the show. There was some sort of "judo" demonstration that day; I was convinced that The Black Phantom must have been these guys' teacher. He seemed to be ordering them around like he knew them.

That's about all I remember about the show. I looked up THE BLACK WIDOW in film collectors' magazines, (I'm a 16mm film collector), and the general consensus is that it's one of the cheesiest serials ever made. Still, I wouldn't mind one more look at that huge black spider crawling out of the little hinged box on the back of the chair that the Black Widow sat her victims in and witnessing the instantaneous, horrible death that ensued. My sisters and I LOVED that.

I'd be interested in knowing if anyone else out there in TV land remembers this show.

Will Ravenel
May 2002

What a trip down memory lane! It was a real jolt to find your page, especially the info on Sam & Friends.

Really good stuff!

Larry McClemons
Fri, 24 May 2002

Great Site. Discovered it while Googling for Pick Temple. ...

I lived in the DC area '53-'55, '57-'61, '69-'70, '74-'76, so things were different every time I tuned in. Except for Pick Temple. I lived in the Philadelphia area from '61-'64 and Pick moved to there.

When my family got its first TV in '53, I watched several afternoon shows. One of them featured a man in pirate costume (maybe it was a gypsy costume). He was and artist who would draw on giant pad to provide illustrations while telling (or reading) a story. One time he did the Pirates of Penzance, I think it took him weeks to do the whole operetta. I want to call him Pirate Pete, but I have no real recollection who he was. I don't remember whichstation, but I am going to guess WMAL. Does this ring a bell with anyone?

J. R. Weber
Mon, 13 May 2002

My very first job was with Romper Room in Baltimore from 1961-1970. Among my responsibilities were those of "Production Manager," meaning that I worked closely with many of the teachers across the country in providing them the scripts and materials they needed on a daily basis to present their live programs (and that went out weekly to more 100 different markets.) I worked closely with Bert and Nancy Claster, as well as their daughter Sally when she became teacher for the local Baltimore program. ...

In the early '60s, the "Animal Friends" segment needed to be upgraded. Bert Claster purchased a Bolex 16mm, 3-lens movie camera (rather state-of-the-art at the time) and my job was to create a number of filmed pieces featuring different animals. On many occasions, I would drive to the National Zoo in DC and start filming. I would drop off the exposed film at a lab in Baltimore, on the way home, for processing. Then I would pick up the developed rolls of film and take them back to the Claster office and edit the segments together using the good old technique of cutting the film with a razor, scraping the emulsion off one piece, then gluing the two pieces together, praying that the splice would hold. I then went back to the lab and had 100+ film copies made of each segment. These aired all over the country as "Animal Friends."

Another thing I did that impacted all the shows had to do with the infamous Magic Mirror. I went to a film producer in Baltimore (I believe his name was Max Brecker) and looked at a number of film effects he had. I picked one that looked kind of hallucinogenic with a changing swirl of colors eminating from the center. Once again, we duplicated this piece of 16mm film and sent it to all the stations. This is what millions of kids saw as they held their collective breath, hoping to hear their names spoken.

Those mirrors, incidentally, were purchased from a local barber supply company. Our two shipping clerks in the basement would periodically cover a bunch of mirrors in Elmer's glue, sprinkle sparkles all over them, then let them dry. Voila! Magic Mirrors.

Sam "Mac" McLanahan
April 2002

I just wanted to send along a note to express how great I think your site is. Other than in "Jim Henson: The Works", I don't think I've seen such extensive coverage on Sam & Friends anywhere else. Thanks for making this available to the public.

Scott Hanson
March 2002

My best friend and I were hanging out at the the Old Thieve's Market south of Alexandria. We were moving from booth to booth, looking at all the cool stuff when my friend John hollered out.

I went over to see what he had found, we both had instantly recognized the set of Pick Temple. Canvas on a wood frame. It was just leaning on a wall with a bunch of other stuff piled in front of it. As I look back, it seemed so sad.

I still open tomato paste cans the way Pick used to open the dog food cans for his pooch. Open both ends, push the goop out, remove the lids. Ha, Ha.

How did he get his silver saddle studs to play all those songs?

Andy Farnham

Park Temple, Pick Temples son comments: "How would anyone remember how Dad opened dogfood cans? It's correct, of course, but it is amusing how things like that make impressions we carry with us. When Ken-L-Ration was a sponsor, Dad indeed did feed Lady and he did indeed open both ends, as he taught me to do."
Fri, 8 Mar 2002

I love your DC kids' program web page. I grew up around Washington so I remember many of these programs including Ranger Hal, Countdown Carnival, Cap'n Tugg, Bozo with Willard Scott and others. I also loved to listen to Willard and Ed on the Joy Boys radio show.

I was on the Pick Temple program. I don't have much recollection of it because of my young age at the time. I do remember wearing my cowboy hat and guns. My father worked for the federal government but also worked for Giant part-time. Because of that, I couldn't enter any of the contests on Pick's show as Giant was his sponsor. This annoyed me to no end.<G> I remember the contest that they had to name the pony.

When the whole Muscular Dystrophy carnival thing began, WTTG said that any kids who gave a carnival would be able to appear on tv. So many kids did that, the station had to block out several hours of time for a number of days to get all these kids on.

Bill Johnson was the host for this. My friend and I gave a carnival so we got to appear on tv. We decided that it would be great fun to take a squirt gun with us, pull it out while Bill was interviewing us and shoot him with it. Fortunately, my mother found the squirt gun before we left home so Bill was spared this ordeal.

The WTTG studios were located in the Hotel Raleigh. My mother, my friend and I took the bus downtown to the studios (we lived in the Maryland 'burbs).

I can remember waiting in the studio that held Cap'n Tugg's cardboard boat. Cap'n Tugg was one of the programs that I watched so the appearance of the boat was kind of a disappointment to me. Miss Connie from Romper Room walked thru the studio on her way out and all the kids screamed when they saw her.

Finally, we got to go on the air with Bill who talked to us for probably 1 - 1 1/2 minutes. He asked the usual things - our names, where we lived, how much money we raised, etc. Bill laughed when my friend told him that he lived in District Heights and I told him that I lived in Suitland so we had to explain that we only lived a few blocks apart even though in different towns. While he was talking to us I was looking at Bill's mouth because he had the greatest looking teeth I had ever seen. Very white and straight. After it was over we went out to get something to eat and caught the bus for back home.

Thanks much for putting up this web site as it brought back many fond memories.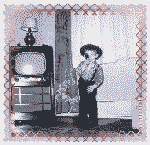 Chuck
P.S. The attached photo was taken of me when we had just returned home from the Pick Temple program. (CLICK TO SEE PHOTO FULL-SIZE)
Tue, 5 Feb 2002

What a great memory!

I had vague recollections of Pete & His Pals, and some more concrete ones, such as the time my mother and I were having lunch at a drug store soda fountain downstairs in the same building that on Connecticut Avenue the housed the WMAL TV studios. My eyes popped out of my head, because there sitting down the counter from us was Pete in that red and white striped coat. I was too shy to go up and say hello, but I remember that moment like it was yesterday.

As for the other strong memory...the theme song was what I believed to be called "Orpheus in a Jam" also known as the Can-Can song.

Thanks again for filling in the blanks for me about this show I loved sooo much!

Mark Wright
February 2002

I happened to stumble upon your site while trying to research the topic outlined below. Really brings back old memories.

I attended St Mary's Elementary School in the city of Alexandria from 1958 to 1961. During school hours there was a TV program called Time For Science that was aimed at elementary school age kids and we were allowed to watch during our science class. I thought it was aired on channel 5, but can't find any info on this show. I was on an episode of this program in 1959 demonstrating a science project and was wondering if any tape of that show would still be available.

Any information about this program would be greatly appreciated.

Thanks in advance.
Jim Evans
"DC Boomer"
January 2002

Wasn't Pick Temple (the cowboy) a DC-area show? I remember my older brother appeared as one of the guest kids. There was a pony, "Piccolo," and lucky kids were selected to ride him at some point during each show. I also remember that the commercial sponsor was often Ipana toothpaste (with Bucky Beaver).

One of my worst memories was going to meet Cap'n Tugg at Glen Echo Amusement Park. I was very young, and the meet-and-greet was televised. My dad stood with me in line, and when it finally became my turn to talk to Cap'n Tugg in person, I froze out of fear... he had a long, fake nose that poked out -- I was really frightened by his appearance!

Needless to say, the family members at home were both disappointed and amused as the camera showed me standing there with a look of fear/anger/disappointment on my face. <g>

KCS
January 2002

Stumbled on your DC kids show site and I really enjoyed it! I had forgotten all about those "Astrofloat" gizmos LOL.

For those of us who grew up around here, this is a wonderful site.

I had one question, though: I was trying to locate some of the old TV grids from the DC area, ones showing the local shows like the ones you feature as well as nationally syndicated shows. Any ideas? It would be great to browse through some of the old grids of the mid 1960s and early 1970s.

Thanks in advance and once again, thanks for this great site for DC area holdouts!

Mike Rose

Kap replies: "If you still reside in the DC area, you can visit the Library of Congress or DC's Martin Luther King Memorial Library (The Washingtoniana Room) for access to microfiled copies of the TV grids from the Star or Post going back to the dawn of television. Each library has printers hooked-up to the microfilm readers to allow you to make hard copies for a modest fee per page."
January 2002

This is a great website. I grew up in Silver Spring and remember Ranger Hal. That was such a touching tribute to him. I remember Miss Connie from Romper Room also. A coworker of mine even danced on the Milt Grant Show. I can't tell you how much I appreciate this site. I hope Willard Scott gets a chance to see it. I remember him as Ronald McDonald. He hosted the Silver Spring Thanksgiving Parade one year.

Sincerely,
Cindy Kepler
Send your DC kidshow memories to:
kaptainkidshow@yahoo.com
Please state that you give permission for Kaptain Kidshow to reproduce your message on his web site.
All Shows Originated From Metropolitan Washington, D.C. Studios
..
.
Outstanding Sites you'll also want to visit...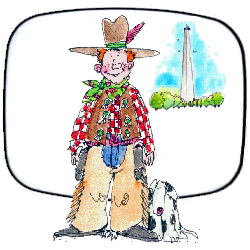 Kaptain Kidshow
Saluting Vintage TV Kid Shows
Produced In Washington, DC
Page Revised: 8/30/05
.
.
Complete List of Shows
.
Complete List of Hosts
.
Sounds From The Shows
.
Your Own Recollections
.
Send Email To Kappy